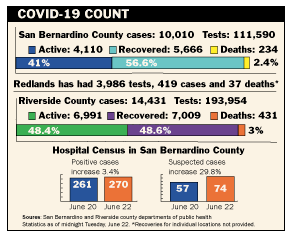 Residents of San Bernardino County must now wear face masks in public settings with some exceptions.
On Thursday, June 18, Gov. Gavin Newsom issued the statewide order to prevent asymptomatic people from spreading COVID-19.
Newsom also announced on Monday that San Bernardino and Riverside counties have been placed on the state"s coronavirus watch list after a rise in cases.
According to the California Department of Public Health website, San Bernardino County is experiencing elevated disease transmission and increased hospitalizations.
Drivers of this include community transmission from gatherings, workplace transmission and transmissions at state prisons. Actions to address these concerns include expanding community testing and testing among priority populations, coordination and communication between the local health department and increasing public messaging and education on the importance of personal protection measures including face coverings and personal responsibility.
"It is not expected to affect reopening plans at this time," said David Wert, San Bernardino County"s public information officer.  
The mandated face mask guidelines detail how and when face masks must be worn by the general public when interacting with others outside the home. The new rules require face coverings when people are standing in line to enter a building or business, walking through common areas like hallways, stairways, elevators and parking garages, using rideshare services and taking public transit.
The order also requires masks for people at all locations where food is prepared or packaged. Masks are also required outdoors in spaces where people can't maintain six feet of distance from one another.
"There is solid science and evidence that shows masks are effective in preventing the spread of COVID-19, and we are hopeful that this order will prevent a future shutdown," said San Bernardino County Board of Supervisors Chairman Curt Hagman. "We are successfully starting up the economy in San Bernardino County, and the simple act of wearing a mask will help our businesses and get people back to work."
There are exemptions from the face mask mandate, including children two years or under, people with a medical or mental health condition or disability that prevents wearing a face covering. Other exemptions include people who are hearing impaired or communicating with the hearing impaired, and instances where wearing a face covering would create a risk for the person or others related to their work.
The guidelines also address situations when a face covering is not practical, unnecessary or doesn't make sense.
People can remove their masks in public while they are eating or drinking, provided that they are able to maintain a safe distance from people who are not household members.
 No masks are necessary when someone is engaged in outdoor work or recreation when alone or with household members.
"When it comes to the opportunity to save lives from COVID-19, all of us have a responsibility," said San Bernardino County Interim Public Health Director Corwin Porter.
"Be mindful when you're out in public. It is not only now a mandate, but wearing a face mask is the right thing to do to protect yourself, your family, friends and community."
The city of Redlands and Police Department plans to recommend the provisions of the mandate.
"We recommend that everyone continue exercising safe practices, including wearing face coverings pursuant to the governor's recommendation, especially around those in high-risk groups," said Carl Baker, Redlands' public information officer. "The Redlands Police Department will focus efforts on educating the public in partnership with state and county public health officials to encourage voluntary compliance, rather than criminal enforcement of the mandate.
"Officers from the Code Enforcement Division will investigate complaints regarding businesses failing to adhere to public health guidelines, including orders regarding face coverings and physical distancing," Baker continued. "Again, the goal is to provide education and to gain voluntary compliance. In the event that voluntary compliance is not achieved, the city may seek enforcement through the administrative citation process."