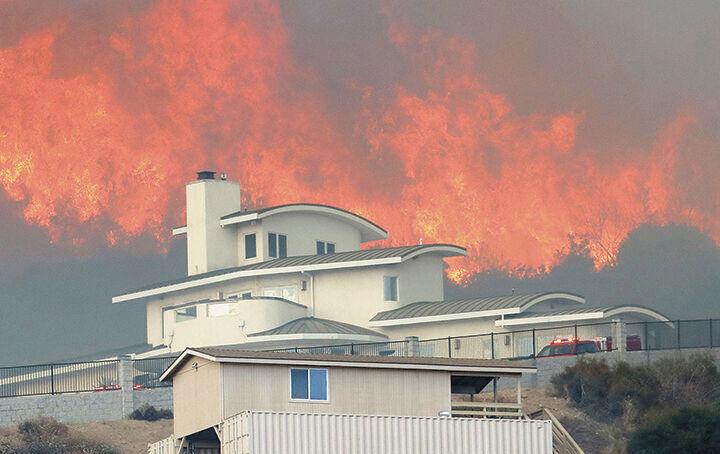 Firefighter dies in the El Dorado blaze
The U.S. Forest Service has reported that a firefighter died Thursday battling the El Dorado Fire.
The name is being withheld pending notification of next of kin. The cause is under investigation.  More details will be made available as they are confirmed. The agency the firefighter worked for has not been determined, accord to Cal Fire.
There have been 12 injuries in El Dorado Fire.
In its 12th day, the fire has burned 21,678 acres — nearly 34 square miles — and is 66% contained.
The death brings the total number of fatalities to 26. More than 18,500 firefighters remain on the frontlines of 27 major and one extended attack wildfires in California.
Milder weather is helping the firefight as crews continue to gain ground on many of the major incidents. On Thursday, firefighters responded to 28 initial attack wildfires across the state.
The El Dorado fire burned actively overnight along Highway 38 into Angelus Oaks, said Cal Fire. The fire was spotting into the community and was quickly extinguished by fire crews providing structure defense.
"The fire continued to burn with high intensity along Highway 38 near the Pinezanita area," the press release said. "Fire embers were cast across Highway 38 and quickly extinguished by ground crews directly attacking the fire with hose lines. Structure defense continues from Pinezanita to Jenks Lake by increasing defensible space, hose line placement and securing fire line."
The fire has progressed to the Lake Fire scar and continues to make active runs to the north as topography and up-canyon wind influences comes into alignment. Fire is spotting half-mile ahead of the main body of fire and has a potential for spotting up to 1 mile this afternoon.
There are 1,351 firefighters battling the blaze with 177 engines, 10 helicopters, 20 water tenders and 17 bulldozers. Six structures have been damaged and 10 have been destroyed.
Another fire broke out Thursday afternoon near Palm Springs. As of Friday morning, the Snow Creek Fire had burned 2,500 acres and was zero percent contained, Cal Fire said. The Snowcreek area has been evacuated. 
Five of the top 20 largest wildfires in California history have occurred in 2020. The August Complex in Tehema County, northeast of Fort Bragg in the Mendocino National, is the largest in history, burning 839,175 acres, more than 1,300 acres. It started on Aug. 17 and is still only 30% contained.
The massive El Dorado Fire that started Sept. 5 in Yucaipa continues to burn in the mountain…
The air tankers assigned to the El Dorado Fire are instrumental in aerial firefighting and s…