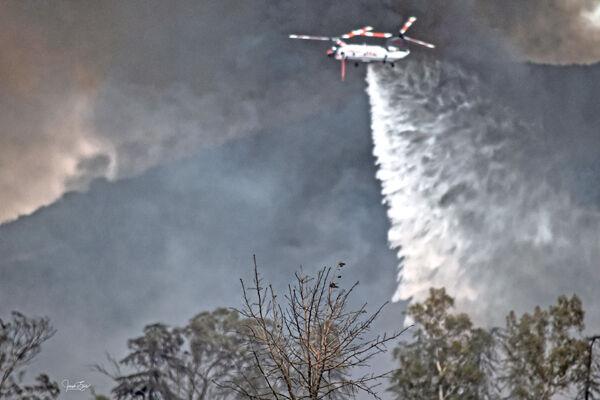 The El Dorado Fire was extremely active Wednesday afternoon being influenced by Santa Ana winds, a hot, dry and unstable atmosphere and fuels very receptive to burning, Cal Fire reported Thursday morning.
It had burned 12,610 acres and was 23% contained.
"Crews continued working on protecting structures and increasing perimeter containment and patrolling for hot spots on the southern portion of Yucaipa Ridge," the press release said. "Fuels continue to burn on the interior of the fire with visual smoke seen in the Wildwood Canyon area. This burning poses no threat to the fire perimeter in this area."
On the northern portion of the Yucaipa Ridge, the fire held at the containment lines and moved laterally along Mill Creek wash with no impact to Mountain Home Village. The fire burned to the western edge of Forest Falls. Crews were actively engaged in structure protection and successfully defended multiple structures.
The fire crossed Highway 38 east of Mountain Home Village and has grown to approximately 80 to 100 acres. Ground crews and dozers operators are working to build containment lines while air resources extinguishing with water drops.
There were 977 firefighters battling the blaze with 117 engines, six helicopters, 13 water tenders and 12 bulldozers.
Tonight, the fire will remain active with the predominant winds returning over the fire. Crews will be working to protect structures, securing fire line and increasing containment.
Residents in the vicinity of Mentone and Yucaipa are advised that an evacuation warning is in effect for a portion of your community.
"Residents of Angelus Oaks, 7 Oaks, Barton Flats up to Onyx Summit, an evacuation order has been issued for your area," said the release. "Stay vigilant and check Inciweb, Twitter and Facebook for changes on the #ElDoradoFire. There are physical signboards at the Stater Bros. shopping center in Beaumont at 1430 Beaumont Ave., 1775 E. Lugonia Ave. in Redlands near the Starbucks and at 11365 Bryant St. in Yucaipa in the Stater Bros shopping center. This fire remains very dynamic!"
The Red Cross temporary evacuation point is now at Redlands East Valley High School, 31000 E. Colton Ave. in Redlands.
CLOSURES AND EVACUATIONS
ROAD CLOSURES:
Highway 38 is closed both directions between Bryant St. and Angelus Oaks.
Oak Glen Road is closed at Bryant St. to eastbound traffic
Wildwood Canyon Rd. is closed at MESA GRANDE
Topaz St. is closed at Bryant St. t o eastbound traffic
Juniper Ave. is closed at Bryant St.
Carter St. is closed at Bryant St.
Fir is closed at Bryant St.
Ivy is closed at Bryant St.
Northbound Fremont St. is closed at Oak Glen Rd.
Eastbound Oak Glen Road is closed at northbound Cherry Croft.
Eastbound Oak Glen Road is Closed at Casablanca.
Lower Potato Canyon Road is closed at Oak Glen Road.
Oak Glen Road is closed at Wildwood Canyon.
Wildwood Canyon Road. is closed at Mesa Grande.
Pendleton is Closed at Oak Glen Road.
EVACUATIONS
All areas between Angelus Oaks and Onyx Summit evacuate via Highway 38 north to Big Bear Valley.
Evacuation Order: Yucaipa Blvd at Bryant intersection to the east. Yucaipa Blvd to Ave E southeast to the intersection of Mesa Grande, east to Wildwood Canyon Road to include all portions of Hidden Meadows and the southern portion of the Cherry Valley community from Nancy Lane east to Beaumont Avenue including portions of Riverside County down to Orchard Street.
Oak Glen, Mountain Home Village, Forest Falls and North Bench Yucaipa north of Oak Glen Road to Highway 38 and both sides of Bryant Street east and west north of Oak Glen Road are closed.
An evacuation warning in place for Beaumont Avenue east to Hillside Place in the Highland Springs area to the Apple Fire burn perimeter to the north and Cherry Valley Boulevard to the south.
The areas bounded by the following streets are now in an evacuation warning:
North of Oak Glen Road
West of Bryant
South of Highway 38
East of Garnet
SAN BERNARDINO NATIONAL FOREST RECREATION CLOSURES:
The entire forest was closed to all public use at 5 p.m. on Monday, Sept. 7. Please see https://www.fs.usda.gov/detail/sbnf/news-events/?cid=FSEPRD799192 for more information.
A temporary evacuation point for the El Dorado Fire was set up in the Redlands East Valley H…
The Angelus Oaks Post Office, located at 37696 State Highway 38, Angelus Oaks, has been temp…