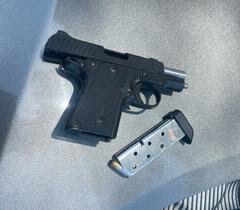 A 20-year-old San Bernardino man who was arrested after being pulled over for driving with expired tags was put in jail after a sheriff's deputy discovered a stolen and loaded handgun in his car on Tuesday.
At 11:37 a.m. July 13 Deputy D. Price from the San Bernardino County Sheriff's Department's Central Station conducted a traffic stop on North Del Rosa Avenue and East Date Place in San Bernardino of a red Ford sedan driven by Derek Braddock, who faced active warrants. Price located a loaded .380-caliber Kimber Micro handgun in the center console. The handgun was stolen in Las Vegas.
In addition to the warrants, Braddock was arrested and booked into the Center Detention Center for new charges of possession of a stolen firearm, carrying a concealed weapon in the vehicle, carrying a loaded firearm in public place and carrying loaded firearm that he didn't own.
Anyone with information regarding this incident is urged to contact Deputy Price at Central Station at (909) 387-3545. Callers wishing to remain anonymous can call the We-Tip Hotline at 1-800-78-CRIME (27463), or may leave information on the We-Tip Hotline at wetip.com.