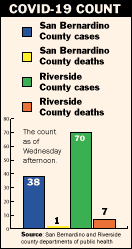 San Bernardino County reported the first death associated with COVID-19 on Tuesday, March 24, the day that the County's Department of Public Health announced 24 new cases to reach 38.
In a press release, county officials said the first victim of COVID-19 was a 50-year-old man who had underlying health conditions.
"Our hearts go out to this gentleman's loved ones," said Board of Supervisors Chairman Curt Hagman. "This is a sad milestone in the county's fight against this global pandemic. The loss reminds us how vital it is that we comply with official health orders to keep ourselves, our loved ones and our communities safe."
To comply with HIPAA (the Health Insurance Portability and Accountability Act) and maintain privacy, the county will not release any further information about the victim, including identity and where he resided.
Meanwhile, the number of reported deaths related to COVID-19 in Riverside County increased to seven on Wednesday, March 25. The number of confirmed COVID cases reached 7-.
 On Monday, March 23, the Riverside County Department of Public Health announced that it had identified hotels and motels with available units for unsheltered homeless individuals to provide emergency temporary housing during the state order to stay at home.
"These much-needed beds will get our most vulnerable homeless residents into safe housing, because they need the most protection," Board Chairman Manuel Perez said in a press release. "This will continue to slow and halt the spread of this deadly virus."
On Wednesday, March 25, the California National Guard began installing a federal medical station at the county fairgrounds in Indio to ease the burden from an expected surge in COVID-19 cases. The medical station will have 125 beds.
The surge in cases could come after health authorities continue conducting drive-thru tests. Statewide, the number of cases reached 2,102, and 40 deaths, on Monday, March 23.