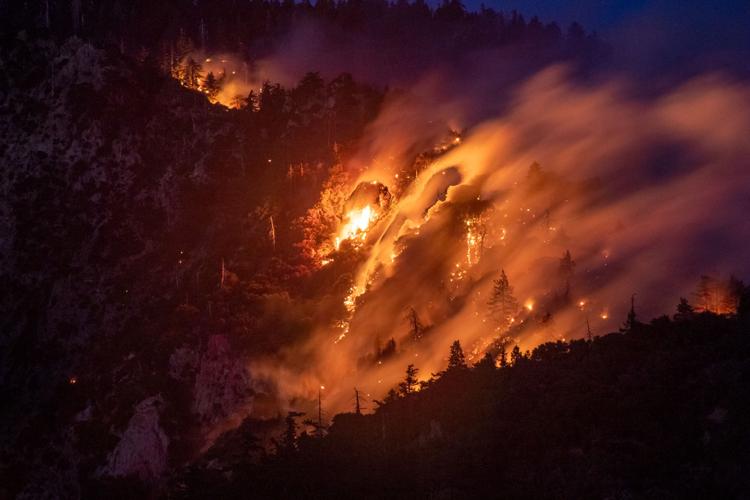 The containment line in the Oak Glen area was expected to be complete on Friday, according the Friday morning update by Cal Fire.
The fire, which started a week ago by a faulty diesel engine, has burned 29,267 acres, nearly 46 square miles. It is still 30 percent contained. Earlier this week, the U.S. Forest Service estimated it would be fully contained by Monday, Aug. 17.
"Good progress has been made on Yucaipa Ridge as well reducing the threat to Forest Falls," said the report posted at 9:55 a.m. "As threats are reduced and containment line has been completed, firefighting resources will shift to areas of greater threat as needed."
Firefighters began completing fire operations in Millard Canyon Friday morning from the San Gorgonio Wilderness boundary to Corral Road. They are finishing work the night shift crews began Thursday night.
"Winds have been favorable and the operation has been successful," the report said.
Evacuations
For San Bernardino County residents, the evacuation order has been lifted for all areas east of Oak Glen Road, including Potato Canyon and Pine Bench north of the Riverside/San Bernardino county line.
An evacuation warning remains in place for Forest Falls, Morongo Valley, Pioneertown, and Rimrock.
An evacuation warning is in effect for the area east of Potrero Road, west to Highway 62 and north of Interstate 10.
The San Gorgonio Wilderness has been closed to all use. An emergency forest closure order went into effect on Aug. 2. The order prohibits all entry into the San Gorgonio Wilderness and some adjacent areas.
Additionally, all Forest Service recreation areas in the Forest Falls area are closed. Fire restrictions have increased across the San Bernardino National Forest. Visit fs.usda.gov/sbnf for additional details and updates.
The Pacific Crest National Scenic Trail is closed to all traffic between the Cottonwood Trailhead, near the community of San Gorgonio, and Forest Road 1N101, also known as Pipes Canyon Road.
Smoke advisory
 Smoke will travel toward Morongo Valley and remain in the area until late evening. People with health conditions sensitive to smoke should reduce prolonged or heavy outdoor exercise in this area today.
Evacuation center
San Bernardino County residents remaining under the Oak Glen evacuation order may contact the American Red Cross at (571) 595-7774. The evacuation center at Beaumont High School has closed.
Road Closures
All road closures in Riverside County have been lifted.
In San Bernardino County, the following closures are current: Oak Glen Road at Wildwood Canyon, Oak Glen Road at El Dorado Park and Valley of Falls Drive at Highway 38.
Community meeting
The Apple Fire Unified Command will host a community meeting at 6 p.m. at the Morongo Valley Community Center, 11165 Vale Drive, Morongo Valley, to update the public on the latest fire behavior, suppression tactics and possible evacuations and closures.
Members of the Incident Management Team will present a short briefing regarding the incident and will be available to answer questions.
The meeting will be video recorded and posted to the San Bernardino National Forest Facebook page at facebook.com/SanBernardinoNF. If technology capabilities allow, the meeting will be live streamed.
Damage
On Wednesday, the Cal Fire website said 12 structures had been destroyed, but today's report says there were only four. One injury has been reported.
Resources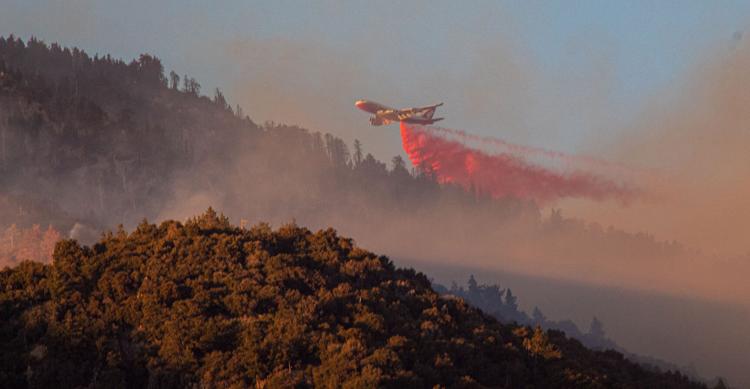 Cal Fire says 42 crews and 2,664 firefighting personnel are now battling the Apple Fire. They are using 284 fire engines, 24 bulldozers, 38 water tenders and 18 helicopters.