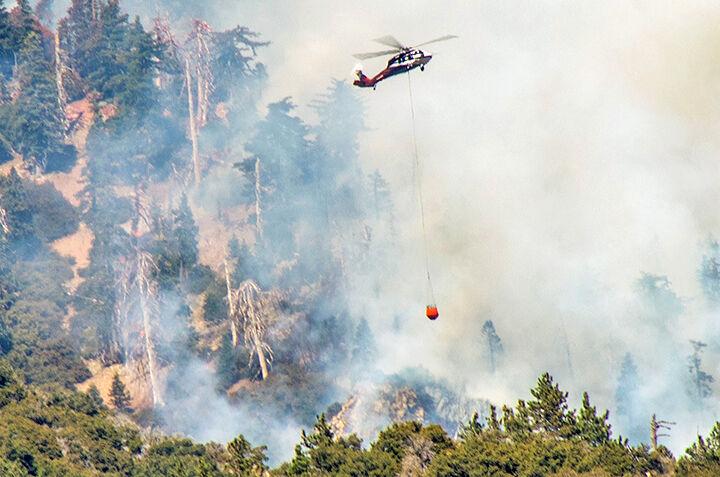 The Apple Fire, which as burned more than 41 square miles and caused the evacuation of nearly 8,000 people, was caused by a diesel-fueled vehicle emitting burning carbon from the exhaust system, according to Cal Fire.
Five structures have been destroyed.
The fire is continuing to spread to the north across the head of the Mill Creek Canyon, and east into the San Gorgonio Wilderness, according to the latest update.  "As the fire burns into the wilderness the vegetation is becoming sparse limiting fire intensity," the report said. "The most significant fire behavior today was in the area of Millard Canyon on the east side of the perimeter."
Fire activity is being driven primarily by record low moisture content of the vegetation combined with high temperatures and low relative humidity. The fire is 7 percent contained.
On Monday efforts to combat the Apple fire were multi-focused. Firefighters began to assess and prepare for the potential of structure threat in Forest Falls, Oak Glen and the nearby areas. Fire crews are constructing fire line by hand and with dozers along the west perimeter and across the ridge between Oak Glen and Forest Falls. Crews  engaged the most active area of the fire on the east perimeter. On the south perimeter established firelines are being improved.
Pockets of heat in vegetation near the line are being located and extinguished to further reduce the potential of the fire escaping the line.  
Damage assessment teams are deployed and will be surveying the fire area for damage to structures and infrastructure.
At least one Redlands Fire Department brush engine with four firefighters is helping battle the blaze, said city spokesman Carl Baker. It is among two dozen agencies helping in the fight.
Resources
Hand crews: 31
Engines: 321
Dozers: 28
Helicopters: 12
Fixed wing: 2
Water tenders: 50
Total personnel: 2,565