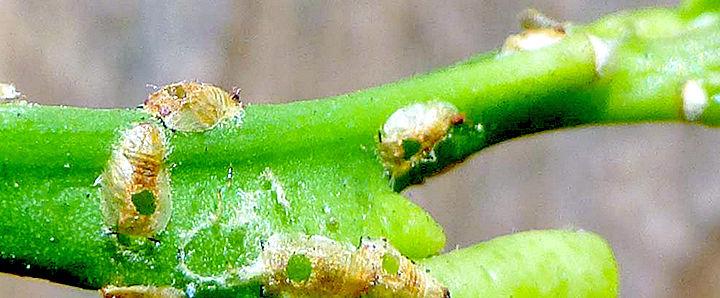 A plant disease that kills citrus trees has been found in California and there is no cure, says the Citrus Pest & Disease Prevention Program.
According to the program, funded by citrus growers and administered by the California Department of Food and Agriculture, all of the diseased trees in Southern California have been found in residential neighborhoods. The groves of commercial growers have been disease-free.
The onus for saving the region's citrus industry seems to be falling on individuals who have a small grove or even one tree in their yard for landscape purposes.  
Citrus tree owners need to be informed. The disease is Huanglongbing (HLB), also called citrus greening disease. It has been found in Southern California, Florida, Texas and other countries, including Mexico. It is hosted by a tiny insect, the Asian citrus psyllid, which can transfer the disease from tree to tree as the insect feeds on citrus leaves.  
The psyllid has been found in groves all over Southern California, including commercial groves. Just having the psyllid in the tree does not mean the tree is diseased, however. There is hope if the psyllid can be eradicated from backyards.
Redlands Conservancy's Citrus Preservation Group recommends following the prescription of the Prevention Program. Owners of one or more citrus trees should learn as much as possible about the insect and the disease. Learn from the Web site, Californiacitrusthreat.org and report suspicious pests and plant disease to the California Department of Food and Agriculture at (800) 491-1899. For Asian citrus psyllid treatment information from the University of California, visit UCANR.edu/sites/ACP. To view quarantine information and maps, go to CDFA.ca.gov/plant/ACP.
Second, tree owners should inspect the citrus trees monthly for the insect and disease, and report findings to the Department of Agriculture. Adult psyllids are 1/8th of an inch long, and young psyllids produce a white waxy substance. Trees that have been actually infected with the disease itself have leaves that are yellow with asymmetrical blotching.  
The citrus fruit from HLB-infected trees will be bitter and inedible and may not fully ripen.  They are misshapen and lose their symmetrical appearance. Raised, thickened or corky veins on citrus tree leaves are other symptoms of HLB. During the monthly inspection, owners should look for symptoms  whenever watering, spraying, pruning or tending trees.
Third, owners of any citrus trees — even one tree — must not move citrus plants, leaves or foliage into or out of the quarantined area, which includes parts of San Bernardino County, or across state or international borders. To know which areas in this region are quarantined, visit CDFA.ca.gov/plant/ACP.
Fourth, when grafting, use only registered budwood that comes with source documentation.  
Fifth, cooperate with agriculture crews placing traps, inspecting trees and treating for the pest.  
Sixth, visit local nursery or garden centers to learn what products can help protect your tree from the Asian citrus psyllid. No psyllid, no HLB.
Seventh, everyone should be mindful of citrus tree clippings.  Dry or double-bag plant clippings prior to any disposal.
Eighth, control ants. Ants interfere with beneficial insects and actually protect the Asian citrus psyllid.  Citrus tree owners can talk to the local nursery about ant bait that can help.