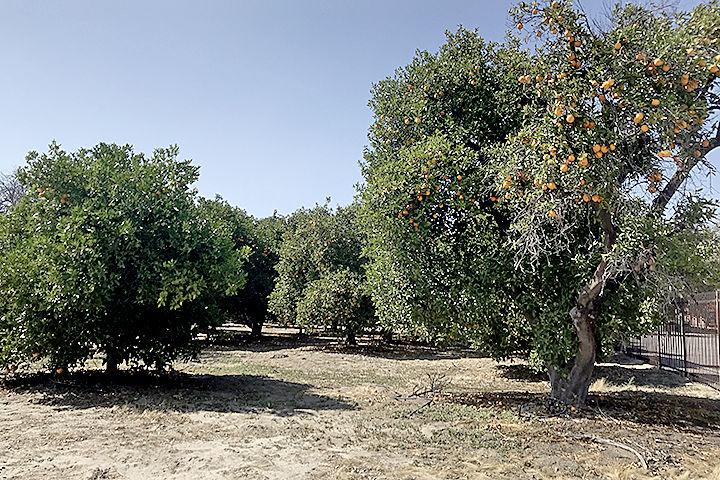 This spring brought plentiful rain to Redlands' orange groves, resulting in a small citrus "superbloom."
However, city officials say it's getting harder for Redlands to maintain the orange groves it has.
"For those of us who associate citrus groves with home, this is a terrible and frightening outlook," said City Councilwoman Toni Momberger, who also serves as the council's liaison to the Citrus Preservation Commission.
Redlands' citrus industry is facing several large challenges. The first is labor — there simply are not enough farmers to harvest and maintain the citrus trees.
"Not only is the minimum wage going up, which makes it harder to afford for farmers, but people don't want to do it," Momberger said. "So we can't find people."  
The next is that people who own groves are selling them to make way for development.
"What's happening is a lot of the people within the community as private farmers are selling their orange groves to developers," Momberger said. "And people are outraged at the city because they feel like their hometown is changing in this fundamental character factor."  
The pest
The last, and perhaps most frightening issue facing the orange groves is the Asian psyllid threat. The small insects are known for carrying Huanglongbing, a deadly citrus disease that devastated Florida's orange tree population in 2005.
"As somebody who is charged with being responsible for the city's finances, it's very difficult for me to say let's invest in more growth acreage when it could get wiped out [by the virus]," Momberger said.
All these factors combine to make the future of citrus in Redlands look pretty bleak.
"You put all these things together, a lack of farmers, a lack of revenue, and a virus coming in, and the fact that private citrus acreage owners are selling to developers, means a lot less citrus in Redlands to look at and to smell and to pick," Momberger said.
Momberger is sympathetic to those who feel that something essential to Redlands' identity is being lost as more citrus groves are sold or threatened by the disease.
"I iterate that I am among the emotionally disturbed on this topic. I love the orange groves. And it's one of the top things I'm going to list in my list of what makes Redlands special and what makes it home. The way they look and the way they smell.
"Going for a walk and grabbing an orange off the tree with some wet wipes in my pocket so I can peel it and eat it while I am strolling around is part of my childhood and it's part of my adulthood, it's part of my motherhood and I hope that it is part of my grandparenthood," Momberger said.
Momberger supports replacing older trees with newer ones, even if those trees are over a century old. Despite those older trees' sentimental value, they don't produce as much citrus as younger trees could.
For Momberger, that means the city should replace the older trees in order to maximize the revenue the groves create — something that would make maintaining the groves in perpetuity more viable.
"I think it's urgent that we set our emotions aside about those specific trees, and put the groves as a higher priority. The more our city-owned grove acreage brings in revenue, the more it has to invest in itself. So that means that we can pay more for farmers, it means we can buy more grove acreage, and it means that we can afford to sustain, at a minimum, the grove acreage that we have now," Momberger said.
Fluctuating revenue
The amount of revenue that Redlands' city-owned groves create is dependent on a lot of factors, according to Quality of Life Director Chris Boatman, whose department oversees citrus operations in the city.
"Our annual revenues range around $700,000 to $'850,000 a year depending a lot of externalities. Farming is somewhat unpredictable, it's based off of a global market," Boatman said. "We market our fruit all over the world through our packinghouse who is networked into a citrus cooperative, and we also rely on good weather. So if we have particularly cold years or something like that, that could be a challenge, too.
"We've had, for example, two years ago we had our labor rate go up but we also had our revenues go up because the markets just brought in higher revenues. The Chinese market was particularly good that year and we were able to send extra fruit to juice. So that's something that factors in. So what I'm trying to say is, it's very difficult to predict our net revenue every year, but we do know that we've foreseen labor rates steadily increase year after year," Boatman said.  
However, according to Boatman, the city doesn't operate the groves in order to make a profit.
"One of the differences between the city's groves and your general private grower is that the city's main purpose for buying groves and maintaining groves is primarily to preserve citrus in the area, not necessarily to make a profit. We of course rely on the profit to pay our expenses, but we're in this business because the council believes it's important to preserve citrus in the community," Boatman said.   
The city owns 16 citrus groves throughout the city totaling 164 acres, according to the city website.
When it comes to the Asian psyllid threat, Boatman says the state, county and city have all taken steps to ensure the Huanglongbing disease stays out of Redlands. Those efforts include spraying pesticides to keep psyllids off the trees.
However, it's not just large orange groves that need spraying — it's also individual orange trees owned by small growers.
"The biggest challenge is your small growers in your backyards because a lot of them don't know that they need to spray for this. Really anybody who has an orange tree needs to spray for it," Boatman said.
Timeline
314 B.C.: Oranges first grown in China
1498: Columbus had citrus on his second voyage to the New World.
1518: Citrus introduced in Brazil.
1769: Citrus introduced in California by Franciscan fathers at their first mission in San Diego. The first grove was planted at the San Gabriel Mission in 1804.
1857: First sweet seedling oranges planted by Anson van Leuven, using three trees from  the San Gabriel Mission in old San Bernardino.
1873: Navel oranges planted in California from "budding" in Brazil by Portuguese gardener in 1820, introduced to the Department of Agriculture in Washington, D.C.
1873: Three trees sent to spiritualist and suffrage activist Eliza Tibbets in Riverside. She grew them in her yard. From these trees came the navel orange industry in California.
1877-83: Railroads connecting to the East spark a boom in orange planting and the citrus market.
1879: The first citrus fair in Riverside, which was then still a part of San Bernardino County. Colton holds fairs in 1886 and 1892.
1884: Irrigation water from Big Bear Lake assures a water supply for the East Valley.
1885: Citrus shipments increase to 1,000 carloads.
1890: First fruit growers associations formed.
1899: First citrus fair is held in San Bernardino at the Van Dorin building on Third Street.
1900: 5,648,714 citrus trees under cultivation in California.
1911: First National Orange Show held at the corner of Fourth and F streets, San Bernardino.
1927: 45,600 acres of citrus planted in San Bernardino County.
1943: 49,920 acres of citrus planted in San Bernardino County.
1948: Citrus production starts to decline.
1965: California Land Conservation Act approved, designed to reduce taxes so farmers would keep land in cultivation and not sell to developers.
1978: 11,450 acres in citrus production.
1997: 6,700 acres remain in citrus production in the East Valley.
2018: Fewer than 2,200 acres still in citrus production here.
Source: Highland Area
Historical Society