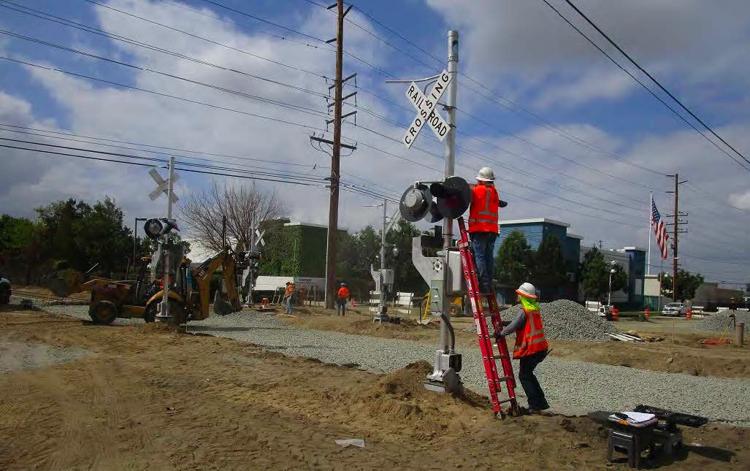 Colton Avenue and Nevada Street in Redlands will be closed from 8 p.m. Friday, May 29, through 5 a.m. Monday, May 29, for work on crossings for the Redlands Passenger Rail Project, the San Bernardino County Transportation Authority reports.
Similar work has been underway since April 13 on Arrowhead Avenue and D Street and is scheduled to begin on  24 hours a day starting on June 8 on Central Avenue, both in San Bernardino
In observance of Memorial Day, there will be no construction activity on Monday, May 25.
The next phase of the project will have crews completing civil work and signal installation at each crossing as well as roadwork activities such as repaving in and around the crossings. This work will require mostly alternating lane closures with the possibility of full closures.
Motorists are advised to plan ahead, leave early and allow extra time to reach your destination. Pedestrian access will be available. All businesses are open and accessible during construction.
LANE CLOSURES
For the next few weeks crews will install storm drain and communication duct bank; install electrical conduit; perform signal work; replace curb, gutter, roadway, driveways and sidewalks, and perform potholing. There will be intermittent lane closures on California Street, Nevada Street, Alabama Street, Colton Avenue, Tennessee Street, Texas Street, Eureka Street, Orange Street, Sixth Street, Seventh Street, Ninth Street, Church Street and University Street. Through traffic/two-way traffic will remain at all times at each location.
Park Avenue will be closed beginning May 26 (Monday through Sunday 24 hours/day) for crews to construct a storm drain. A local detour will be posted and will send traffic north around Sylvan Park.
DAYTIME WORK
Work will continue from 7 a.m. to 4 p.m. weekdays in these locations:
Santa Ana River, Warm Creek, and Mill Creek Bridges: Crews will be reconstructing the bridges.
Tippecanoe Avenue: Crews are working on the station on the west side of the street.
Richardson Street to Mountain View Avenue: Crews will perform various work from Richardson Street to Mountain View Avenue.
Richardson Street: Crews will perform various work at Richardson Street between Victoria Street and Hardt Street. Richardson Street will remain open for all traffic. Large trucks will move through this area. Flaggers will be onsite to assist as needed.
E Street to Sierra Way: Crews will be removing existing track and placing new track.