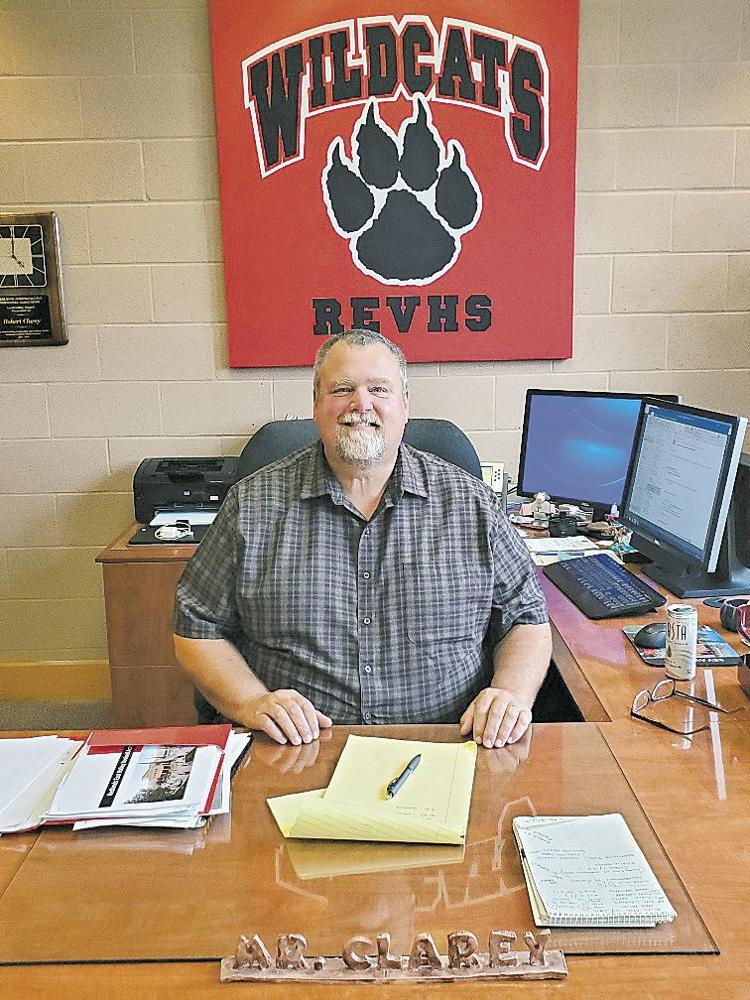 The upcoming school year will be one of new beginnings for students around Redlands. It also will be the start of an era for newly appointed Redlands East Valley Principal Robert Clarey.
After 11 years as principal at Clement Middle School, Clarey is returning to REV, where he was a science teacher in 1999 and assistant principal in 2001.
Clarey has lived in Redlands for 32 years. He grew up in the Bay Area town of Milpitas and went to college at San Jose State University, 10 miles down the road. While at SJSU he was originally a pre-med major and had his EMT license. After being a first responder driving an ambulance in Santa Clara County, he realized he wanted to switch his major to biology for teaching.
At college he met his wife, who was from the Inland Empire. The Clareys moved to Redlands.
He worked as a science teacher at REV, Pacific High School and Redlands High School in the 1990s and early 2000s, Clarey found his love for teaching and his coworkers realized his potential for a higher leadership role.
"I never thought about going into administration, it just happened. Dr. Davis, the principal that opened REV in 1997, told me that everything I was doing combined with my characteristics, showed him that I was meant to go into administration."
Clarey, a natural leader, has been in administration for 18 years. He says the culture and belief system he instilled at Clement is what earned him the head-man job here at REV.
"Over the years at Clement, I tried to get rid of that negative reputation of Clement Middle School as 'that north side' school. I worked really hard to try and better our reputation in the school district. I called it 'weeding' the garden."
Clarey says he tells everyone that Clement is the best-kept secret in Redlands. They now have a fantastic campus, fantastic culture and a great family feel, he said.
"That's what I do, I build school culture. I believe in people and the power of teachers to make a difference in kids' lives. What teachers will find now at REV is that much of what I do is to support them in the classroom, because that's where the magic happens."
In May, Clarey made the move from Clement to REV after Redlands Unified School District Superintendent Mauricio Arellano asked him to interview for the principal position.
REV needed some of Clarey's weeding as it had the highest suspension rates in the district.
Clarey is glad to be back.
He says one of his favorite things about being a principal is knowing he is in a position to change kids' lives at REV.
"Not necessarily change their lives directly but through the culture that I will build. All of our kids when they come to REV have the same opportunity to take the same classes as everyone else, it is equal entry. What I want to establish is equal exit."
Clarey says he wants to make sure that students are set up with everything they need so they all have the same opportunities when they leave REV.
"There is the magic of what a school does. It's a big philosophy but being a principal allows me to make that happen. To set the culture and make sure we are identifying the needs that students have and provide programs and people to serve them."
As much as academics is important to a school, Clarey says he wants to make sure there is also a focus on having the best extracurriculars for student engagement.
"Things like football, marching band, mock trial, drama, those are the things that get kids to come to school. It's not always about the academics, it's also about the things that they are involved in that are important."
One thing Clarey wants to accomplish during his tenure at REV? Change the mindset and the culture of all of his staff.
"Our students are our customers. Just like when you go to a store you don't have to pick just one spaghetti sauce, you have the choice of a bunch. That's because everyone has different tastes and different needs. The same thing should happen at school. Part of the reason it is important to have all these various programs is because different kids want those different things."
Clarey explains that when kids leave REV it is not just with a high school diploma, it is with the knowledge and experience that will prepare them for college and careers.
Even though Clarey had taught at REV before accepting the principal position, he says he still wants to familiarize himself with the campus and parent community.
"The morning after I was appointed through the last three weeks of school, I came here every morning. I would get here about 7 a.m., stand out in front with the other administrators having conversations and greeting students as they were coming in. I found by about the second week, parents would stop and get out of their cars to come meet me."
"That was great because it was the only opportunity to be able to see how the school day got started before I started work officially. That was important to me, to get here and get that feel."
School culture is the most important thing to Clarey as a principal. When he heard he had gotten the position, the first thing he did was go back to his old science classroom he taught in back in the 1990s at REV.
"It took me back and made me remember how significant school culture is and what we do here. This is a great family."