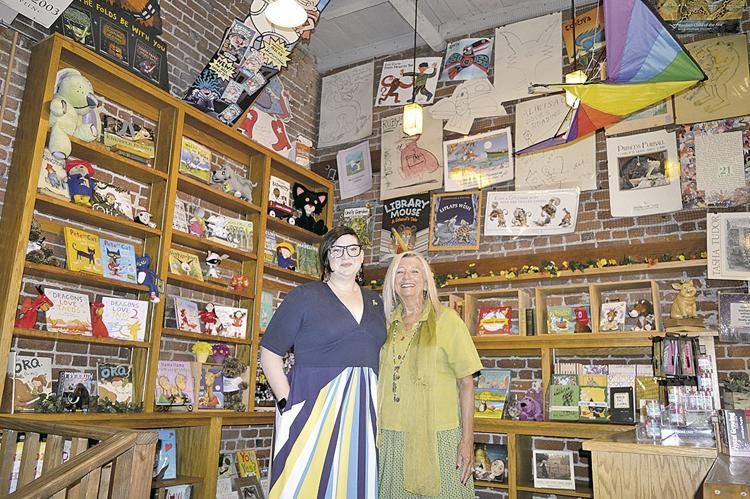 One well-written sentence can transport people to magical places. It can also enchant, surprise and even caress their brains. A whole book can shape lives, transform communities, guide humankind.
As a child and teen, Erin Rivera "traveled" to exotic lands, was enchanted, surprised and had her brain caressed with every book she devoured.
"Today, I'm the captain of the ship that takes people places," said Rivera, 41.
On Thursday, Aug. 1, Rivera began another monumental journey in her life — a journey decades in the making. Rivera is the new owner of the Frugal Frigate: A Children's Bookstore, a book lover's paradise in downtown Redlands.
"For the first time in my adult life, coming to work is what I want to do," said Rivera moments after she made her first sale: "Star Wars Jedi Academy."
"I'm just really lucky to have the support system," she said. "Everybody has been 100 percent behind me. It's been a dream for over 20 years. I didn't think it was going to happen. But I'm here."
Katherine Thomerson opened the Frugal Frigate bookstore in 1988 after noticing that Redlands lacked a children's bookstore. Thomerson chose the name after one of her favorite poems published in the book "There is no Frigate like a Book," by Emily Dickinson.
"It basically means that books are an inexpensive journey of the imagination and can take you anywhere you want to go," said Thomerson.
The retired teacher recalled the day she interviewed and hired a young motivated girl who dressed with a long skirt to subliminally capture her attention, a recommendation made by Jenna Young, who worked at the bookstore. That young girl was in fact Rivera, who worked at the bookstore for over four years while in high school.
"It is a dream first job," said Rivera, a graduate of Redlands High. "I learned so much working here."
Rivera said that minutes after learning the bookstore was on the market she was on the phone with the real estate agent. After negotiations tilted in her favor, she quit her job as an insurance business agent helping wildfire victims. Now as a proud owner, she plans to put to use her business expertise and great customer skills at work to continue offering a magical place.
"People can expect a lot of fun, personal attention, and book recommendations. This is the perfect place to find a gift for a baby shower, birthday, Christmas and other. Here it is more intimate, more face-to-face," said Rivera.
A popular event at the bookstore is Storytime, which occurs at 10:30 a.m. every Saturday and Wednesday. Rivera said Storytime is the perfect opportunity to keep the kids occupied and entertained, and the best way for parents to relax a bit.
Young, 46, added that the reading habit should begin even before childbirth and that parents should expose kids to books to develop a passion for it.
Next year, Rivera said she would bring back the book parties just as in the past when people used to dress up as characters and enjoy with friends. Rivera said those parties would be as "reservation only" as the place can only hold a certain amount of people.
"Twenty is a good number. It would be fun," said Rivera.
The Frugal Frigate bookstore is in downtown Redlands on the original carriage house/pony stable built in 1904. The bookstore's brick walls, wooden beams and ceilings, along with the iconic skylight, offer visitors a look into Redlands' rich history, said Rivera.
"We offer a refreshing selection of books, plush, sidelines, swag and all sorts of things to stir the imagination. We also do preorders of any book and hold parties in addition to the popular activity 'Where is Waldo?'" said Rivera.
The California State University, San Bernardino, graduate, an avid reader whose favorites books include "Island of the Blue Dolphins," by Scott O'Dell; 'Owen,' by Kevin Henkes; 'Memoirs of a Geisha," by Arthur Golden; and her favorite book of all time "Anne of Green Gables,' by Lucy Maud Montgomery; promised to offer customers and visitors alike a magical experience.
"Come be part of the magic," she said.
Origin of the name
There is no Frigate like a Book
To take us Lands away
Nor any Coursers like a Page
Of prancing Poetry –
This Traverse may the poorest take
Without oppress of Toll –
How frugal is the Chariot
That bears the Human Soul –
In a nutshell, books are an inexpensive journey of the imagination taking you anywhere you want to go. Enjoy the voyage! Emily Dickenson, 1890