City planner Brian Foote presented to the Planning Commission an update on the current and upcoming development projects for Redlands, which included a four-phase hospital project on West Lugonia Avenue and California Street.
Plans for a Kaiser Permanente facility are in the application process. The development plan described to the commission proposes a hospital project on more than 36 acres to be built in four phases over 20 or more years.
The first phase that could be presented to the council early next year, according to Foote's estimate, is a four-story medical office building with an ambulatory surgery center.
The second phase includes a seven-story hospital with a more than 200-bed capacity, a central utility plant and a detached parking structure. The planning staff member indicated that each phase will not be built simultaneously, and there will be an estimated five-year buffer between developments.
The third phase would be a three- or four-story medical office building.
An optional fourth phase would be for hospital expansion, adding an additional six- or seven-story wing with approximately 108-bed capacity.
President of Redlands Community Hospital Jim Holmes commented via email Wednesday on the prospective development.
"Redlands Community Hospital welcomes providers into the area to join the health care community in creating greater access for care," he said. "As the Inland Empire continues to grow, the need for providers will increase."
Commission shown plans for 1,800 new dwellings
Many residential developments have been approved or are in the application process.
Specific Plan 62 has 317 homes and more than half are built and completed.
The development is south of Citrus Valley High School.
Three other housing development projects near CVHS are in the application process , which Foote said is "taking a turn for residential development."
Specific Plan 64, to the north of the high school, also has more than 300 dwellings, mostly single-family units.
Two tentative tracts are in the application process for residential development projects, including 117 single-family units at 1160 W. Pioneer Ave.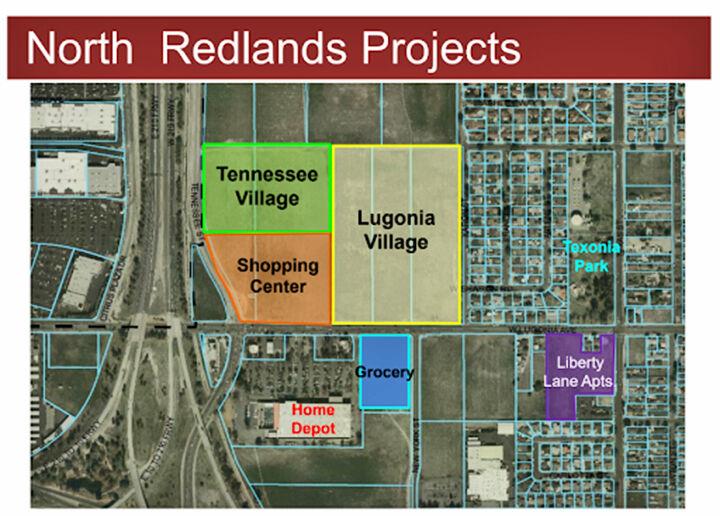 The other is at the north end of Texas Street, has 35 dwelling units and features a walking trail to Israel Beal Park. The Texas Street subdivision tentative tract (20520) will be coming to the Planning Commission in June, according to city staff.
Just beginning the environmental review process and still several months from being presented before the planning commission for review are two villages in North Redlands that consist mainly of apartments.
Lugonia Village plans include 511 dwelling units on 25 acres broken down as 436 apartments, 56 condominium townhomes and 19 single-family homes. The apartment buildings will consist of three stories. The single-family units will be along Karon Street.
Tennessee Village will feature 460 apartment dwellings in three- and four-story buildings over 13.5 acres.
Progress on approved projects
The original Chamber of Commerce building, 347 Orange St., has been adapted into a restaurant and cocktail bar called The Overland.
An outdoor feature side patio was approved for installation by the Historic and Scenic Preservation Commission and the neighboring red brick of the Santa Fe Depot was also fully restored.
A retail and office building on Stuart Avenue is adjacent to the parking structure and The Overland. Offices will be on the first floor and second floor and a space for a restaurant is the vision for the third-floor space.
The Museum of Redlands needs some interior improvements and there is not a timeline for when it will be completed.
The city staff chose not to comment on the downtown CVS tenant negotiations at the Redlands Mall site after a commissioner asked for an update.