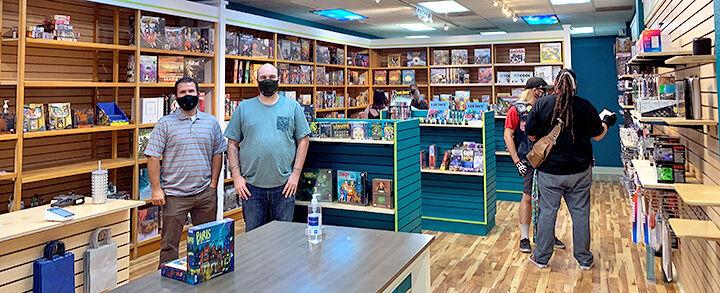 Downtown Redlands has welcomed a new business, Board Game Paradise, which had a soft opening on Friday, Oct. 2. Only eight days prior, owner Richard Matney had acquired the keys having volunteers from the community help spruce up the place to get ready for a huge variety of board games, puzzles, card games, miniatures games and painting supplies for personalizing figures.
"It is a store for the community by the community," Matney said.
His vision is to offer experiences with board games at the store in a back room, when the pandemic restrictions have been lifted, demo nights, board game nights and tournaments. So far there is a large table at the entrance where they are able to demonstrate and even teach a game for customers who are interested in trying something new.
The new store is a concept Matney has been working to develop for the past five or six years. He still has his day job as a technical product specialist and for the last several years he has sold board games out of his garage and at Thursday's Market Nights. More recently, Matney and one of his connections, Andrew Narzynski, started talking about opening a store.
Matney's wife, Tracey, is co-owner and their marketing manager since she owns her own social media marketing agency, Victory Points.
"We love family game nights," said Narzynski. "I like video games as much as the next person, but I love the social interaction of a board game. Sitting around, laughing and joking with your friends or family, bringing all the ages into it. That's really what we are selling here. It's about connecting, going back to your roots."
Matney explained why they took the conscious choice of having no TV in the store, "We would rather disconnect to reconnect," which is one of their mottos. For the past four years pre-pandemic, they organized game nights at the Gourmet Pizza Shoppe every Tuesday.
"We grew a community before we opened this store, and we are hoping that community supports us now, too."
So far, a week in, they have had a strong start.
"People have come in literally as excited as we are that we opened a board game store and that it's a local place," Matney said.
Narzynski said, "It is their job to demystify these games."
"They are not necessarily any more difficult than our bread and butter games that can be played in 30 to 45 minutes by the whole family," he said. "Most of these games have been molded or inspired by the games we grew up playing."
He said customers should not by intimidated by the more adventurous games. "You can play as complicated of a game you want with interesting, innovative, new mechanics," he said.
"You don't have to be stuck with Monopoly, Risk and Clue, which are great games, but we've come so far since then."
Matney explained the design of the store as you move from right to left the games get more complicated at each section. They call some of the simpler games, 'gateway games' to get people interested and confident in venturing further into the world of board games.
"When you give a board game it's not just a game, it's typically quality time for both them and you," Matney said. An official grand opening is planned for the end of the month.
Board Game Paradise
Address: 109 E. State St., Suite A, Redlands.
Hours: Noon to 8 p.m. Monday through Friday, 10 a.m. to 8 p.m. Saturdays, Noon to 6 p.m. Sundays.
Website: go.boardgameparadise.com
Facebook: facebook.com/boardgameparadise.store