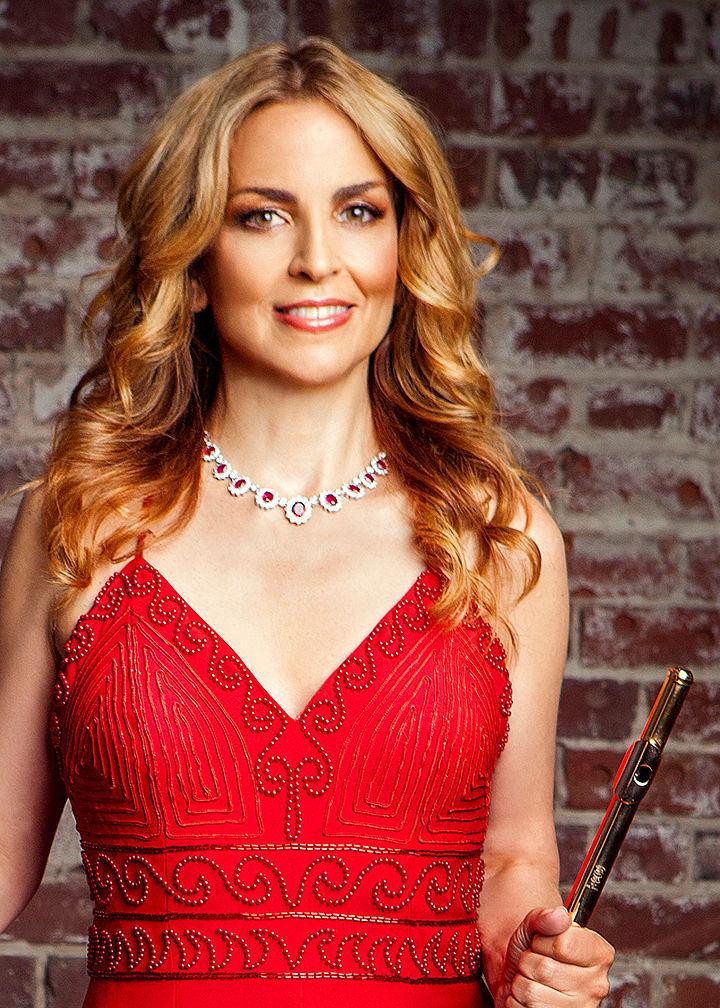 Professional musicians work in one of the toughest businesses even in the best of times according to soloist flutist and principal flutist for the Redlands Symphony Sara Andon, "Working in the music business is filled with ups and downs and various minefields, among the beautiful moments we live and train for all of our lives to get to experience."
Two months ago the 'stay at home' order came and did a 180-degree turn in her life. She was supposed to perform in Paris in early March, but the trip was canceled a few days before her departure. Then local concerts and even recording studio sessions were canceled. The changes have been a shock to her and her fellow musicians.
"But musicians are resilient and true survivors by nature," Andon said with a smile, "We are conditioned from early on, no matter how hard it can get, we do not give up!"
She emphasizes the "stay at home" order is absolutely essential and the right thing to do for the good of all of us.
"We can improve from these experiences and learn from every situation to make us stronger and more aware," she said.
Andon explained how the same kind of general survival tactics they employ every day as musicians come in handy now. She is working on creating a new and updated website with news, live performance videos, albums, online teaching opportunities and behind-the-scenes stories.
She also has built a remote recording home studio that she's been meaning to do for years.
"This is particularly important now, not knowing what the future holds," Andon said.
She has completed several recordings already, including a few pieces for a charitable cause that she was asked to be a part of. "It is so important at this time to help keep morale up through encouraging messages of music to society in general, for the front line heroes and to help people who are alone. Music has the great power of healing and of hope."
Andon also works as a teacher at the University of Redlands where her flute students were able to finish the academic school year through distance learning. Her private students have also moved to the online format.
Through email and Zoom meetings the whole orchestra is able to connect with the leadership.
They meet regularly on various issues including planning virtual music presentations to stay connected with their audiences until they can be together again.
Their first virtual presentation of Brahms Symphony No. 4 was made by Maestro Ransom Wilson.
"This romantic masterpiece was to be programmed for the March concert that got canceled.
In honor of that, Maestro Wilson gives an engaging, historical insight of this piece," Andon said. Some of the principal players such as Sam Fisher, concert master, Kyle Champion, principal cellist, Adam Wolf, principal horn and Sara Andon herself as the principal flute participated.
"It is a beautiful teaser of what is to come," she said of the orchestra's future plans for connecting virtually with their audiences.
"We need music in our lives, for when we want to celebrate great victory or to mourn precious loss and everything in between. This international language has the power to bring people together from all over the world and it's something we need now more than ever" Andon said.
She is proud to be a part of Redlands Symphony.
"We are all so fortunate to have a world-class orchestra like the Redlands Symphony with its great musicians, wonderful leadership and the loving supporters in our community."
About Sara Andon
Sara Andon is an international soloist and recording artist. She has performed all over the world in major concert venues with several orchestras as well as performed in broadcasts, film scores, documentaries and video game soundtracks.
She started playing the piano at age 5 and picked up the flute at age 9 in the fourth-grade band of Lincoln Elementary School in Colton and sang in the children's choir at the local church.
Her inspiration to start the flute was from Ransom Wilson's debut solo flute album with the Los Angeles Chamber Orchestra with music by J.S. Bach and Georg Telemann.
She met Wilson after she graduated with a master's degree from USC and had been accepted into the prestigious summer workshop "The Norfolk Chamber Music Festival" in Connecticut, where he was one of the master teachers.
He invited her to Yale, where she finished her post-graduate artist diploma.
Her first position was immediately thereafter as artist teacher, flute at the University of Redlands and as well as the principal flute position with the Redlands Symphony Orchestra.
Four years ago everything came full circle as Wilson won the position as the new artistic director and conductor of the Redlands Symphony Orchestra. n
For more information: Visit sara-andon.com or redlandssymphony.com