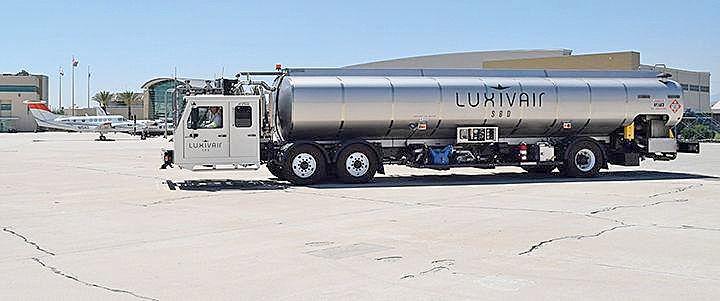 Luxivair SBD, the fixed-base operator at San Bernardino International Airport (SBD), has recognized the importance of eco-friendly business practices since its inception.
The fixed-base operator continues to make significant investments in environmentally friendly ground support equipment to help reduce its carbon footprint without sacrificing the five-star experience customers have come to expect from Luxivair SBD.
Recent acquisitions of low and zero-emission ground support equipment include electric-powered aircraft tugs, new propane powered forklift, new 10,000-gallon fuel trucks and new aircraft ground-power generators, all of which are compliant with the latest South Coast Air Quality Management District and the state of California Tier 4 emission standards.
Tier 4-compliant equipment ensures Luxivair SBD contributes fewer overall carbon emissions at the Airport.
Through its partnership with StratosShare, a division of StratosFuel, the fixed-based operator will soon offer hydrogen-powered, zero-emission Toyota Mirai sedans to its customers.
These vehicles will offer the latest in clean technology, combined with the convenience of access through a simple phone app that pairs Luxivair SBD's customers wallets with energy consciousness ⎯ only pay for what you use with by-the-hour or by-the-day rental options.
Luxivair SBD's distinctive lobby was purposefully designed to take advantage of natural light with wall-to-wall, floor-to-ceiling windows.
Both SBD International Airport and Luxivair SBD have recently converted to energy efficient LED lighting to reduce energy usage and light pollution while improving visibly on aircraft movement areas.