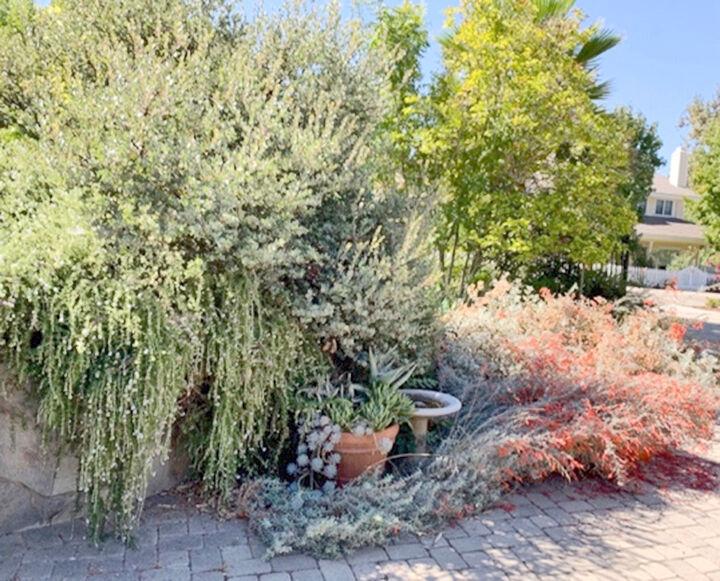 Fall view of Linda Richards' former front lawn, featuring manzanitas and California fuchsias.
With the ongoing drought concerns, the city of Redlands is providing more rebates for replacing lawns, and participating in educational workshops.
Two local residents are opening their yards to interested people to visit two former lawns in Redlands that have been converted to water-wise plants, primarily California native plants.
In January 2009, Linda Richards replaced her front lawn and over the next years she and her husband also replaced dead plants on their half-acre with California native plants.
Her yard features a healthy habitat garden, with the former front lawn featuring four different types of mature manzanitas, several varieties of happy buckwheat and sages, plus others. LindaRichards property is a good example of incorporating native plants into an established yard.
Betty Richards is a University of California master gardener with a special interest in California native plants. In fall 2015 she transitioned her front and back lawns to low water use gardens using primarily California native plants in the front yard and a mixture of California natives and other low water use plants in the backyard.
The lawn removal and most planting was done in the fall of 2015. The maturing garden has plants flowering year round attracting hummingbirds as well as native bees.
Come see for yourself
Stop by anytime between 9:30 and noon Saturday, Nov.12, rain or shine for a mostly self-guided ramble. Most native plants are dormant at this time so this offers a chance to see them in this state. Sign-up at https://www.cnps.org/events after which you'll receive the addresses, which are within one mile of each other. Any questions or concerns: Contact Linda Richards at lindarichardswriter@gmail.com
An optional short orientation and Q&A gathering with Linda and Betty will take place at both 10 am and 11 am at their respective gardens. Sturdy shoes advised.
https://www.cnps.org/event/tour-of-two-redlands-gardens-featuring-california-natives-rsvp-requires