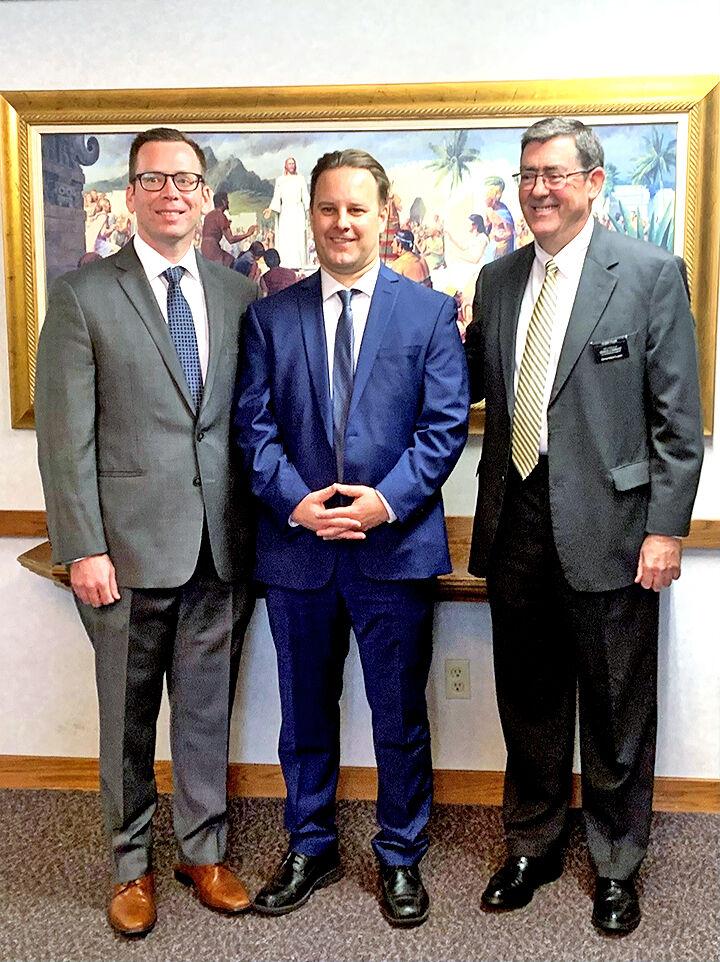 New leadership has been called to preside in the Redlands Stake of the Church of Jesus Christ of Latter-day Saints. Henk Fischer now serves as president of the stake with Robert Elkins Jr. of Redlands serving as first counselor and Stephen Tyler of Highland serving as second counselor.
After more than nine years of service, previous leaders Michael Strong and Bradley Williams will receive other assignments and continue to serve in various ways throughout the stake and community.
Fischer lives in Redlands with his wife JoyLynne and four of their five children. One son is serving a mission for the church in Germany, where his father was born and raised. President Fischer is a financial adviser and will continue his career as he serves in his new capacity.
Stake presidencies are selected through prayerful consideration by visiting General Authorities of the Church and are asked to serve as volunteers.
Elder Mark A. Bragg from Salt Lake and Elder Kevin K. Miskin from Yucaipa presided over the recent conference. The new stake presidency members were announced and sustained by local members, and they began their service immediately.
Stake presidents provide guidance and counsel for members of their stake by helping individuals and families increase their spiritual strength and come unto Jesus Christ.
Relationships with their communities has always been important to the Church of Jesus Christ of Latter-day Saints. This will continue to be a priority under the direction of President Fischer. He notes, "Motivated by the second Great Commandment of Jesus Christ to 'Love thy neighbor as thyself,' the church considers service to its surrounding communities to be a divine mandate."
Most recently, members of the church participated in a local food drive distributing and collecting food bags from nearly every home in the surrounding area. The food was then sorted at Family Service Association of Redlands with volunteers from Family Service, Crafton Hills Community College and others. The donation from the community totaled over 32,000 pounds, which is by far the drive's largest donation year so far.
The church also works closely with the Redlands Service Club Council and the city of Redlands to create and facilitate the annual Community Day of Service every spring that attracts nearly 1,000 volunteers throughout the city.
Fischer plans to continue serving side by side with the community, and is grateful for past relationships.
"The Redlands Stake has been blessed by the genuine goodwill demonstrated by local cities and diverse fellow faith communities," he says. "Together, we have created a considerate and uplifting environment. We are deeply grateful for their heartfelt support and we wholeheartedly offer ours."
When asked about his hopes and desires for the members of the church during his time of leadership, President Fischer shares, "Although the coming years will be filled with unprecedented changes and challenges, we have great hopes that members will come closer to the Savior Jesus Christ by focusing on the 'small and simple things' such as personal prayer, scripture learning, and church worship."
He also offers hope.
"Many people are afraid of the future, but the message of the gospel of Jesus Christ can help us all to live lives that are filled with faith and hope, and no fear."
Amy Strong is a member of the Redlands California Stake of the Church of Jesus Christ of Latter-day Saints.
The Redlands Stake
The Redlands Stake is a geographical area consisting of Redlands, Loma Linda, Highland, and Mentone. There are eight congregations and approximately 3,300 members in the area.
The Redlands Stake is one of approximately 3,500 stakes worldwide. There are more than 16.5 million members of the Church of Jesus Christ of Latter-day Saints