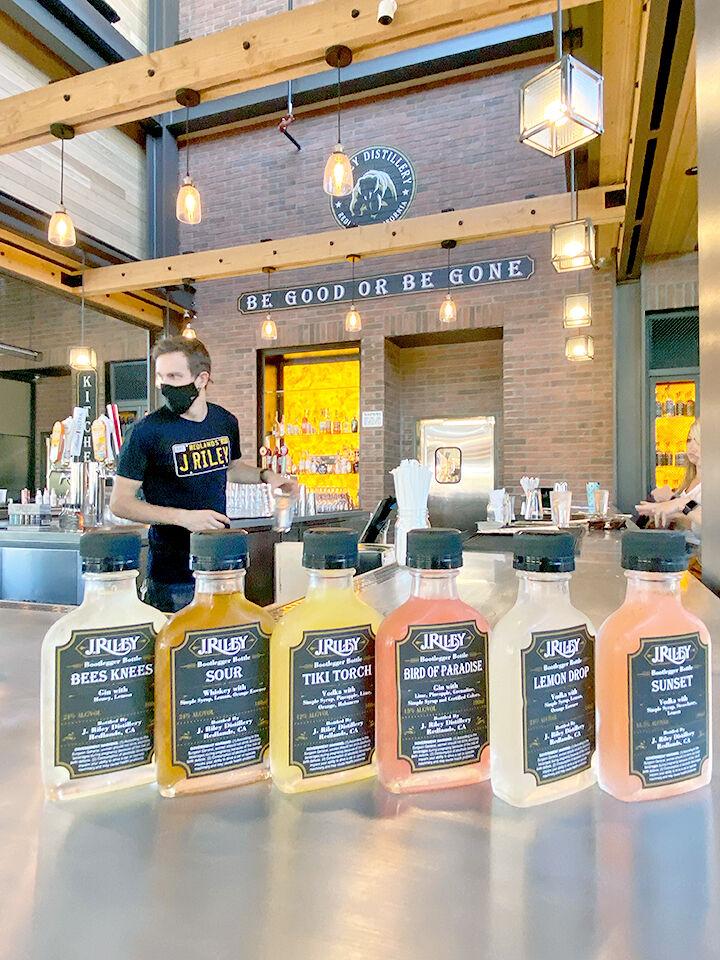 J Riley Distillery's new location is beautifully situated on the corner of Oriental Avenue and Eureka Street across from the movie theater on one side and a view to Escape Brewery's new restaurant on the other.
The new distillery building is where Redlands Auto Electric used to be, but now instead of taking care of cars, they will take care of whiskey connoisseurs with upcoming tasting tours. The restaurant building is next door, new and designed to fit with the distillery. There is a space between the two for outdoor events. The original opening date in November 2020 was pushed back by the pandemic to the end of April of this year.
"We are really happy to be at this point and grateful we were able to open when we did," said Cinnamin Riley, the spokeswoman for J Riley and big sister to Jason Riley, the owner. She joined the team last year during the pandemic. With the upcoming expansion and a 25-year background in retail supervision, operation and procedure it made sense to join with her brother.
"We were good teammates even as siblings," she said.
Cinnamin explained how her brother, "was approached a few years ago and asked if he would be interested in a spot closer to downtown."
After the initial contact, Riley replied with a proposal for his plans and visions for the new location.
"He gave them input and what he wanted it to look like and feel like for the customers," she continued. "The architect group did a really good job and elevated it. Jason's vision is to provide a place in Redlands where people could go and get good food, some good entertainment and learn about different alcohols," she added.
Essentially, the new J Riley will not just be a restaurant but much more. Tours of the distillery will be given every other week. Space will be available for retirement and graduation parties, weddings, and other events and for live music, dueling pianos, concerts and comedy shows. Riley had garage doors installed instead of windows, which helps make the restaurant a dual inside/outside place. Also, the music scene can be turned into a 360-degree stage accommodating restaurant patrons and event patrons.
"Redlands is a great community. Jason and I both grew up here," Cinnamin said, "We are hoping to take advantage of this location and really create some good fun for the people in Redlands and beyond."
J Riley makes their own vodka, gin, white whiskey, bourbon and their newest addition, a rye whiskey.
"We just popped a barrel open. It's about five hundred bottles, limited run, of a rye whiskey," Cinnamin said.
Canned cocktails and cocktails to go are also offered.
The alcohol profile for the bar is completely unique and expanded from the original tasting room. The alcohol options are not easily found anywhere else.
"With our alcohol vendors, Jason put a lot of time in testing and tasting, getting alcohol from other craft distilleries or products that may not be as known," Cinnamin explained.
The new distillery has a lot of open space including room in the middle of the building.
"The open space will accommodate tours twice a week. It's a really unique experience," she said when explaining how people will get to see how the spirits are made. "We are the only distillery in San Bernardino County. I think you won't see in a lot of craft locations, the paring with a restaurant and additional space we have for entertainment," she added.
Their classic American menu has been created and developed by their consulting chef, Jonathan Wiener. The resident chef is Nick Loewy who was previously pastry chef at The Steakhouse, a Forbes four-star rated restaurant at Agua Caliente. They have a staff of 35,  which they hope to double as their opening hours expand.
"It's been beyond what we anticipated," Cinnamin said of the past six weeks of being open. "Especially for a new location and a launch during COVID with limited operating hours. The third Saturday we opened, we had a line of people at 3:45 p.m. halfway to Escape."
This early success prompted them to add a new drink rail for people waiting to be seated alongside an extra whiskey lounge that is being built.
"This is a phenomenal location for us. Everything that is happening in this area right now is just going to make it even better," she stated.
"There's one night a week Jason goes around and does tasting, sampling his products with people and giving them first-hand knowledge of how it's made, like no one else can do," Cinnamin finished. If you are lucky, you might also get a mini tasting tour at their restaurant.
History of J Riley Distillery
After high school Jason Riley enlisted with the Marines. After several years serving in the military, he had a young family to take care of and started his own drywall and paint contracting business.
For three years he worked overseas for the Department of State, which hired ex-military as private contractors. For those three years his limited time at home was spent learning the craft of distillery. And in 2013 he was ready to open J Riley Distillery and Tasting Room on Nevada Street.
"Before that you could not sell directly to customers if you were not beer, brandy or wine. For any other type of liquor, you had to go through a distributor," Cinnamin said.
The law that had been in place since Prohibition was changed that year to include liquor, opening the door for ventures like J Riley.
"He is very entrepreneurial, but it is the science behind it that really gets him excited. The first whiskey he did was the California Clear, which people think is like moonshine. But moonshine is never barrel aged at all," Cinnamin said as she gave an example of how J Riley was one of the first to came out with a true white whiskey.
About J Riley Distillery & Restaurant
Where: 420 Oriental Ave, Redlands.
Hours: 4 to 10 p.m. Tuesday through Saturday (eventually opening hours will expand 11 a.m. to 10 p.m. Monday through Saturday and 11 a.m. to 6 p.m. Sundays). Seating is first-come, first-serve.
Prices: $10 to $16.50 for menu items. Drinks start at $6. Soft drinks and kids menu are available.
Menu: Classic American food menu made from scratch featuring tidbits from the garden, burgers and specialties in between bread. They have a charcuterie board available as well as something for the sweet tooth. Homemade bourbon is used in their caramel and bourbon BBQ sauce. Village Bread Bakery provides bread and pretzels. Menu items can be modified for special dietary needs, and they have a vegetarian burger on the menu.
Events: Dueling pianos every other Wednesday and live music featuring local musicians every Tuesday and Thursday.
Social media: @jrileydistillery on Instagram and Facebook.
For more information: Visit jrileyspirits.com (coming soon) or call (909) 513 6103.