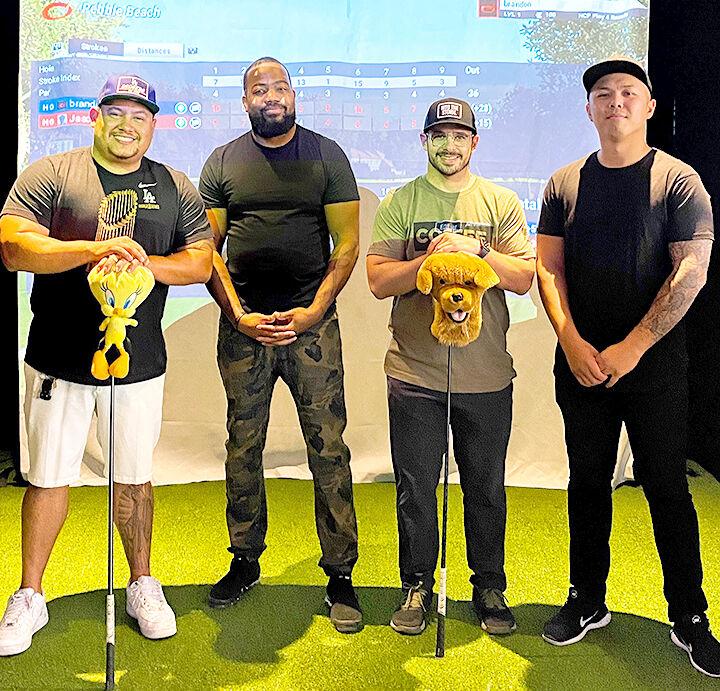 A new business called 19th Tee Premier Indoor Golf hit the downtown Redlands scene this month, offering a place to sharpen established skills or learn the game of golf from scratch with swing analysis technology.
With more than 1,000 real-life golf courses to choose from, beginner to expert golfers can experience what it feels like to practice on famous golf courses like Pebble Beach Golf Links, Waste Management in Phoenix and Augusta National Golf Course in Georgia.
When the golf ball strikes the projector screen, sensors analyze different elements of the shot, including: speed, shot angle, club head data, smash factor, distance, spin and trajectory.
Owners Taurel Hankins and Chayuth Chantakamo were inspired to bring the concept to the Inland Empire after visiting an indoor golf facility in New York in 2019.
"There is nothing like this concept here unless you drive up north," Hankins said. "We could not think of a better area than Redlands to bring the concept of indoor golf to the community."
Jason Martinez along with his friend Brandon Frogger were the first customers on the grand opening day of 19th Tee Premier Indoor Golf on April 16.
"The location is perfect," Martinez said. "Having an indoor facility so close to home is awesome. It is nice to have a life like simulator to play on hot days."
Martinez said he was most impressed with the golf data technology.
"Having all the key information of swing path, swing speed, visuals of impact zone and ball speed is very useful in helping improve a golf swing," he said.
Guests are welcome to bring their golf clubs or use loaner clubs available at no extra cost.
There are three bays and each bay holds up to four guests at a time.
In addition, a gaming console is available at each bay and has over 3,000 arcade games including, Mario Brothers, Pac-Man, Street Fighters and Super Contra.
The atmosphere mimics the historical feel of downtown Redlands with soft rustic and golden hues throughout.
The area is spacious and has a snack and drink area in the front. The three bays line the walls, and there is a vintage pool table in the back room, which is open to all paying customers.
"Redlands is a timeless city," Hankins said. "We really wanted to match that idea throughout this space."
To encourage some friendly competition, there is a leaderboard on display with the top scores of the individual course, par and longest putt. The winners at the end of each month will receive a prize.
"We wanted to create a fun and safe environment for people of all ages and skill levels," Hankins said. "This is a family friendly place with many opportunities to have some fun."
Shannon Castro, Calimesa resident, visited 19th Tee as a first-time golfer.
"I wasn't sure what to expect because I've heard golfing can be extremely hard to learn," Castro said. "The owners were really helpful teaching me and my 14-year-old daughter the basics on how to hold and swing the club. We actually got the hang of it after about 20 minutes of practice."
Castro and her daughter played on the Kids vs. Parents course, which is a shorter course meant for new golfers.
Chantakamo said he hopes their new establishment is a positive addition to the city.
"Our main goal is to be a contributor to the development of the community," Chantakamo said. "We are interested in getting involved in city council meetings and helping our community as best as we can."
It is recommended to call in advance to reserve a bay, but walk-ins are also welcome.
"The entire community has been extremely welcoming and pro bringing indoor golf to Redlands," Hankins said. "It is very humbling to see."
19th Tee Premier
Indoor Golf
Where: 19 E. Citrus Ave.
Hours: 8 a.m. to 10 p.m. daily.
Cost: $40 for the first player and $10 for each additional player from 10 a.m. to 5 p.m., and $50 for the first player and $10 for each additional player from 5 p.m. to 10 p.m.
For more information or to reserve a bay: Visit 19thteegolf.com or call (909) 780-0805.