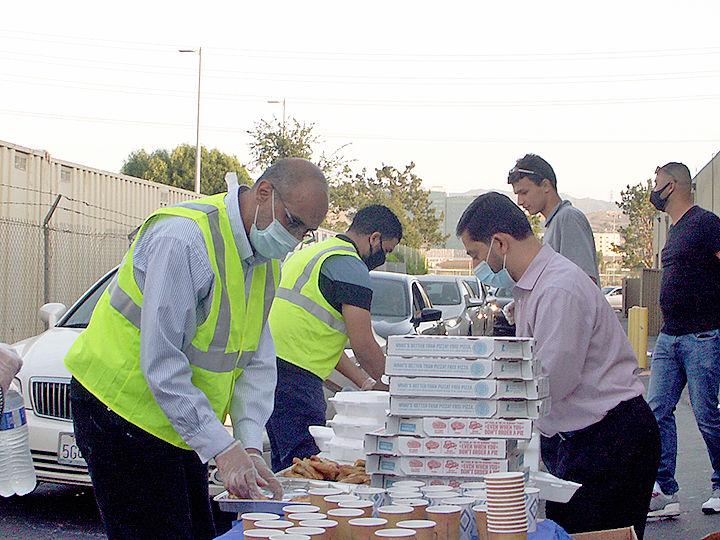 The Islamic Center of Redlands' call to prayer as the sun set on Saturday marked the end of the monthlong fast of Ramadan for the Muslim community.
Members joined in a vehicle caravan along the side of the mosque, around the back and out the other side where caravanning members were served curbside the traditional breakfast of dates, fruits, nuts and water along with donated dinners and gifts for children.
Ramadan, the ninth month of the Islamic calendar — which ran this year from Thursday, April 23, to Saturday, May 23 — commemorates the revelation of the Quran to Mohammed. For Muslims, it is a month of prayer, reflection and community.
Like other religious ceremonies this year, the observance was restricted by the pandemic. Nevertheless, the local Islamic community persevered via Facebook and Zoom meetings as well as drive-thru events at the mosque during the evening prayer.
Khalid Bahjri, president of the Islamic Community Center of Redlands, a longtime local resident and faculty member of Loma Linda University, was in charge of the event.
"One of the beautiful things in many ways is to see the humanizing effect this situation has had," Bahjri said. "Islamic community members have realized that our issues are not solely our issues. It has been great to see the support from everyone.
"Other communities have reached out to us asking what they can do to help and likewise we have reached out to others in similar ways. A very negative thing ends up highlighting the good aspects of humanity. Hopefully without the need for such a crisis we can continue this beautiful thing that has occurred in difficult times."
Bahjri also remarked on the degree of creativity.
"Who would have thought that spiritual needs could be fulfilled through venues such as Zoom and Facebook?" he asked. "I could not have imagined the level of resilience demonstrated. For people to arise late at night or in the wee hours of the morning to join a spiritual meeting shows how far we are willing to go to fulfill our needs."
Earlier this year, the Islamic Center held a fundraiser for its new center. It continues to receive donations. Preliminary work has started but has been sidetracked because of COVID-19. The pandemic highlights the need for a new center.
"I always maintain that one of our real drawbacks in the Islamic community thus far is that our current center is not conducive to provide the support to the greater community of Redlands that we've envisioned," Bahjri said. "We want not just to have a larger place in which to worship ourselves but that we could have a community center in which we could provide support to the community of Redlands, especially in times of difficulty. We just haven't' had that capability so far."