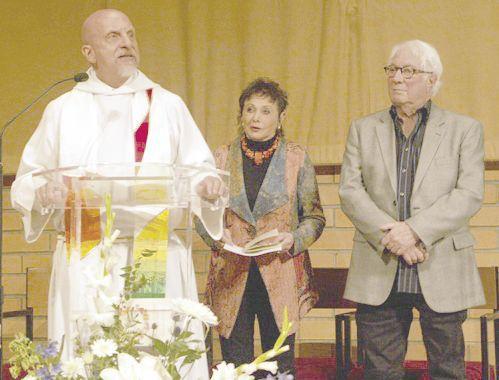 The Redlands Area Interfaith Council held its yearly Thanksgiving service Sunday at the First United Methodist Church of Redlands. "Living Our Thanksgiving" was the theme.
Ceremonies began with a procession of clergy and faith leaders into a full chapel. United Methodist Church Pastor J.T. Greenleaf welcomed everyone, after which a variety of thanksgiving prayer traditions were highlighted. Interspersed throughout the program were beautiful choral and congregational renditions of hymns of thanksgiving.
Assemblyman James Ramos, former chairman of the San Manuel Band of Mission Indians, sang an impressive, self-effacing rendition of a native song titled "Traditional Big Horn Sheep Song." This was followed by a member of each of the four major attending faiths in turn leading a prayer of thanksgiving: Pastor Jill Kirchner-Rose of Redlands United Church of Christ represented the Christian tradition, Ashiyah Medlock of Redlands Peace Academy the Islamic, Rabbi Lindy Reznick of Temple Emanu El the Jewish and Urmilla More the Hindu.
Stan and Ellen Weisser, well-known local philanthropists and retired business owners, gave the main presentation. In order to share the roots of their philanthropy, the Weissers drew upon their experiences as developing local entrepreneurs. They recounted the years of coming to Redlands with little, establishing themselves first as small business owners in 1966 — a single business that would grow over the years into several businesses culminating in their business retirement in 1999.
Their philanthropic efforts were still growing strong. And with that growth came both the means, opportunity and influence with which to help others. They shared that their giving has also served to greatly spiritually enrich their lives.
Stan recounted seeing as a young boy his father habitually bringing home empty tzedakah (offering boxes) from the local synagogue, which his father would then fill up over time with excess money he would contribute from the family income until the box was full. Once full, his father would then return the full box to the synagogue as their family's contribution of shared thanksgiving where it would be used to help others.
His father would then bring home another empty box to repeat the offering.
Ellen shared memories of a similar nature. Such acts of "living our thanksgiving" left indelible impressions upon the Weissers, would over time blossom to be felt through the many philanthropic efforts of which they have been a major part to the benefit of the city and people of Redlands.
Judy Cannon, president of Redlands Area Interfaith Council, then led an offertory invitation and a collection was taken from those attending. The proceeds will be donated to The Center for Spiritual Living to assist with their Cold Weather Shelter opening Dec. 1.
If there is an observance that is indicative of the Interfaith Movement, perhaps Thanksgiving is it. Of the major world religions, each has its yearly celebration that is particular to itself: Christians have Christmas, Jews have Hanukkah, Muslims have Eid, Hindus have Diwali and Buddhists have Vesak, yet none has a celebration felt by all as inclusive of all. But the observance of Thanksgiving, because it is an expression of the human heart and cannot be claimed by any faith as solely its own, does transcend this barrier and meet this need.