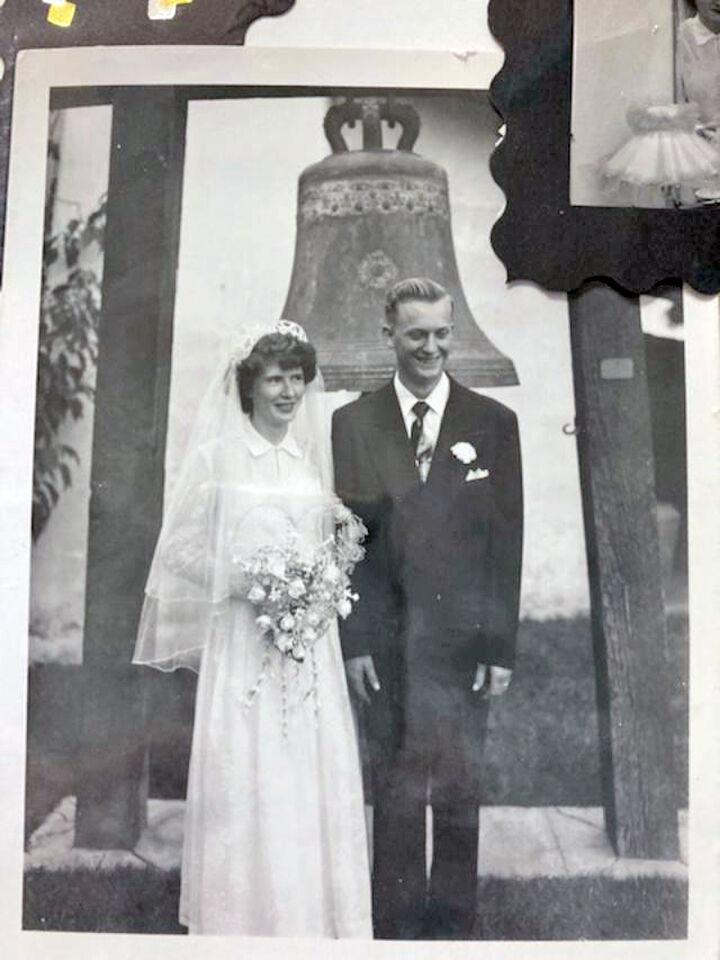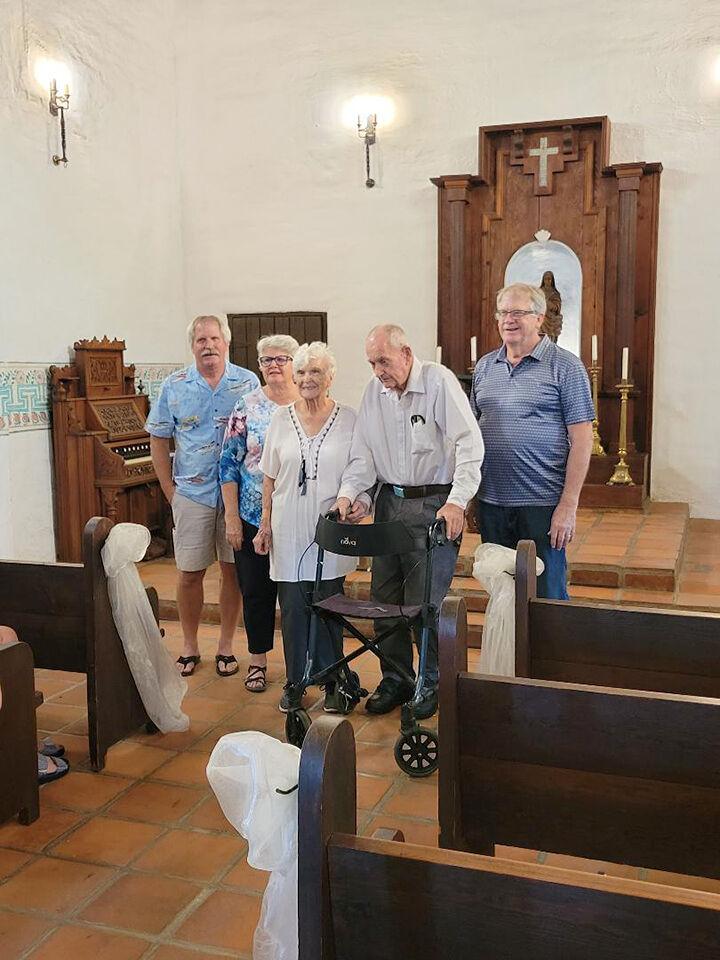 Whether for only one year or 70 years, anyone who wed at the Asistencia may return to Ring the Bell, one ring for each year of marriage, in the courtyard at the historic site.
During the 1950s and '60s, up to five couples a week wed at Asistencia in Redlands, sometimes in the chapel and sometimes in the courtyard. Today, many of those couples fondly remember the early California-style compound.
They sometimes drive by and stop their cars in front on Barton Road and step out to peer over the wooden gate to see inside the courtyard. General Manager Heather Ross welcomes couples who made their vows at Asistencia to come in and Ring the Bell in celebration of their long history together.
The bell is the giant bronze bell hanging from a massive wooden structure in the courtyard. Ross invites couples to contact her to make a reservation for their own special Ring the Bell date. One recent event involved George and Emily Jean Hoogeveen, married in the Asistencia chapel on Sept. 30, 1951.
To celebrate 70 years later on Sept. 24, 2021, George and Emily were accompanied by their children, Doug Hoogeveen of Grand Junction, Colorado; Dennis Hoogeveen of Gridley, California; and Linda Hudson of Hemet.
George Hoogeveen's family had established their dairy in San Timoteo Canyon near Alessandro Road. Both George and Emily Jean graduated from Redlands High School and happily made their plans to say their vows at Asistencia, which had become a popular wedding chapel. George recalled that he arrived at Asistencia in a borrowed car, as he had left their own car parked safely in a friend's garage so no one could mark it up with "just married" signs.
Their own car, a 1948 Chevy convertible with big white side wall tires, was ready to go. "That was a beautiful car," George remembered with pride as he described their honeymoon. "Following the wedding and reception, they drove to the Los Angeles area for the night before heading up Highway 1 to Santa Cruz and San Francisco. Their trip took them across the Sierra to Carson City in Nevada before heading down Highway 395 back to Redlands, home in time for his folks' anniversary party.
By 1952, George and Emily Jean had moved their dairy to Oro Grande, between Lancaster and Barstow, where they spent many years raising their own family and doing what George knew best — being a dairyman. At the Ring the Bell celebration, George, Emily Jean and family members gathered in the chapel for photographs and remembrances before they retired to the courtyard and the bell. George picked up the mallet and smacked the big bell with vigor to everyone's applause.
"These Ring the Bell celebrations provide our guests with time to recall a joyful moment in their lives," said Ross. "How great it is to have Asistencia still viable and beautiful so people can revisit their magic moment?"