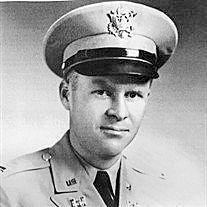 Howard Chester Littlefield, who served in the Army Corps of Engineers for 21 years, died on July 4, 2019, with his wife and children by his side. He was 97.
Born in 1921 in San Diego, Littlefield and his wife of 73 years, Flo, has 13 children. Flo was from Redlands.
He was an Eagle Scout and spent years delivering newspapers in Ocean Beach.
In the Army, he served tours of duty in Germany, Japan and Korea, retiring as a major.
After the Army, spent 20 years in community service as an administrative officer for San Bernardino County.
For more than 50 years he was a leader of multiple organizations sponsored by Holy Rosary Catholic Church.
Littlefield cherished spending time with his mom and dad and his six sisters camping or visiting family in Julian where his mom was born, according to the obituary provided by Bobbitt Memorial Chapel in San Bernardino.
He was preceded in death by sons Patrick, who died in 1950; Philip, who died in 1962, and Tim who died in 1986; and a sister, Shirley Crista of Lemon Cove.
He us survived by his children and their spouses. Mike and Kathy Littlefield of San Diego; Denny and Beth Littlefield of Highland; Barbara Littlefield and Bob McMurrich of Highland; Rick and Betty Littlefield of Eureka; Sherry Fraser of Denver; Kathy and Phil Page of Cheyenne, Wyoming; Chris Littlefield and Karen Sileo of Carlsbad; Eileen and Mike Harter of Corona; Susie and Ted Fitch of Livermore; Mark and Mary Littlefield of Loomis; Janie and Brock Lynch of Victorville; Beth and Rick Prinzing of Camarillo; and Carol and Dave Bouer of Redlands.
He also is survived by his sisters, Francis Gagola of Port Hueneme; Harriet Jacobs of San Diego; Jolene Koerner of El Cajon; Jaclyn Hewett of San Diego; Bernice Smylie of Lakeside; 84 grandchildren; 83 great grandchildren; nine great-great-grandchildren and numerous nieces and nephews.
A public viewing will be held at 5 p.m. Friday, July 12, at Bobbitt Mortuary with a Rosary to follow at 7 p.m.
Funeral services will be held at 1 p.m. Saturday, July 13, at Our Lady of the Rosary Cathedral in San Bernardino followed by a reception in the hall.
A private burial service will be held later at Fort Rosecrans Cemetery in San Diego.