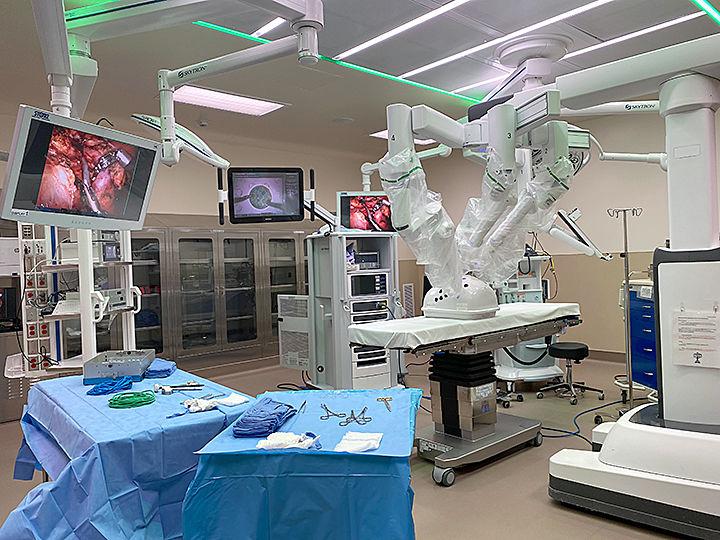 Redlands Community Hospital has something that no other hospital in the region has with its new and improved operating room unit.
On Wednesday, Dec. 4, the hospital hosted a ribbon cutting for its futuristic operating suits and hybrid bi-plane operating room. Construction on the expansion began last January and will be fully operational within the next three weeks.
The updated surgical services will include an 8,700-square-foot area with four new surgical suites. Instead of just eight operating rooms, the hospital will now have 12 in a single story.
The most impressive addition is the hybrid bi-plane 1,100-square-foot operating room suite.
The suite houses a sophisticated imaging system and as hospital President James Holmes likes to say, "More screens than a sports bar."
"The rooms are designed for not just patients but clinicians," said Chief of Staff Geetha Paladugu.
The hybrid suite is about as efficient as an operating room can get says Holmes.
It is designed to provide minimally invasive and complex neurosurgery and vascular procedures.
It is also the largest suite in the region.
Inside the room is a fixed C-Arm, which is an X-ray machine that provides high-resolution images in real-time, allowing for immediate surgical care if needed.
Maximum flexibility is a benefit of the C-Arm and is used for things such as angiography and cardiac studies according to the hospital.
How does it work?
Since the machine is shaped like a "C" it allows for movement in all directions to take images at almost any angle. The machine emits X-rays, which are converted to an image displayed on a monitor.
The two-bedroom suite has one for neurointervention and one for operating should the patient need an immediate open procedure. The two-bed system ensures that doctors can perform surgery in the same room without loss of time, which is safer for patients.
The hospital doesn't have to keep a separate suite on standby since the suite already has a bed for operating.
A futuristic tool
Another impressive tool and possibly the most futuristic aspect of the suites is the da Vinci Robotic System.
The system features a multi-armed robot that uses a video game-like console controlled by the surgeon to perform minimally invasive surgery.
It can be used for gynecology, colorectal, cardiac, head and neck, thoracic, urology and general surgical procedures.
Three parts make up the da Vinci system. The console is where the surgeon sits and controls the robotic arms.
The patient cart is next to the bed and contains the camera and arms the surgeon controls from the console. The vision cart holds the 3D high-definition vision system.
At the controls
The surgeon controls the robot by putting his thumb and finger into two loops on the console, which translates the surgeon's movements to the robot in real-time.
The benefit of using the robot is it has a greater range of motion than a human hand. The control console also gives the surgeon a highly magnified, high-definition view of the patient.
Both the hybrid operating room and the da Vinci system provide the hospital the latest in medical technology.
"Today's healthcare environment is tough. You have to have a desire to be better," said Holmes.
Another aspect that sets the hospital apart is a built-in future capacity expansion with reinforced ceilings. The hospital is already prepared to house more patients and more equipment.
A leading stroke unit
Redlands Community is a hospital that strives for perfection in all medical fields.
And no one knows that better than Joseph Frainee, a former patient who told his story at the ribbon-cutting.
Frainee had a stroke when he was 37.
"I did everything I was supposed to do to be healthy. I worked out, I ate good, but I wasn't ready for it," said Frainee.
Frainee was at the gym on a normal morning with his 12-year-old son, doing his normal CrossFit workout.
"I started getting a little dizzy. I didn't know what was going on but I didn't put much thought into it. I kept pushing."
Frainee took a barbell and lifted it up, making it about halfway before he fell flat on his face.
"One of the owners of the gym was there that morning and came over to me. Luckily she knew the signs and recognized what was going on," said Frainee. "She saw the sag in my face and told someone to call 911 because I was having a stroke."
Frainee retold how it was hard for him to speak. He knew what he wanted to say but he couldn't get words to form.
EMT's called Frainee's wife from the ambulance and told her they were taking him to Redlands Community Hospital because that's where the stroke unit is.
"The doctors kept coming in and asking me things like, 'Try to stick your tongue out' but I couldn't," said Frainee.
Frainee had two clots in his brain and had to have surgery to remove them.
"As I sit back and think about what I went through, I question many things about how this could have happened. But I have come to the conclusion that there are really three things that helped me tremendously," said Frainee.
"I was in good shape, which put my body in a position to recover," said Frainee. "Having someone around that knew the signs of a stroke and having a place like Redlands Community Hospital to fix me up was critical," said Frainee.
Frainee said the care, urgency and compassion that he received from the entire staff at the hospital will never be forgotten and is impossible to repay.
"To think they got me this far before all the new OR suites came in. I can't imagine it getting any better," he said. "I got to continue my life the way it was because of what they did."
By the
numbers
Redlands Community Hospital 2018 statistics:
• 4,166 inpatient surgeries.
• 3,155 outpatient surgeries.
• 1,072 interventional radiology procedures.
• 12,668 hospital admissions.
• 2,073 maternity deliveries.
• 51,355 emergency department visits.  
­Hospital's annual operating budget: $220 million.
Physicians: 440.
Total employees: 1,500.
Volunteers: More than 275.
Watch a video: redlandshospital.org/patients-visitors/for-visitors/watch-us-grow/
Timeline
1903: Opened first clinic on Vine Street.
1904: Hospital founded on Nordina Street.
1920s: Local citizens, including Mr. and Mrs. E.M. Cope, donate 17 acres for a new hospital.
1929: Hospital moves to current site on Terracina Boulevard overlooking San Timoteo Canyon.
1955: Iconic round tower built.
1984: Major addition blocks view of the tower.
2007: Maternal child and surgery expansion building, which houses operating rooms on the first floor. On the second and third floors are delivery and neo-natal intensive-care unit.
2018: Major projects launched to add four operating rooms, expand Emergency Department and create an entrance separate from scheduled patients.
2019: New Emergency Department and four new operating rooms open.
When former patient Bill Lewis decided to support Redlands Community Hospital with a generou…