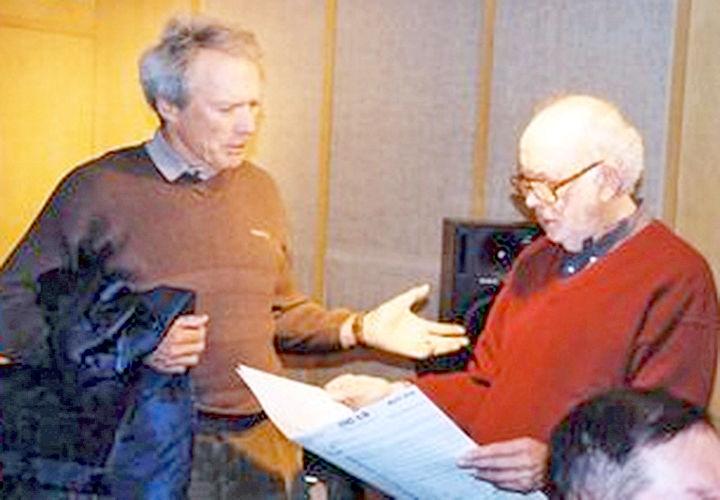 Lennie Niehaus, an alto saxophonist who played with the Stan Kenton Orchestra in the 1950s and later arranged scores for more than two dozen Clint Eastwood movies, died in Redlands on May 28, 2020, four days shy of his 91st birthday.
He was born on June 1, 1929, in St. Louis to violinist Aaron Niehaus. His sister was a concert pianist. He started playing violin at age 7, took up the bassoon and oboe and started playing clarinet and alto sax at age 13, according to a June 4 story in the Jazz Times.
A resident of Thousand Oaks, he was under hospice care at his daughter's house in Redlands. The cause of death was not disclosed, but he was facing multiple health issues, said Owen Sheeran, his son-in-law.
Niehaus graduated from Theodore Roosevelt High School in Los Angeles in 1946, went to Los Angeles City College and earned a degree in music education in 1951 at Los Angeles State College, now known as California State University, Los Angeles. During his college years, he joined the nascent bebop scene in Los Angeles and played with a swing band led by Phil Carreón, said the Jazz Times story.
After college he was drafted into the Army and was stationed at Fort Ord, where he met Eastwood. Niehaus played with a quartet in noncommissioned officers clubs, where Eastwood became a fan, according to the New York Times obituary. Eastwood was Niehaus' swimming instructor, according to a June 5 story in the Hollywood Reporter.
He returned to Kenton's band in 1954 and played through 1959. He then started to compose music in Hollywood, arranging music for the King Sisters, Mel Tormé, Dean Martin and Carol Burnett.
He reconnected with Eastwood in the 1970s, helping composer Jerry Fielding arrange music for movies starring Eastwood, including the 1976 film "The Outlaw Josie Wales," according to the Times story.
During the filming of Eastwood's 1988 biopic "Bird" on the life of legendary saxophonist Charlie Parker, Niehaus coached Forest Whitaker on how to play like Parker, getting him to stop rolling his shoulders — something Parker never did, the Times said.
He won an Emmy for the score of the 1993 Showtime movie "Lush Life," in which Parker also portrayed a jazz saxophonist.
He was also nominated for an Emmy in 2008 for his work on ABC's "Oprah Winfrey Presents: Mitch Albom's For One More Day."
He is survived by his daughter Susan Lehrman; grandchildren Josh and Emily; and his wife, Patricia (Jarvis) Niehaus.
Shows with music by Lennie Niehaus
Movies with a Clint East- wood connection: "The Outlaw Josey Wales," 1976 "The Enforcer,"1976 "The Gauntlet, 1977 "Escape from Alcatraz," 1979. "Tightrope," 1984 "Pale Rider," 1985 "Bird,"1988 "Unforgiven," 1992 "A Perfect World," 1993 "The Bridges of Madison County," 1995 "True Crime," 1999 "Heartbreak Ridge," 1986 "The Rookie,"1990 "White Hunter Black Heart," 1990 "Absolute Power," 1997 "Midnight in the Garden of Good and Evil," 1997 "Space Cowboys," 2000 "Blood Work," 2002 "Mystic River," 2003 "Million Dollar Baby," 2004 "Letters From Iwo Jima," 2006 "Flags of Our Fathers," 2006 "Gran Torino," 2008 "Changeling," 2008 "Straw Dogs," 1971 "Lawman," 1971 "The Mechanic," 1972 "The Gambler," 1974 "The Bad News Bears," 1976 "Semi-Tough," 1977 "Pee-wee's Big Adventure," 1985 "Back to School,"1986 "Emanon," 1987 "The Two Jakes," 1990 "Pocahontas II: Journey to the New World," 1998
TV shows "American Masters" episode 1 "Eastwood After Hours: Live at Carnegie Hall" "Hogan's Heroes" 24 episodes "The Jack Bull" "True Colors" 11 episodes Sources: IMBd, The New York Times, the Hollywood Reporter, JazzTimes