The Redlands Area Historical Society held its annual Heritage Awards ceremony recently at the Contemporary Club building.
The annual event held since 1975 honors historic homes and structures that are at least 75 years old and in exemplary condition. The Heritage Awards ceremony for 2020 normally held in the spring was postponed due to the pandemic.
This year's ceremony was a hybrid combining an in-person ceremony while simultaneously broadcasting via Zoom allowing for a greater-than-ever attendance.
The Heritage Awards
John O. and Minnie E. Riddel home: 758 S. Center St. (1894). Chuck and Julie Mendoza owners.
John Milton and Caroline Hartzell Cadwell cottage: 1324 E. Citrus Ave. (circa 1886). Kirk and Ellen Keeler, owners
John McIntosh home: 332 S. Eureka St. (1889). Douglas and Lisa Barbee, owners.
Sara M. Curtis house/Hoagland family home: 310 Myrtle St. (1911). Christopher and Kristy Reed, owners.
Dr. Walter B. Power home: 303 Mariposa Drive (1923). Brooks and Krystal Bailey.
Harry H. Ford Home: 127 Garden Hill Drive (1932). Greg and Gina Malachowski, owners.
Greenway Adobe: 726 Chestnut Ave. (1945). Sheri Greene, owner.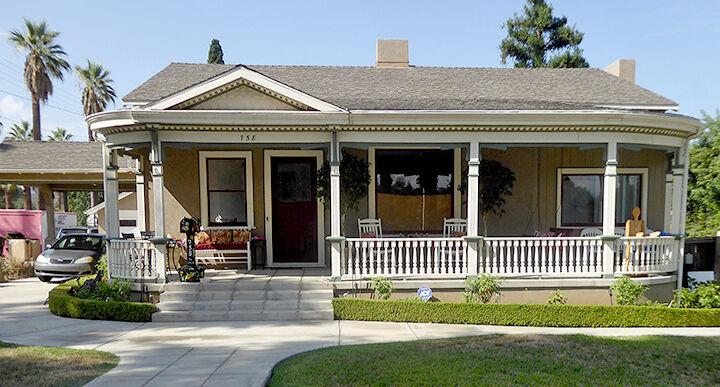 The Riddel Home has been carefully restored
The John O. and Minnie Riddel home at 758 S. Center St. was built in 1894. It is now owned by Chuck and Julie Mendoza.
"John Riddel might not recognize the house he built in 1894," said the society's report. "For a majority of the home's lifetime, this once two-story Queen Anne at 758 S. Center St. has slipped through our consciousness as a one-story, mostly stuccoed version of its original self.
"Elements of the Victorian era remain, some hidden with others clearly visible to the discerning eye."
John Oscar Riddel was born on June 21, 1862, near New Haven, Connecticut, where he lived until moving to California around 1890. He established himself in Redlands as prominent young businessman. According to "Illustrated Redlands," Riddel spent four years as the assistant to Redlands City Engineer E. A. Tuttle.
He grew oranges and lemons on nearly 20 acres in the oldest grove in Redlands proper, a seedling orchard on the corner of Center Street and Olive Avenue. The 1912 city directory also noted Riddel was in the olive and olive oil business. He purchased 2½ acres from Lee H. Utt at Palm Avenue and Center Street in November 1893 for $3,300 (in today's dollars a little over $100,000).
As with Queen Anne houses of the late 19th and early 20th century, the Riddel house featured a steeply pitched roof, an asymmetrical façade, pointed pediment with dentil course, multiple textured siding materials, including half cove shingles, a one story asymmetrical porch with shed roof, ornamental posts, and spandrels in between the posts, and a dominant front-facing gable.
John Riddel married Minnie E. Grant in April 1894. The newlyweds arrived in Redlands on May 4, 1894, to their new home. They were active at Trinity Episcopal Church. He was an election inspector, a member of the Redlands Country Club, treasurer of Associated Charities and on the board of the Redlands Commercial Co.
"It is a challenge to architecturally describe this house," said the society's report. "While it retains significant vestiges of the original 1894 Queen Anne Victorian home, from a distance it is not unlike many post World War II stuccoed single-story homes. A second look, a closer look reveals elements common to the Victorian — dentil courses, half cove shingles within the pointed pediment, and support posts more decorative than function when compared to the elephant posts of the Arts and Crafts and the California bungalow."
Chuck and Julie Mendoza purchased the house in 1992. Their four children are the fourth generation of the Mendoza family to graduate from Redlands High School. Chuck is a Redlands native, former Cope Middle School teacher and now a professor of education at Cal State San Bernardino. Julie is a graduate of the University of Redlands and a kindergarten teacher at Mission Elementary.
Original features were preserved while making sympathetic alterations and employing architects and contractors experienced working on historic structures. While working at the back of the house, a section of the wood balusters and spindles was discovered preserved under a stucco wall. These vestiges of the 19th century were copied to recreate the porch railing on the front and south side of the house.
The use of stained and etched glass is a reminder of the Victorian era and the rich agricultural legacy of Redlands as depicted in windows by glass artist Tom Medlicott.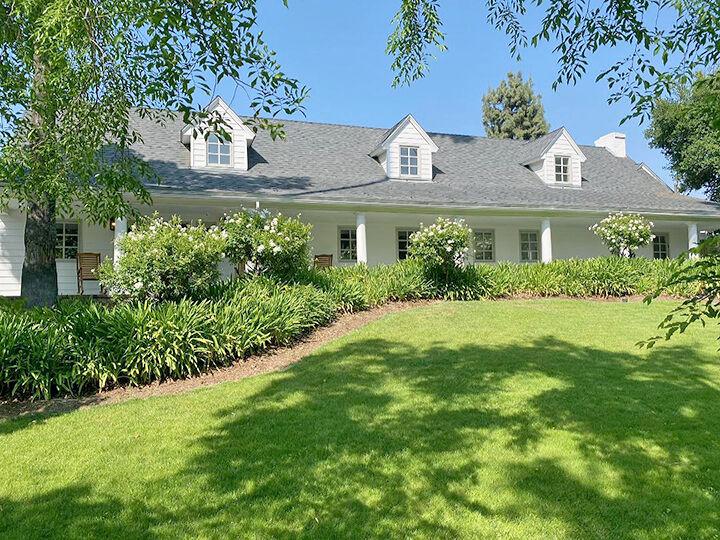 The Harry Ford home has seen many changes over the years
Harry Ford was the younger brother of Isaac Ford. He was born in Philadelphia. Harry came to Redlands at age 21 in April 1886 urged by his brother. He purchased 225 acres in Redlands Heights. He worked with his brother surveying land in Redlands Heights for three years.
In 1887, Harry returned to Philadelphia and married Sallie Leeds. By 1897, the couple had three children.
In 1895, Harry Ford was hired as the bookkeeper of Union Bank. He was then promoted to assistant cashier and then director of the Redlands Heights Water Co. He then became president of the Union Bank when Curtis Wells and Karl Wells stepped aside for his leadership.
Harry Ford invested planting citrus on nearly 40 acres on Redlands Heights. He built a Victorian house in 1897 on the corner of Sunset Drive and South Street that remained his home for 40 years. His quarter mile driveway was named Ford Street. He called the ranch Edgewood.
Successful banking allowed Ford to buy lots in downtown Redlands. He planted thousands of eucalyptus trees on his property and then built a winding road through the grove. Today we call the road Sunset Drive. The 1913 freeze left much of his citrus orchard leafless and the crop destroyed.
Harry had a home built in 1932 that was listed as 1675 Garden St., but the early directories indicate the new home was a half mile from his original residence. Ford Street at the time did not extend to Garden, but his new home prompted the city to name Ford Street just north of Garden.
Harry Ford decided to build a Norman-English home in 1932 at 1675 Garden St. on two-and-half acres. The steep gable roof is decorated with three matched dormers. There are five fireplaces with the largest in the dining room.
Built with a two-car garage, the garage has a doorway on each side recalling the previous entry from Garden Hill to the west and Garden Street from the south. Lot splits in 1979 left the home with only Garden Court or Garden Hill entry. The previous driveway that extended from Garden now graces three homes. The water meter remains on Garden Street some distance away.
So when did the address change from 1675 Garden Street to 127 Garden Hill Drive? When Interstate 10 was constructed in 1961 Ford Street was named to extend to Citrus Avenue and Sunset. The quarter mile drive into the Ford home was called Ford Street and in the 1960s extended all the way south to Garden Street
Harry Ford only lived in the home a short period. By 1937 his son Harry Ford Jr., born in 1890, moved into the modern home. The younger Ford farmed the 10 acres on Ford Street plus 20 acres on Colton and Dearborn. Ford served on the board of the Redlands Cooperative Fruit Association and the Mutual Orange Distributors that became Pure Gold. He was appointed to the Redlands City Council from August 1927 to April 1930. He graduated from Redlands High in 1909 and then the University of Redlands and Cornell University. He competed in the 1933 Olympics and won two championship plaques for trap-shooting.
Harry and Lucille sold the home to Everett Jan and Nienke G. Sjaardema in 1944. The couple came from the Netherlands. Everett was principal of the Jefferson Elementary and Roosevelt Elementary Schools in San Bernardino. Lucille was a member of the National League of Pen Women. She wrote articles for Sunshine Magazine, Telescope Messenger and the Light and Life Press. Nienke died in the home in 1953 at the age of 59.
Everett sold the home in 1959 to Col. Lawrence and Margaret B. Thomas. The home became 127 Garden Hill in 1961. Col. Thomas was stationed at Norton Air Force Base. He retired and began Thomas Realty in 1967. The Thomas couple built the carport to the garage, remodeled the kitchen, completed a re-roof, installed new heating and air, improved the septic system and split the parcel selling the lots along Garden Street in 1979.
The home sold again to Paul and Elizabeth McClure in 1983. In 1987, Dr. George and Brenda Watkin built a kitchen addition with a new master bedroom and pool in 1988. George Watkin finished improvements with a solar heater in 1989. Watkin sold to Anthony Q. Boyd in 2001. Caroline R. Boyd was added to the title in 2010. Anthony Boyd performed cosmetic dentistry.
Greg and Gina Malachowski bought the home in 2014. They modernized the kitchen, converted the dining room to a parlor, created a nursery and designed the garden backyard while renovating the pool. ­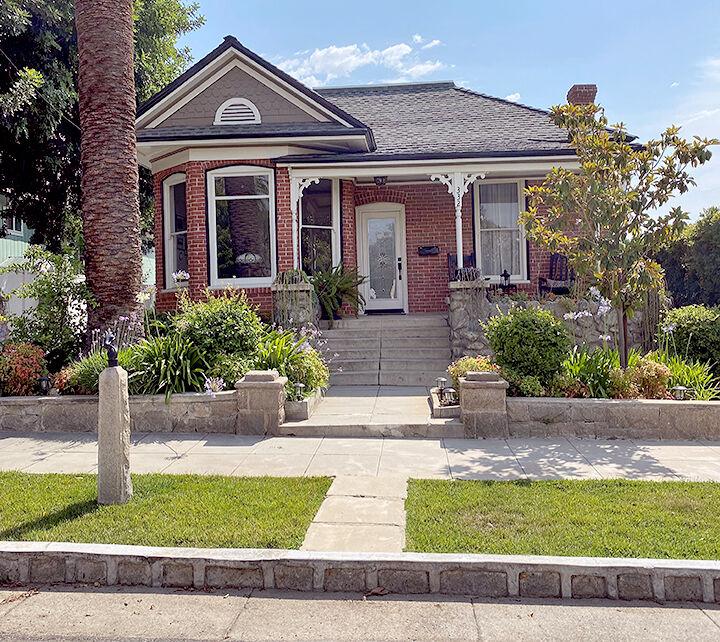 A rare brick Victorian house in Redlands
purchased lots 9 and 11, in Block A of the Holden Villa Tract on Eureka Street from J.D. Holden of Stockton for $750. Shortly after, the lots were purchased from Wells by John McIntosh of Boston, Massachusetts, who came to San Francisco in 1881 and married Harriet Jones. They moved to Redlands in 1886.
After moving to Redlands, McIntosh began construction with the Taylor Brothers on what we now know as 332 S. Eureka St. Builder A. E. Taylor came to Redlands in 1882. He owned his own brickyard and built the first brick home in Redlands in 1884. He was the foreman and later the superintendent for the building of Bear Valley Dam in 1884.
Taylor built or provided bricks for many of the buildings seen in town today including the Academy of Music building, Masonic Temple, Trinity Episcopal Church, Phinney Block, the Orange Growers building, A.K. Smiley Public Library, Lincoln Memorial Shrine, First National Bank, Elks Clubhouse, buildings at the corners of Fifth and East State Street, the original high school and many more.
McIntosh built many homes on East and West Fern Avenue. This home was his second in Redlands and was built as a rental first occupied by Rev. E. A. Carmichael and the Rev. W.G. Conley who are listed as the occupants on the original water connection records. His last family residence was 504 W. Fern Ave.
A 1976 Historic Resources Inventory documentation calls it a "white 1-story house with exterior walls made of brick; the roof is truncated hip; tar and gravel shingles; there is a triangular shaped dormer on the front of the house; a bay window is located directly under the dormer; the windows are sash style; there is an open veranda with two square pillars; the stairs leading to the house are stoop; there is a wall of fieldstone supporting the open veranda."
The 1991 Historical Inventory shows the home is back to its natural brick color.
There are only four known brick Victorian homes in Redlands. Its original and added exterior attributes are cut stone walls and curbs, river rock front porch detail and planters, turned posts with decorative brackets, bay window, granite stone hitching post and a ribbon driveway. A Canary Island date palm graces the front landscape.
The home has had several owners and occupants through the last 132 years. Its longest-running owners were the Heatwole family totaling some 40 years from 1911 to 1948. In 1984, Richard M. Strauss and Susan G. Strauss sold it to Patrick R. Dorfsmith, who filed an application for the home to be placed on the Redlands Historic and Scenic Property Registration. It was accepted in 1985.
At that time the home was one of approximately 25 City Registered Structures under ordinance 1600. Dorfsmith truly loved this home as evidenced by his hand drawn rendering of the residence at the time of his ownership.
In 2013, Doug and Lisa Barbee bought the house. The Barbees both grew up in the Inland Empire area and had planned on staying, so the Eureka house is their forever home. Lisa has been with her company for 20 years as franchise office manager of 17 Domino's Pizzas. Doug has been in restaurant management for 25 years.
They love all the classic details, especially the fireplace, but most of all, the house really provides a sense of calm, love and positivity for them.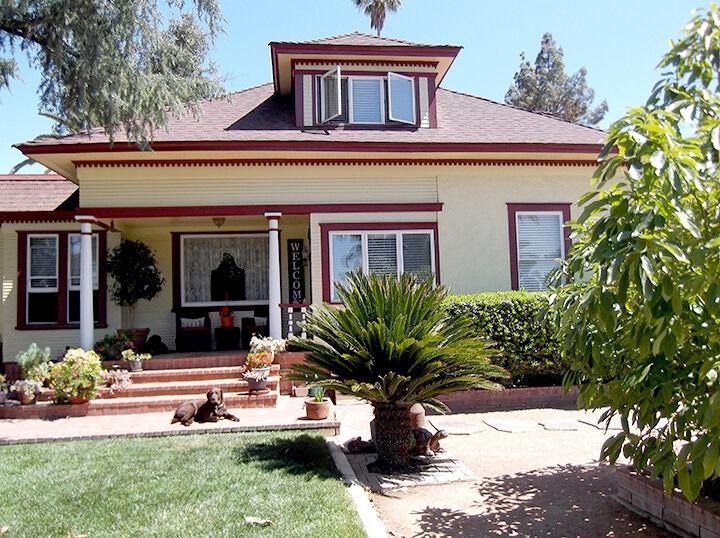 Victorian cottage has a dog house that matches
This one-and-a-half story Victorian cottage sits far back from Citrus Avenue and faces slightly northwest. The roof is a medium bell cast hip of composition shingles. The house is of redwood with clapboard siding and a river rock foundation.
John Milton Cadwell was born Dec. 15, 1866, in Utica, Illinois. The Redlands City Directory places John on Citrus Avenue in 1886 as a rancher. Being from Illinois he could have been part of the Chicago Colony.
He married Caroline Hartzell in 1887. They had two sons, Herbert H. and Raymond A. Herbert who was born in 1901 and died at age 10.
In John's obituary of Jan. 3, 1932, it stated he was Sunday School superintendent and trustee and the "Baptist 100-Year History Book" said that he was a moderator from 1926 to 1929. He died suddenly of a heart ailment in his home. Caroline was on the History Commission. She died in 1962.
"The cottage has had many changes, starting in the front," said the society's report. "Part of the porch was enclosed to make an enclosed entrance. Just two turned spindles and a small balustrade remain. The front door was replaced. Just east of this door is a large fixed window. A bedroom and bathroom were added in the attic.
There are two interesting features to the south side, including a wooded flume that is connected to a cement cistern. Local historian Tom Atchley said this was used to collect irrigation water and was then pumped into a water tank in the attic.
The Cadwells moved from 1118 Citrus Ave. to 1400 Citrus Ave. in 1909. Williams Powers, a rancher, and his wife Adeline were the next residents (1913), then the Powers and their son Walter and his wife Catherine (1914-1917). They owned the Nolder and Powers groceries and meats at 528 Orange St.
Next came Donald and Caroline Blair (1920-1941), a plumbing contractor followed by Alfred and Joanna Blair, orange grower and county peach inspector (1947–54). In 1956 Richard and Della Braga, of Grove Trucking and Contracting and later Braga Brothers Trucking, moved in followed by apartment owners Arch and Lucille Sellery (1965), then, Gilbert M. Girard III and Sharen L. Girard (1967), and in 1999, the present owners Kirk and Ellen Keeler.
The ice house is now the pantry. Ellen Keeler retired as a letter carrier after 33 years, and Kirk retired after 40 years in construction installing water and sewer pipes. They have five children and eight grandchildren. Their two dogs, Coco, a chocolate lab and Pepper, a black lab, also enjoy the house and their own dog house that matches the cottage.

Home of famous surgeon features a rooftop garden
North of Redlands Country Club sits a large, Spanish-style residence built by Davis Donald in 1923 for Dr. Walter B. Power and his second wife, Edith.
Although there are some conflicting reports, the cost to build the home was initially estimated to be $13,000 and $500 for the garage. Another article said it cost $20,000 to build.
There were several unique features such as a roof garden, an iron stairway leading to the garden and glass sun porch. An early article called the house fireproof as the casements are metal and the walls and floors concrete. The interior is finished in plaster, and there is scarcely any wood.
It is a stunning house that has been owned by Dr. and Mrs. Power, Dr. and Mrs. Bailey, and Mr. and Mrs. Bailey. The current owners, Brooks and Krystal Bailey came into possession of the home two years ago after Dr. and Mrs. Bailey (Brooks' parents) died.
This Spanish style home was built on a then-bare hilltop that looked across the small swell that separates it from the Redlands Country Club. It has a broad red tile roof and a large living room with a cathedral ceiling, not unlike many Mission sanctuaries.
Walter Bonamy Power was born in Montclair, New Jersey, in 1874. He graduated from Columbia University College of Physicians and Surgeons in 1895 as the youngest man in his class. At the time you didn't need to have a bachelor's degree to go to medical school and in fact, Dr. Power had a PhD, but no bachelor's degree. He had to wait until his 21st birthday to get his license to practice medicine in New York. Dr. Power left Bellevue Hospital after contracting tuberculosis and came to Redlands to recover in 1902. He opened his medical practice in his home on Cajon Street in 1903, driving a horse and buggy to make house calls.
Dr. Power died in the home after suffering a stroke in 1975. He was 100 years old. Edith remained in the residence until she died in 1981.
In 1981, the Bailey family acquired the 3.9-acre property. Today, from the street you can see the beautiful catwalk and patios that look out toward the country club. The home has two upstairs areas that are accessed by separate stairways.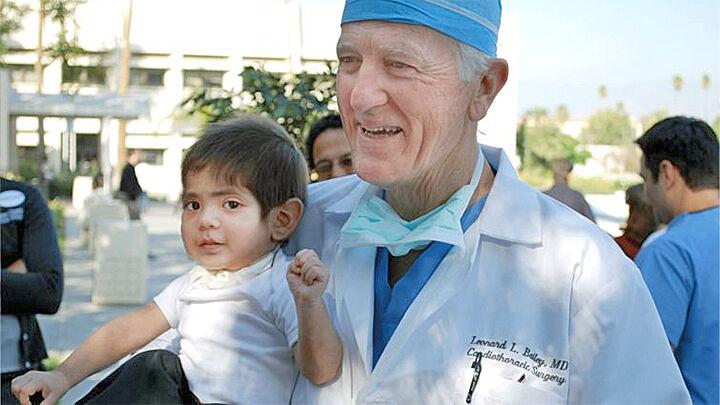 Dr. and Mrs. Bailey shared a passion for medicine and helping others. Dr. Leonard Bailey was a prominent heart surgeon, and Mrs. Bailey was a nurse in the Loma Linda Health Care systems.
Mrs. Bailey also served as manager for professional tennis player, Bobby Riggs.
Dr. Bailey performed the surgery transplanting a baboon heart into a human infant known as "Baby Fae." The procedure became one of 1984's biggest news stories, drawing daily attention of national news networks. Dr. Bailey went on to transplant hearts in 376 infants and became an authority on congenital heart surgery and a consultant to physicians around the world.
Mrs Bailey passed away in April of 2019 and Dr. Bailey passed away a month later.
The current owners, Brooks and Krystal Bailey are breathing life and youth into this impressive home and property. Mrs. Nancy Bailey's rose garden is still intact and when in bloom the flowers emit an impressive scent. Brooks and Krystal have reintroduced an orchard on the property and have nearly 50 Olive trees. The trees are managed by Lot 22 Olive Oil Co.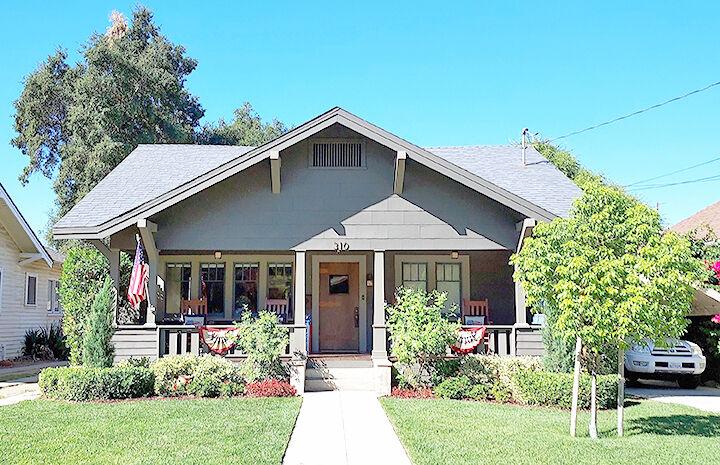 Hoagland family has lived here for 74 years
This home at 310 Myrtle St. is a classic example of an Arts and Crafts California bungalow. Its low -pitched gable roof, open floor plan, exposed rafters or braces, built-ins and sturdy porch posts or columns are essential elements of this affordable, yet quality-built architectural style.
Four lots in the Atwood and Ford Subdivision #2 on Myrtle Street were purchased in 1904 by Sara M. Curtis, a dressmaker from Dayton, Illinois. She was one of 26 dressmakers in business in Redlands in 1917. Sara had a shop at 21 E. State St. and lived at 609 East St. She later moved to 134 Fourth St. Curtis remained a fixture in Redlands until she died in 1943.
Curtis hired contractor Charles C. Reasoner to build 110 and 114 Myrtle (now 310 and 314). The other two houses were across the street at 117 and 121 Myrtle (later re-designated 317 and 321). The first documented residents of 310 Myrtle were professor S. Guy Jones and his wife Letitia beginning in 1912 through at least 1915. Jones was hired by the University of Redlands in 1909 as the first physics instructor.
Another well-known Redlander, Frank J. Loge, and his wife Ruth lived there from 1919 to 1921. Loge and his business partner, Rollo Holcomb, owned the Triangle Chocolate Shop near the corner of Citrus Avenue and Orange Street.
The next residents were Walter and Clara Blodgett followed by Louis and Augusta Whitney.
Around 1926 a young widow, May Luckenbill, and her two small sons, moved in. She was pregnant with her second son when her husband David was killed in a bridge collapse. She moved to Redlands. Luckenbill was a member of the RHS faculty for about 25 years.
A search of the San Bernardino County archives reveals the owner of 310 Myrtle in 1930 was Luella Edna Blackburn, followed in 1932 by Frank F. and Lillie L. Konen. Frank was the step-father of future owner Nellie Hoagland and her husband, Raymond Keith Hoagland. Frank is also listed as the owner of 314 Myrtle where he lived from about 1933 until his death in 1963. Marion F. and Marjorie F. Burr owned the home in 1941, and Earl and Ada Johnson in 1945.
Raymond Keith and Nellie Hoagland are listed beginning in 1947. Keith's grandfather, Lucas Hoagland, arrived in 1847 as a member of the Mormon Battalion of the U.S. Army. For 74 years, members of the extended Hoagland family remain stewards of this beautifully restored California bungalow.
In 2017, the "DIY Restored" program hosted by Brett Waterman restored the original hardwood floors and fireplace, redid the kitchen, installed period-appropriate windows in the dining room, painted the exterior in a dark gray and blue, moved the air intakes and installed new vent ducts as well as other touch ups to the original wood accents throughout the house.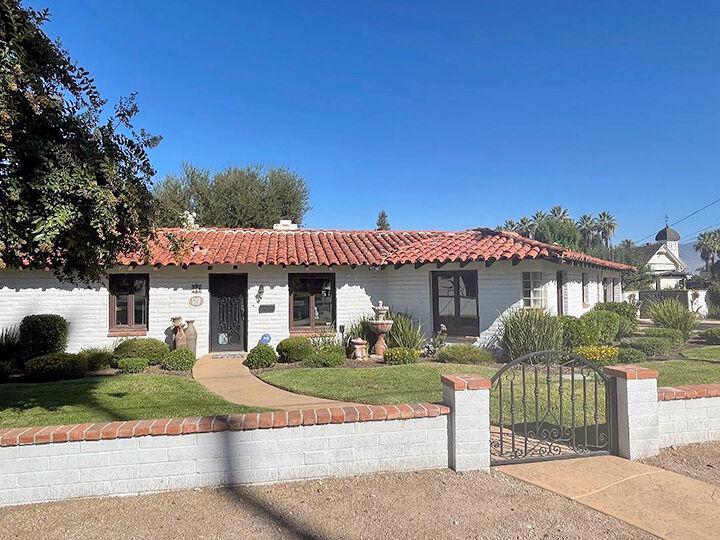 University of Redlands professor and his wife lived here for six decades
This 3-bedroom, 1.5-bath home of approximately 2,020 square feet is characterized as adobe, one of the oldest building materials. ­The style of adobe homes built in the 20th century is typically termed California Hacienda or Spanish Colonial.
The first water connection was installed on this parcel on July 22, 1925, by W. H. Warner. Further research about this person did show he bought other lots in Rialto and in Los Angeles, but little else about him was discovered
The parcel was unimproved until 1945 when Elmo and Stella Rayfield applied for a building permit. Elmo was a plumber, and Stella was a packer at Gold Banner. In July 1945 a second permit was prepared for a single-story dwelling to be built by day labor at a cost of $4,000.
The Rayfields did not live in the home long. They sold it to Wilsey and Hazel Brewer in March 1948. The Brewers did not reside in the home long. They listed it for sale in November 1948.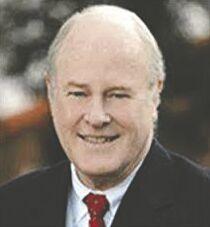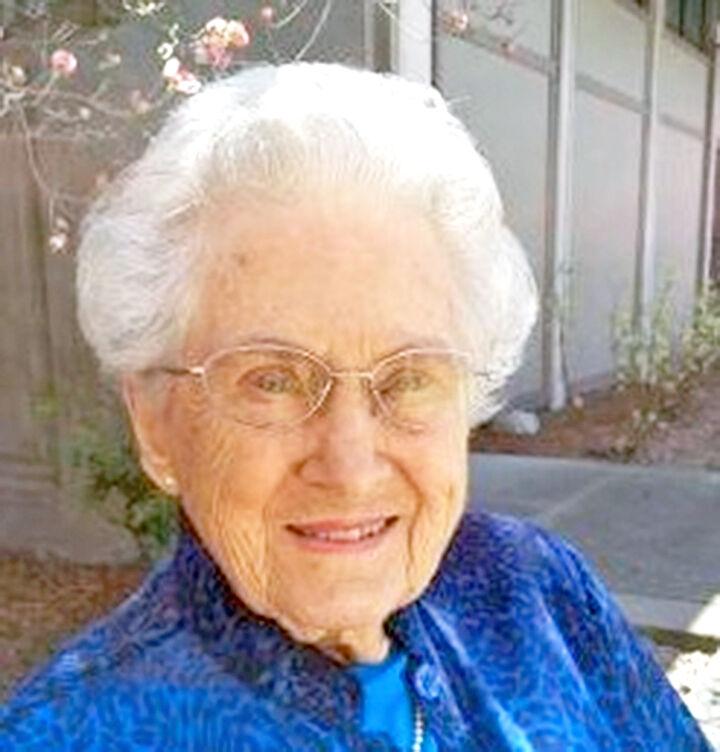 The home was then purchased by Frank L. Greenway Jr. and his wife, Mary Beth "Betty" Behrens on Feb. 23, 1949. Frank and Betty moved to Redlands in 1946 and lived at 35 N. University. Greenway was a professor of economics and business administration at the University of Redlands for 35 years. He was a member of Rotary, the Chamber of Commerce board of directors and a Redlands Community Hospital Corp. member. He died in 1998.
Betty was involved in the U of R Faculty Wives Club, Town & Gown, Assistance League and several bridge groups. She lived in the house 63 years until she moved to a retirement community in 2011. She died at 102 in December 2020
Frank and Betty had three children and were active members of the First Presbyterian Church where Frank's father, the Rev. Frank L. Greenway, was the minister and lived at 806 Cajon St.
In 2011 the Greenway home was sold to Frank and Sheri Green. Frank and Sheri's daughter lived across the street from the Greenway home and when they would visit their daughter from time to time, they would tell Betty Greenway that they would love to buy her home.
Frank and Sheri Green have consistently renovated the home to reflect the integrity of the Hacienda style.
Since their residence, they have renovated the main hall bathroom, new kitchen with custom made cabinets and Spanish tiles, created a patio with more interesting Spanish tiles and barbecue, built a low brick wall with brick caps, installed the wrought iron gate and much more.
Research and photography of the homes
Done by the Heritage Award Committee members Jill Huntsinger (chairwoman), Karen Flippin, Jennifer Schaefer, Steve Spiller, Marie Reynolds, Marcus Paulson, Erin S. Benson, Tom Atchley and Marjorie Lewis.