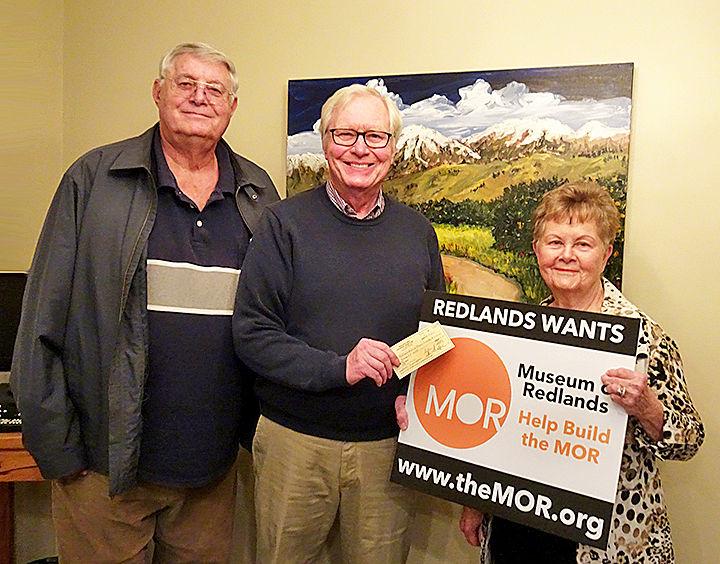 The Museum of Redlands, in its concluding fortnight of doubling donation dollars before the matching grant deadline, on Feb. 9 received a check for $10,000 from the Redlands Area Historical Society.
The nearly 50-year-old historical Redlands society noted this was their largest donation ever, in their effort to effectively double their contribution for the museum before the deadline.
President Steve Spiller and past president Tom Atchley, in presenting the check to MOR Capital Campaign co-chairwoman Marilyn Solter, noted that their board gave away one-third of their current treasury.
They noted that while they have donated to the museum in past years, this was their last chance to give something much larger and have an impact.
"We salute the magnanimous generosity of Clara Mae Clem and Tim and Carol Rochford in matching our gift and that of so many others," said Spiller in a letter to the museum's president, Steve Stockton.
"For close to 50 years, our society has been dedicated itself to documenting, sharing, and promoting our community's history and legacy," Spiller said. "We look forward to the continued efforts of the Redlands Historical Museum Association in partnership with the city of Redlands in achieving many of the same values and goals we have championed for nearly five decades."
Atchley noted that in the funds raised by the society, they have supported historic Kimberly Crest House and Gardens, the school Heritage Tours of Redlands, the moving of the Barton School House, the cutstone curbing projects in Redlands and grants to preserving the heritage homes of Redlands, A.K. Smiley Public Library and its Heritage Room to provide archival/acid-free materials and storage boxes; and to the city of Redlands for its history survey leading to the establishment of Redlands Historic Districts.
On Jan. 28, the museum received approval from the Redlands Planning Commission to proceed with the construction plans for the museum, which will renovate the former Redlands Daily Facts building at the corner of Center Street and Brookside Avenue.
For more information, visit theMOR.org or phone the Smiley Library Heritage Room at (909) 798-7632.