Redlands Bowl Performing Arts has postponed the 2020 Grand Finals of the Redlands Bowl Young Artists Concerto Competition to 2021.
The grand finalists from 2020 will be carried over to the tentative date of Tuesday, June 29, 2021. Since the grand finalists are being carried over to 2021, there will be no competition preliminary round at the University of Redlands in the spring.
As Redlands Bowl leaders contemplated a variety of ways to make the competition possible, it was determined that postponing the competition would give the best chance in providing the grand finalists the best experience possible and opportunity to perform on the bowl stage with orchestra.
"While we are so grateful to have been able to present a full artistic season online for 2020, we were not able to present the Young Artists Concerto Competition as we wanted. Pushing the concert forward to 2021 allows us to give it the attention and esteem it deserves," said Beverly Noerr, Redlands Bowl Performing Arts executive director.
Valerie Peister, program director said, "Though an extra year is too long to wait, we're looking forward to thrilling performances by our 2020 Young Artist Competition finalists on the 2021 Redlands Bowl stage. We are honored to provide them the coveted opportunity to showcase their talents under the baton of acclaimed conductor Roger Kalia and accompanied by a full orchestra."
Meet the grand finalists
Anais Feller made her concert debut with the California Chamber Orchestra at age 10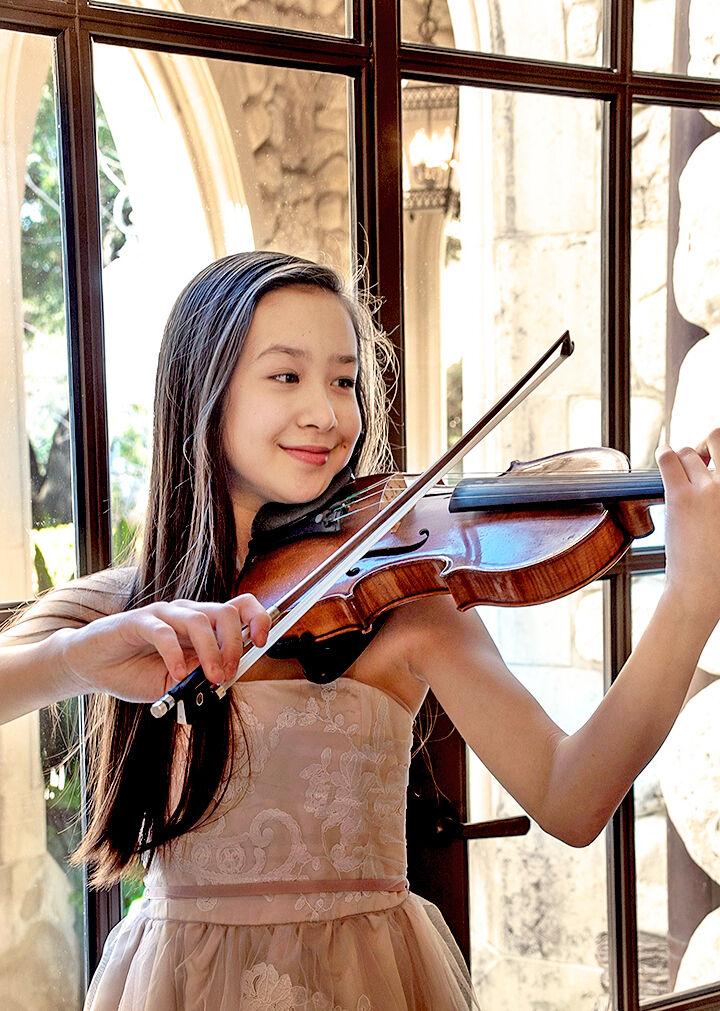 Anais 14, studies violin at the Music Academy of the Colburn School in Los Angeles, under the tutelage of Martin Beaver. At age 10, she made her orchestra debut with the California Chamber Orchestra in Koblenz, Germany. As a soloist, Anais has collaborated with orchestras such as the Plano Symphony Orchestra, San Angelo Orchestra, and Memphis Repertory Orchestra. She won the grand prize at the 2019 Young Artist Competition at Collin County, Texas and garnered top prizes at the Fort Worth Symphony Young Artist Competition, Vernell Gregg Young Artists Competition, International Academy of Music concerto competition, Bravo International Music Festival competition and at the 2020 Southern California Philharmonic Young Artist Concerto competition. Anais has attended music festivals in the US, Germany, Italy, Spain and Greece. She had master classes with Leonardo Kavakos, David Kim, Cho-Liang Lin, Chee Yun and JinJoo Cho. Her favorite concert experience was playing Bach Double Violin Concerto with the renowned violinist Ray Chen in 2020. Anais was previously a competitive ballet dancer and now dances mostly modern and lyrical.
Eric Gan has performed to raise money for victims of the Camp Fire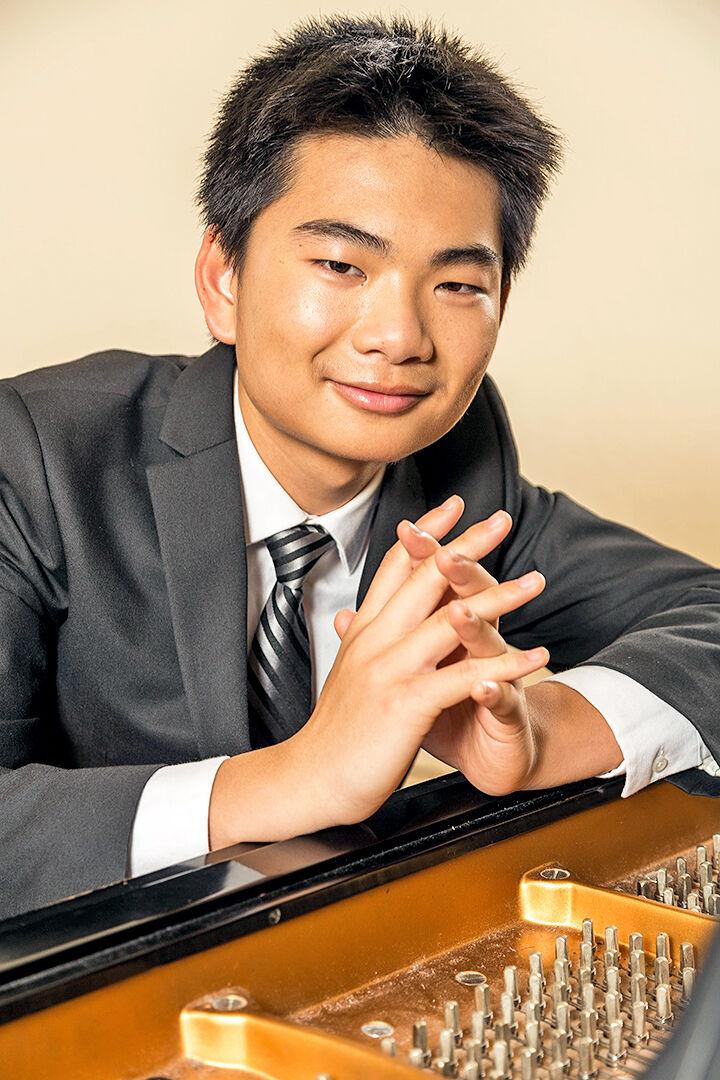 Born in 2003, Eric started learning piano at age 5 and now studies with professor Ning An. He won first prize at the Los Angeles Young Musician International Competition in 2019, and is a 3-year winner of the U.S. Chopin Foundation Scholarship (2017-2019). He has also won top prizes at the Lansum International Piano Competition and the Orange County Rising Stars Piano Competition. At age 9, Eric gave his first solo recital at the Steinway Piano Gallery in San Francisco and has continued to give annual performances. He has performed in venues such as the Zipper Hall in Los Angeles and Steinway Piano Gallery in Seattle. Eric has also attended master classes with renowned pianist Anton Nel and Steinway Artist Mikhail Yanovitsky. Since 2017, he has held annual benefit concerts, raising funds for underprivileged students and helping victims of the Camp Fire in Northern California.
Alexander Hobbs, was born in Tokyo in 1997, made his debut at Carnegie Hall
Alexander recently made his Carnegie Hall recital debut, followed by a string quartet performance with Noah Bendix-Balgley, the first concertmaster of the Berlin Philharmonic in Los Angeles. Alexander has earned prizes at numerous competitions, including Second Prize, the highest award given, at the Osaka International Competition in 2013, Second Prize at the Nationals, Student Music Concours of Japan in 2011. Alexander has appeared as soloist with multiple orchestras including performances with the Japan Classical Orchestra, the NHK Philharmonic Orchestra Ensemble, and the Japan String Teachers Association Orchestra. Alexander has performed at prestigious venues including the concert halls Elbphilharmonie, Kioi Hall, Tokyo Opera City Concert Hall, Suntory Hall, Teatro Olimpico, Walt Disney Hall and Carnegie Hall. Alexander was born in Tokyo in 1997. At age 11, Alexander earned the honor of serving as concertmaster for a performance of the Tokyo Philharmonic Orchestra, under the direction of the conductor Myung-Whun Chung. Alexander has participated in master classes with several renowned artists and pedagogues, including Andras Keller, Zakhar Bron, Leon Spierer and Augustin Dumay. Alexander is currently a fourth-year undergraduate student at the Colburn Conservatory of Music in Los Angeles, where he studies with Robert Lipsett, who holds the Jascha Heifetz Distinguished Violin Chair at the institution.
Soprano Emily Rosenberg is a Chicago native now based in Los Angeles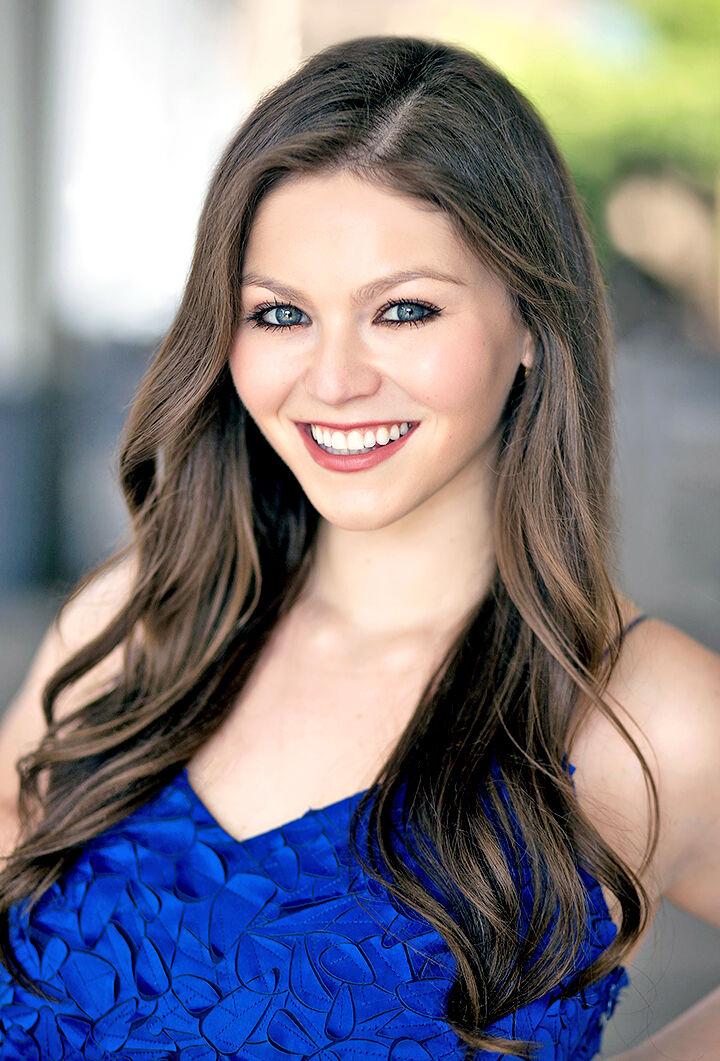 Platea Magazine, and "could be part of the program at any established international theater" have recognized Emily, a soprano, as a "spirited actress" with a "rounded and lyrical voice, well under her control". This season, Emily made her role debut as Gilda in Verdi's Rigoletto with Jerusalem Lyric Opera. Other recent highlights include an appearance as Lieschen in Korngold's Der Ring des Polykrates with Numi Opera, a return to Pacific Opera Project for their "super" take on "The Magic Flute," singing the title role of "The Cunning Little Vixen" with Opera Steamboat, and her Chicago debut originating the role of the narrator in the world premiere of "For Those in Peril," a new opera by Francis L. Lynch. Emily has captivated audiences in multiple portrayals of Susanna in "Le nozze di Figaro," with performances in Los Angeles, Prague and at the Mozarteum in Salzburg. Additional roles include Laetitia ("The Old Maid and the Thief"), Mabel ("The Pirates of Penzance"), Amore ("Orfeo ed Euridice"), Barbarina ("Le nozze di Figaro"), Papagena ("Die Zauberflöte"), Annina ("La traviata"), Suor Genovieffa ("Suor Angelica") and covering Lauretta ("Gianni Schicchi"), Pamina ("Die Zauberflöte"), and Zerlina ("Don Giovanni").
Emily made her Boston Symphony Hall debut in 2015 as soloist in the Distant Worlds: music from Final Fantasy world tour. Emily holds degrees in vocal performance and professional music with a focus in songwriting from Berklee College of Music. A native of Chicago, Emily is now based in Los Angeles, where her sound is sought after for commercial and film score recordings in addition to opera and concert producing organizations.
Curtis Institute of Music grad Henry Woolf made his Carnegie Hall debut at age 15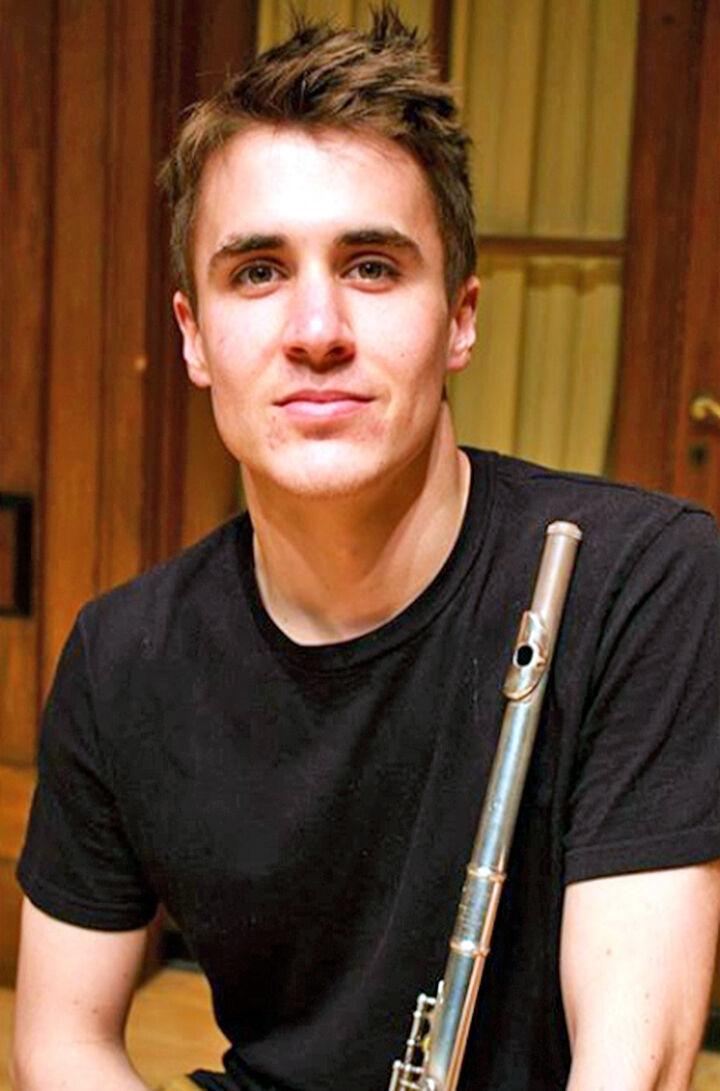 Flutist Henry Woolf made his Carnegie Hall debut at age 15 as first-prize winner of the Alexander and Buono International Flute Competition. He is a graduate of the Curtis Institute of Music in Philadelphia where he studied with Philadelphia Orchestra Principal Flute Jeffrey Khaner.
At Curtis, Woolf was frequently featured on the student recital series and participated in multiple touring projects including a nine city European tour as well as a chamber orchestra tour of the U.S.
Since graduating from Curtis in 2018, Woolf has played with the Los Angeles Philharmonic, Kaleidoscope Chamber Orchestra, Artosphere Festival Orchestra and Orpheus at Mannes Chamber Orchestra, among others. In October 2019 Woolf was invited to compete in the Maxence larrieu International Flute Competition in Nice, France and in 2020 was invited to the Sarasota Music Festival. Woolf now studies with Denis and Erin Bouriakov at UCLA.