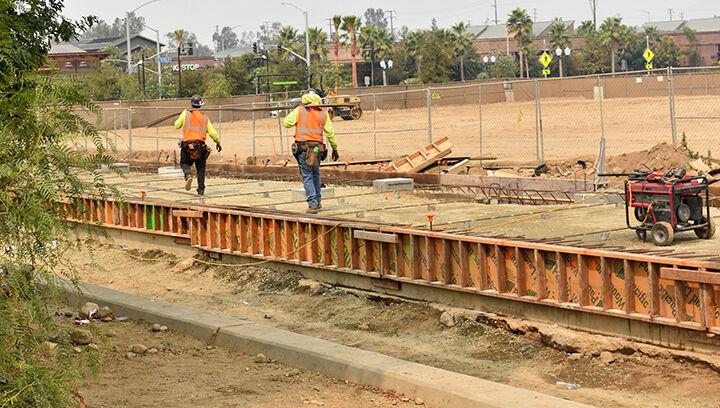 The city of Redlands broke ground on a new parking and retail structure a few yards north of the historic Santa Fe Depot. But it will be more than a garage with 384 spaces with 200 set aside for train passengers.  Parking will be free.
"We will have flexibility with the 200 spaces for rail passengers such that in off-peak commuting hours they can be used by patrons of the downtown," said Redlands spokesman Carl Baker.
The 142,469-square-foot structure will be at West Stuart Avenue and Third Street.
The project is a joint venture between the city and Property One LLC, said Mayor Paul Foster. Jack Dangermond, president of Esri, is the major investor in Property One, which is paying for the project.
"Part of the land was city owned. Part owned by Property One," Foster said.
"They are building the structure in support of the Redlands Rail Project and to support the overall retail activity in the area."
Dangermond also owns the Santa Fe Depot and the Packinghouse retail and restaurant district west of the new structure..
The three-story parking structure and commercial building for retail, restaurant and office area uses consists of 38,825 square feet of floor area with two rooftop terraces on the second-story roof, an outdoor pedestrian paseo, bridges connecting the building to the parking structure, and an at-grade pedestrian rail crossing.
 The project site is at 31 W. Stuart Ave., within the Town Center-Historic district Downtown Specific Plan.
The Planning Commission approved the project in February.
According to a socio-economic cost/benefit study, required by Measure U for new buildings larger than 5,000 square-feet, the project would have a positive cost/benefit ratio of +1.18, meaning that for every dollar the city incurs in costs to serve the project, the city receives $1.18 in revenue.