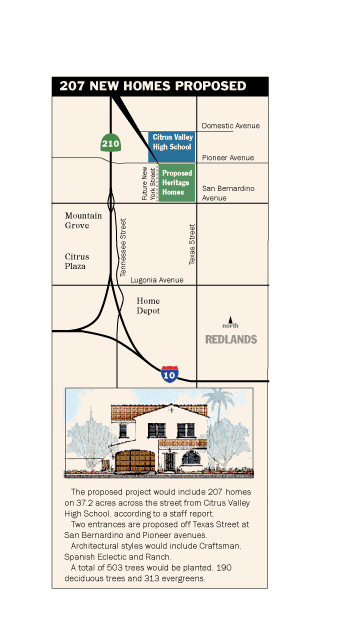 The Redlands Planning Commission approved the Heritage Specific Plan, which will bring more tract homes to the city.
On Tuesday, May 12, commissioners approved the recommendation for a 207-home plan on the 37.2 acres of the East Valley Corridor across the street from Citrus Valley High School.
The plan allows the corridor to switch from commercial land to low-density residential.
The project still has to go before City Council for a vote.
The plan also proposes lot sizes ranging from 3,375 to 9,375 square feet. Possible styles of the homes are Spanish Eclectic, Ranch or Craftsman.
The project includes seven lots for landscaping, recreational space and stormwater basins, 4.91 acres in total.
In a cost-benefit study conducted in accordance with Measure U, the project's anticipated annual residential revenue is $265,358. The annual residential cost is $150,892. The annual positive balance is $114,466.
The cost-benefit study suggests the project will not overburden Redlands' public services. Commissioners said the SB 330 housing bill is not expected to affect the project.
Vice Chairman Steven Frasher was the only dissenting vote.
"I am voting no because I don't think it is wise to turn commercial property into residential this close to a major freeway," said Frasher.