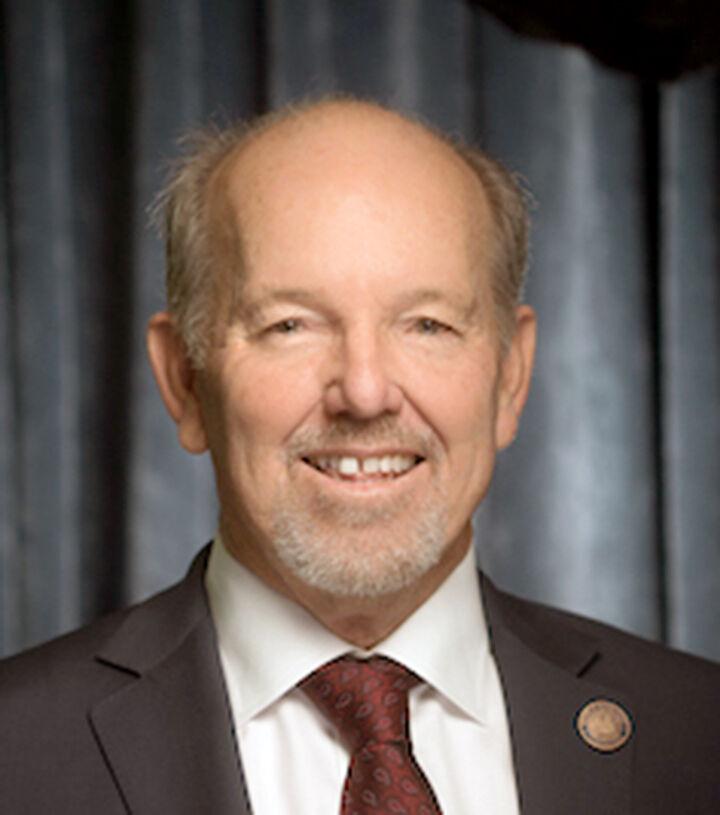 Riverside County Board of Supervisor Jeff Hewitt announced he is running in the recall for California governor race during a private event in Riverside on Friday, April 30. Hewitt is a Libertarian and, according to his campaign staff, has large support from Republicans, Democrats and Libertarians alike.
Many of those supporters attended the announcement on Friday night at the Mind and Mill venue in Riverside.
Prior to Hewitt's announcement, several individuals shared endorsements.
San Gorgonio Pass Water Agency Director Mickey Valdivia is no stranger to politics. He previously worked for Riverside County Supervisor Marion Ashley and is now Hewitt's legislative assistant.
"You get to know them intimately, in a range of settings," said Valdivia. "I can tell you, unwaveringly, Supervisor Jeff Hewitt does not change ... whether he is talking to someone looking for that next meal or somebody who is developing 5,000 homes. He doesn't change. His principles are solid all the time and I've been with him all over, even south of the border. He is unafraid to absolutely go against the grain."
Another attendee, former San Bernardino County Board of Supervisors Josie Gonzales, concurred and said it takes courage to run for public office.
Hewitt fell into politics quite by accident. In 2004, he was asked to join Calimesa's Planning Commission.
"I found out that you don't get paid for this and there's a lot of hard decisions to make," said Hewitt.
Hewitt served on the Planning Commission for six years before his friend, the late Councilman Ray Quinto, talked him into running for City Council. Hewitt was ultimately elected mayor of Calimesa. He left office in 2018, when he was elected Riverside County supervisor, representing the Fifth District.
According to Hewitt, the biggest challenge he faced as mayor was forming a new fire department.
For 18 months, with the help of colleagues and staff, he worked on securing the Fire Department to avoid raising taxes for a third mandated firefighter on engines at the station.
He said he worked collaboratively and across all party lines to come up with a solution.
"We pulled off an amazing thing that nobody said could be done," said Hewitt. "We formed our own in-house fire department ... a phenomenal fire department, that has staffing of four (on engines) right now. We saved nearly $1 million a year and we came up with sustainable pensions. When people said it couldn't be done, all we had to do, with a team, is prove that it can be done."
At the April 30 announcement, Hewitt said should he get elected as governor of California, his top three priorities would concentrate on the drought, housing crisis and education. The focus is all about innovation.
Hewitt will campaign all over the state with a focus on farmers and farmworkers. Hewitt, who is fluent in Spanish, said he looks forward to speaking with those communities.
"I'm about uniting all Californians, from farm workers to Silicon Valley techies, for the future of our state," said Hewitt.
On April 26, California Secretary of State Shirley N. Weber announced that the threshold of 1,495,709 verified signatures, 12% of registered voters, had been gathered. Voters who signed petitions have 30 days to withdraw their signatures. An election date has not been established.
The recall election, which is not yet official, is expected to be held later this year. The ballot will feature two questions. First, voters will determine if Gov. Gavin Newsom will be recalled. The second question will ask voters if the recall is successful, which candidate do they choose to replace Newsom.
Announced recall candidates
• Former San Diego Mayor Kevin Faulconer, Republican
• Businessman John Cox, Republican
• Former U.S. Rep. Doug Ose, Republican
• Retired adult movie actress Mary Carey, independent
• Billboard model Angelyne
• Gold Medal winner Caitlyn Jenner, Republican
• Riverside County Supervisor Jeff Hewitt