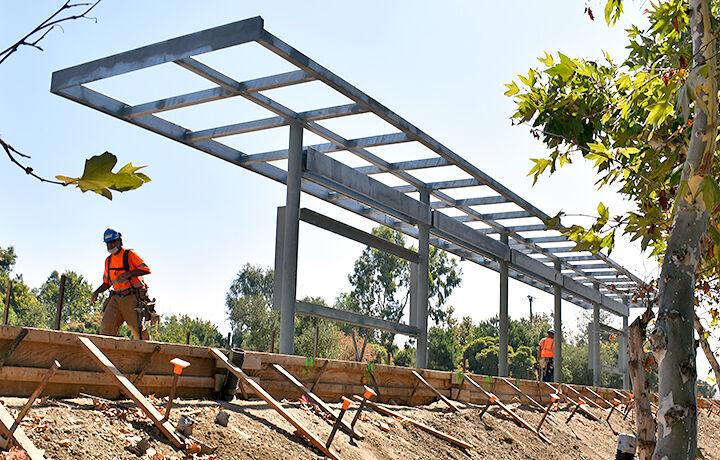 But it could take more than a year before trains start rolling
Monday was the one-year anniversary of the groundbreaking of the $359.7 million Redlands Passenger Rail Project.
The San Bernardino County Transportation Authority says the nine-mile project from Redlands to San Bernardino is more than half complete, but its website indicates Arrow train won't start rolling for at least 17 more months. The trains will use right-of-way established in 1905 by the Atchison, Topeka & Santa Fe Railway, which was abandoned in 1937.
Spokesman Steve Lambert said the 50% estimate refers only to the construction stage.
"Once construction is complete, there's testing of the tracks and vehicles," he said. "We're encouraged by the progress that's been made and look forward to an early to mid-2022 start of service."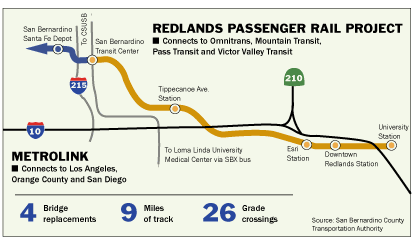 The express route
In addition to the five short hops between Redlands and San Bernardino, an express train pulled at first by a standard Metrolink locomotive will take off early in the day for Union Station in Los Angeles and return in the evening.
In November, the Transportation Authority entered an agreement with Stadler U.S. to create the first zero-emission hydrogen train in the United States by 2024, which will take over the route. The train is expected to reach speeds of up to 79 mph, but it is uncertain how long the trip will take because the number of stops has not been determined.
Stadler, headquartered in Bussnang in eastern Switzerland, was founded in 1942. It has a workforce of around 10,500 based in various production sites in more than 40 locations.
Double tracks along the Redlands-to-San Bernardino route are being built so trains can pass one another.
Raoul Ranoa, a graphic artist from Redlands who took Metrolink to his job at the Los Angeles Times for two decades, said there was an express train for a year or two, but it was canceled reportedly because riders on regular trains complained about having to pull over.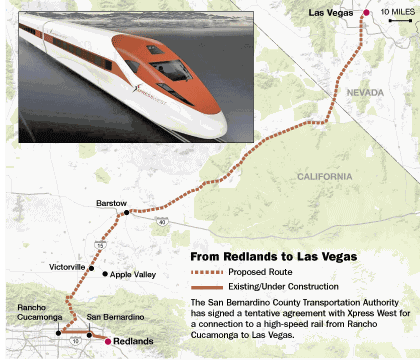 Vegas, baby
Early this month, Transportation Authority directors approved a memorandum of understanding (MOU) with Xpress West to explore the possibility of a privately funded high-speed rail line from Rancho Cucamonga to Las Vegas.
The new proposal would represent an expansion of Xpress West's planned service from Las Vegas to Apple Valley, using right-of-way through the Cajon Pass along Interstate 15 connecting with the Rancho Cucamonga Metrolink station, 30 miles from Redlands.
The Transportation Authority is eager to explore innovative transportation solutions that incorporate emerging technologies, reduce the carbon footprint and protect the public interest, said Executive Director Ray Wolfe.
"The MOU allows us to work with Xpress West in looking outside the box in considering the possibility of a privately built and managed rail system through the Cajon Pass between Apple Valley and Rancho Cucamonga," Wolfe said.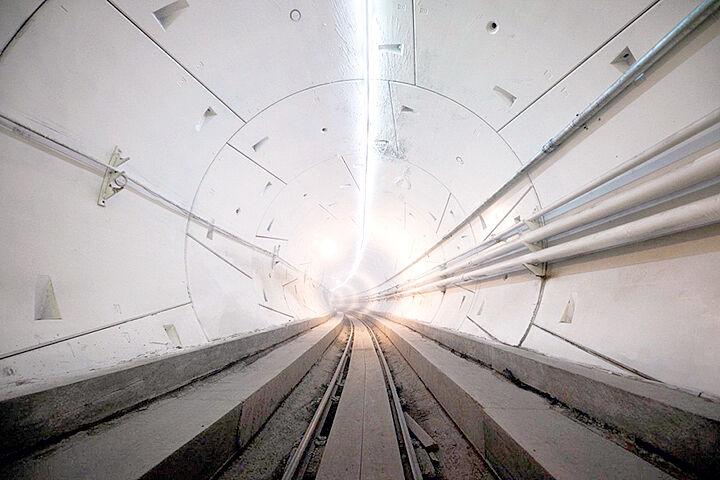 Can you dig it?
One of the most attractive possibilities is to be able to take the train to the airport so travelers won't have to pay for long-term parking or ask a friend for a ride. There is not a route to Ontario International Airport, but that could change. The authority announced in June an exploratory agreement with the Boring Co. for a possible tunnel to the airport.
The authority's Transit Committee recommended directors delay its Rail Access to Ontario International Airport alternatives analysis to examine a possible tunnel to the airport.
A subterranean tunnel would be new for the region.
The board will consider initiation of a competitive procurement process.

Fares
Schedules and prices have not been determined, Lambert said, but existing fares between the San Bernardino Depot to Union Station provide a clue.
The cost of the five-mile ride from the San Bernardino Depot to the Rialto Station is normally $2.75. It's now discounted to $2 since the pandemic has reduced ridership.
The 13.6-mile trip to Fontana costs $3.25, discounted from $4.25. There are more discounts for seniors, students and active military.
The roughly 60-mile trip from San Bernardino to Union Station in downtown Los Angeles is $10, discounted from $13.75.
Metrolink and Omnitrans have developed smart phone apps for riders to use when boarding, but traditional kiosks for traditional ticket purchases are still expected.
There are 14 stations from San Bernardino to Los Angeles, so the express trip could save a lot of time. It is not determined how many stops there will be on the express route.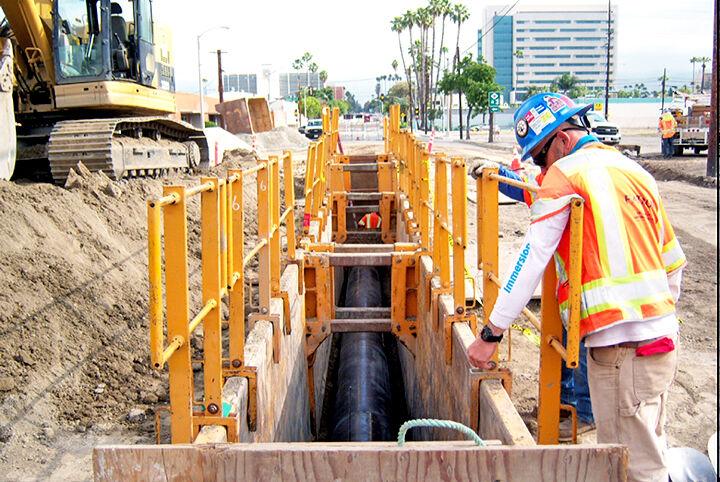 Where can you go?
Once you get to Union Station, built in 1939, the possibilities are practically endless. For now, many attractive venues are closed because of the pandemic.
But it's reasonable to expect that by the time the Arrow trains start rolling in 2022, there will be a vaccine and a return to normalcy.
There are seven Metrolink lines. The website metrolinktrains.com has a section called "Explore" with several suggestions. Examples:
• Olvera Street: This is the easiest of them all. Walk west toward Alameda Street, the main entrance in front of the station. Cross the street and you're there.
• Beaches: To go to San Clemente, take the orange line to the San Clemente station, walk northwest to Avenida Victoria, down the steps, under the overpass and you're there.
• The Broad Museum in downtown Los Angeles: Take the red or purple line, exit at the Civic Center/Grand Park station, walk south two blocks on Hill Street, turn right and walk two blocks on Second Street and turn left on Grand Street. The museum is at 221 S. Grand St.
There are routes to Disneyland, Universal Studios, many museums and more.
Amtrak offers many more distant destinations. Trains that depart from Union Station include:
• Pacific Surfliner: The 350-mile route extends from San Diego to San Luis Obispo.
• Coast Starlight: This 1,377-mile route extends from San Diego to Seattle.
• Sunset Limited: This train  is the oldest named train in the United States, first introduced in 1894 by the Southern Pacific Railroad.
Amtrak took over in 1971. From Union Station, a rider would have to double back to Palm Springs to continue on to New Orleans.
Travelers could catch the train at 2 a.m. twice a week at the station in the open desert, where there is no parking.
The Sunset Limited use to go to Orlando, Florida, but that ended in New Orleans since Hurricane Katrina destroyed the tracks in 2005.
In 2019, it had the lowest ridership of any Amtrak route. Riders can catch a connection to Chicago from the New Orleans station.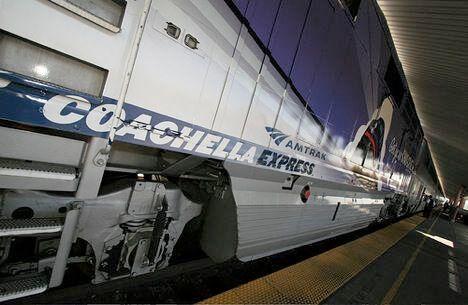 Train to Coachella?
A proposed daily line from Union Station to Indio has been discussed for years.
More than a decade ago, a special Amtrak train took fans of the Coachella Festival of Music and Arts to a temporary platform.
There were discussions in January to make the route permanent, but the issue was unresolved when the pandemic canceled the festival. 
Works in progress
• Rail crossings: The 24-hour-a-day closure of Church Street began Thursday, July 23. Crews are working at the rail crossings throughout the corridor on weekdays and weekends to prepare for rail crossing installation. Beginning at the end of the month, Seventh Street will be closed. Beginning in August, Ninth Street will be closed until construction is complete.
Other full closures are on Arrowhead Avenue and D Street. Both began in April.
• Lane closures: For the next few weeks crews will install storm drains, communication duct banks, electrical conduit and perform signal work. There will be intermittent lane closures on Mill Street, Orange Show Road, California Street, Nevada Street, Alabama Street, Colton Avenue, Tennessee Street, Texas Street, Eureka Street, Orange Street, Sixth, Seventh and Ninth streets, Church Street and University Street. Through traffic/two-way traffic will remain at all times at each location.
• Park Avenue closure began May 26 and continues 24 hours a day for crews to construct a storm drain. A local detour is posted and sends traffic north around Sylvan Park.
• The closure of the southbound lanes of Alabama Street are from 7 p.m. to 5 a.m. starting July 20 for underground utility work. Detour routes will be posted. Northbound lane will remain open for through traffic at all times.
• Daytime work: Weekday work from 7 a.m. to 4 p.m. will continue at these locations:
• San Bernardino Transit Center: Crews will be constructing new diesel modified unity platforms.
• Arrowhead Avenue: Crews will be completing underground utility work.
• Esri Station (New York Street and Redlands Boulevard): Crews will be pouring concrete for the platform.
•S anta Ana River Bridge: Crews will be grading around abutments.
• Santa Ana River Bridge to Tippecanoe: Crews will be grading and installing track.
• Downtown Redlands Station: Crews will be completing platform walls and conduit.
• Church to University: Crews will be completing storm drain work and constructing the station.
In a year or two, Redlands residents will be able to go on great adventures all across the c…