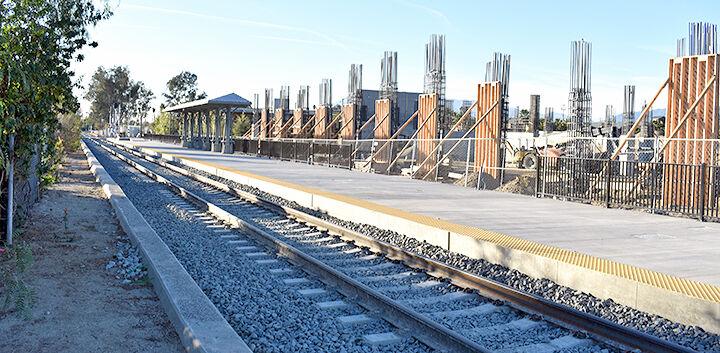 Construction on the 9-mile Arrow corridor for the Redlands Passenger Rail Project is more than 80% complete, with bridge construction almost 100% complete.
Redlands Planning Manager Brian Foote said the downtown platform at the historic Santa Fe Depot is finished.
"Last year, the owner rehabilitated the structure, including the interior," said Foote during a Planning Commission meeting on Jan. 12. "The station has new paint and detailing such as the glasswork and window frames. Everything was rehabilitated with period-appropriate fixtures. It is completely upgraded for its new life as a passenger rail station."
Foote said construction on the foundations of the parking structure at West Stuart Avenue and Third Street is underway. The 142,469-square-foot garage will have 200 spaces set aside for train passengers. The project is a joint venture between the city and Property One LLC. Jack Dangermond, president of Esri, is the major investor in Property One, which is paying for the project.
The Arrow project received $359 million in total funding. State funding makes up the biggest chunk with $164 million. There is $109 million in local funding, which includes Measure I and $86 million in federal funding.
The Arrow will run between the San Bernardino Transit Center at Rialto Avenue and E. Street in downtown San Bernardino adjacent to San Manuel Stadium. It will end at the University of Redlands.
Foote said construction on the stations at Esri and the University of Redlands is progressing as planned. The university station will be the last to be completed. The Arrow train is scheduled to begin service in the spring of 2022.
Metrolink, which will also have trains stopping only at the Santa Fe Depot, will coordinate its schedule with the Arrow train.
"Metrolink will operate only in the early morning and evening commuting hours," said Foote. "The Arrow train will operate all day."
During morning and afternoon peak commute hours, trains will operate every 30 minutes. During non-commute or off-peak hours, trains will operate every 60 minutes. Weekday and weekend service is planned to start at 5 a.m. and run until 10 p.m. In addition to standard passenger rail service, the Metrolink Express train will serve the downtown Redlands Station with limited stop service to and from Los Angeles during the peak commute hours.
Daytime (7 a.m. to 3 p.m.) intermittent lane closures will occur on streets throughout the corridor, including Tippecanoe Avenue, Arrowhead Avenue, Mill Street, Orange Show Road, California Street, Nevada Street, Colton Avenue, Tennessee Street, Texas Street, Eureka Street, Orange Street, Sixth Street, Seventh Street, Church Street and University Street. Two-way travel will remain at all times at each location.
Construction crews continue to work daily on roadway improvements on Park Avenue.
A detour is posted and sends traffic north around Sylvan Park.