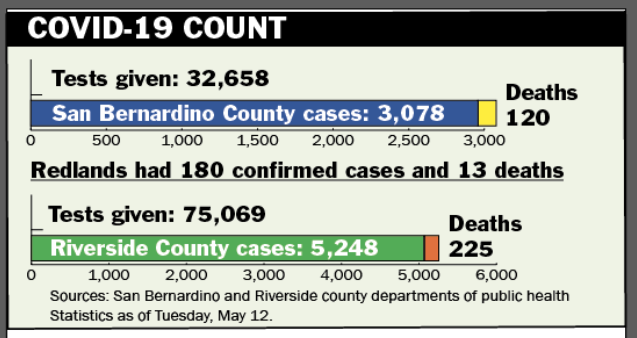 Redlands will feel the economic effects of COVID-19 for years to come.
On Tuesday, May 12, the City Council held a special meeting to discuss the proposed operating budget for 2020-21.
"The goal of the meeting is to hear from our presenters and department directors," said Mayor Paul Foster. "The council will formulate questions or suggestions about changes.
"No additional money is available to add back into the budget," continued Foster. "Any changes would be cut from other departments."
Charles Duggan, Redlands city manager, gave a presentation detailing the deficits the city is facing.
Redlands is facing a $6 million decline in sales tax after California's stay-at-home order forced businesses to close.
The city had a projected deficit of close to $8 million for the remainder of the 2019-20 year before it eliminated part-time staff and projects such as asphalt and storm drain repair.
The cuts reduced the $8 million deficit to $3 million for 2019-20, according to Duggan.
Looking ahead to 2020-21, Redlands projected revenue is $69 million.
"The first step to dealing with next year's budget is to cut anything that isn't critical," said Duggan. "Cutting employee training and unfilled positions would still leave us $8.8 million in the hole."
According to Duggan, to reduce the deficit to $4 million, the city could reduce the A.K. Smiley Public Library's hours to 35 and cut five police officer positions the city was looking to fill.
"Police make up the highest percentage of our payroll and budget at $31 million," said Duggan. "That is 44 percent of our overall budget."
To account for next year's deficit, 52 already filled city positions would be eliminated, said Duggan.
"No one is doing anything to hurt anyone," said Foster. "We are doing the best we can."
Councilman Paul Barich asked for clarification about the A.K. Smiley Public Library's shortfall heading into next year. The library is a worry for many Redlands residents who sent in public comments concerned about possible budget cuts.
"The library will be down $24,000 next year," said Duggan. "I know people are concerned that it will close, but that is not true. It will possibly reduce its hours from 56 to 35."
Duggan said he wanted to let people know that the budget shortfalls the city is facing are "because of COVID-19, nothing else."
"I am proposing we use $8.6 million out of the $20 million of our emergency reserves," he said. "I am confident that the amount won't cause significant damage considering what we have to do next year."
Redlands' $20 million in reserves was generated over 12 years.
"Things are not going to be the same as they have been," said Foster. "I want to look into the camera and let every Redlander know that things will not be the same."
Duggan also explained the difference between general and enterprise funds for those fearful of cuts.  
"Enterprise funds cannot be used to assist the general fund," he said. "Water funds are generated by and used for water. It is the same with garbage, citrus and airport funds."
Nearly 350 public comments prevented the` council from making a decision on the 2020-21 budget.
It will meet again at a later date.