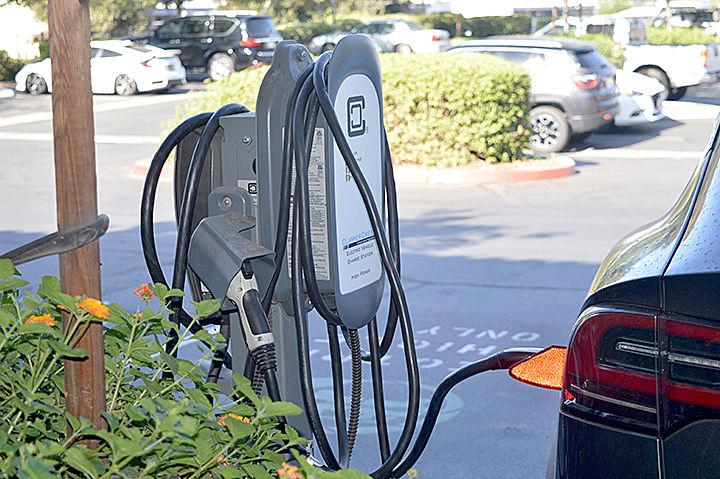 Experts agree: the shift from gas-powered vehicles to electric vehicles is inevitable to the point that the majority of cars sold in the world in the future will be electric.
In the United States, experts estimate that by 2030 there will be about 18 million EVs on the road. Around the world, the number of EVs on the roads could reach 120 million.
For that to happen, car manufacturers would have to offer electric vehicles with more range, there would need to be more charging stations and more variety for consumers.  
Without huge engines and transmissions, designing and engineering newer models with long-range batteries is relatively easy.
Change is happening and is becoming more noticeable than before.  In 2018, the number of EVs on the world's road reached five million, a 40 percent increase compared to 2017.  
That is a great success taking into consideration that it took almost five years to sell the first one million EVs.
To explore the need for more power grid and transportation infrastructure to charge all of those EVs, the Regional Mobility Dialogue Series of the Leonard Transportation Center at the California State University, San Bernardino, held a dialogue on Tuesday, Aug. 27, at the Hilton Garden Inn in San Bernardino.
Titled "Improving the Electric Grid and Infrastructure to Meet the Needs of Electric Vehicles," the dialogue looked into what challenges will be encountered by electric utilities, and transportation and utilities planners as these groups and entities will have to effectively model their performance and incentive charging programs for both the general public and business sector from the increase of EVs.
"We had an interesting discussion about how to modernize our grid.  The use of EVs is definitely growing especially in California and we need to think how to provide the infrastructure," said Loreana Marciante, senior emerging mobility solutions engineer with HNTB Corp.  
Marciante said that the trend is growing because of the many advantages and benefits offered by an EV, including incentives and savings. Owning an EV could be profitable if used to do work, such as an Uber or Lyft driver, she said. Last year, Uber began a one-year pilot program that offered extra cash to EV drivers with the intention to motivate others to own an EV and thus help the environment.
"There is a misconception that only the rich use an EV. You can get a used EV for $15,000 and if you use it to work it is the best value you can get," said Marciante.
Lisa Hannaman, senior account manager at Southern California Edison, said that with solar energy came a big issue to resolve because it changed the peak time from noon to 6 p.m.  and from 4 to 9 p.m.  Now, as more EVs are on the road, SCE has another issue: how to power all vehicles.
Hannaman said that Edison is working on solutions.  Luckily, California's policies align with expanding electric transportation, she added.
In fact, California offers vehicle rebates of up to $7,000 to purchase or lease a new plug-in hybrid electric vehicle, battery electric vehicle or fuel cell electric vehicle. In addition, California has as goal to reduce greenhouse gas emissions in the transportation sector, which according to the California Air Resource Board, is responsible for about 15 percent of greenhouse gas emissions, 80 percent of ozone-forming gas emissions and more than 95 percent of diesel particulate matter.
To do that, California created the Low Carbon Fuel Standard program, which is a key part of a comprehensive set of programs in California to cut greenhouse gas emission and other smog-forming and toxic air pollutants by improving vehicle technology, reducing fuel consumption, and increasing transportation mobility operations.
Among those programs is the Innovative Clean Transit, adopted in December of 2018.  Innovative Clean Transit requires all public transit agencies to gradually transition to a 100 percent zero-emissions bus fleet by 2040.
Marciante said that different cities and states have different approaches to offering infrastructure to power EVs in the near future. In Redlands, leaders encourage installation of actual chargers at new developments in accordance with the California Green Building Code.  
According to Redlands spokesman Carl Baker several charging spaces are being installed at the parking lot of the new coffee shop project at Eureka Street and Stuart Avenue, in accordance with the code.  
Such code requires a certain number of parking spaces to be "wired for future installation of EV chargers," however, it does not require the installation of EV chargers, said Baker.
In fact, according to the code, a parking space with a total number of parking spaces between 10 and 25 should offer one EV charging space; 26 to 50, two EV charging spaces; 51 to 75, four charging spaces; 76 to 100, five charging spaces; 101 to 150, seven charging spaces; 151 to 200, 10 charging spaces and 201 or more, six percent of total charging spaces.
A Google search yields less than 10 EV charging stations in Redlands, including a Tesla charging station installed on the parking lot of the Ayres Hotel.