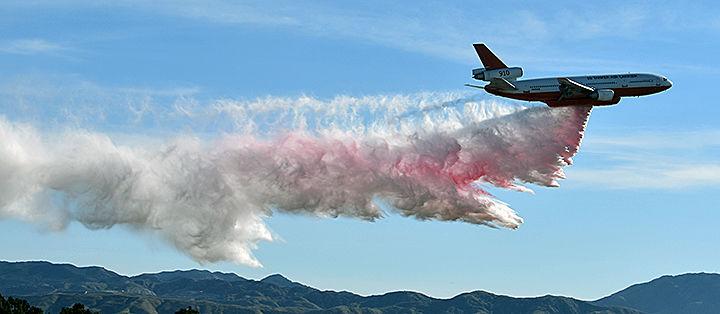 The San Bernardino International Airport Authority is moving forward with the final steps toward commencing construction of the Eastgate development at San Bernardino International Airport (SBD) following public information hearings on Aug. 8.
The project is intended to inject further activity at SBD and pave the way for future passenger activity to possibly be established.
The 100-acre proposed site is southeast of the intersection of Third Street and Victoria Avenue.
According to Airport Authority Executive Director Mike Burrows, Eastgate is 17 years in the making.
into being back in 2002, as a potential site when we did our agreements with our private development partner, Hillwood [Development Company]," said Burrows. "That started with the Inland Valley Development Agency and that has produced a number of commercial industrial developments.
Three thousand new jobs
Mark Gibbs, director of aviation for Airport Authority, said the project is expected to generate more than 3,000 jobs, with improvements to Third and Fifth streets being put to the test as traffic increases at the intersection.
"Year 1 is projected to have 1,726 jobs'" gradually increasing based on market demand, the five-year outlook is to be up to 3,880."
Gibbs says those jobs are projected to be living-wage jobs.
"There are aviation jobs, not all of them obviously, because there's a sorting and distribution component to the air cargo facility," according to Gibbs. "Aviation jobs generally demand a higher wage than your typical warehouse job does. I'm confident you'll see that with this development as well."
"We can say that in the scale of our relationship with Hillwood' at this stage it's a Hillwood project," Burrows adds. "Hillwood is actively looking at tenants for this facility. But to fully answer the wage question, we've gotta wait and see who has committed to occupy the building."
Burrows points out that in most Hillwood projects, the tenant was not known even to the Airport Authority until closer to the projects' completion. Nonetheless, previous Hillwood acquisitions have seen an "immaculate track record" of finding long-term tenants for previous SBD projects.
"At the end of the day, it's a market-based decision."
Burrows says other areas of the airport, including existing buildings, were evaluated by Airport Authority as part of determining where to put this logistics project. No other area proved to be big enough to accommodate the scope of the project.
"They assessed the entire base, which included portions of the airport including the site we now call Eastgate," Burrows said.
"This is something that we've all studied year over year and it's been designated as a site for future air cargo expansion for many, many years."
Increased demand
Burrows points out that demand for air cargo capacity has increased significantly since 2016.
"Just this last year we've added FedEx to our tenant community. During that process we had continued some of the design work with Hillwood on potential uses and design layouts for [Eastgate]."
Burrows' initial estimates project an additional 12 flights per day out of SBD when the tenant first commences operations.
The project could have been completed at neighboring March Air Reserve Base or Ontario International Airport, but would have left SBD's growth in demand for air cargo services unmet.
The location of SBD is something the airport takes pride in, with 2 million people within a 30-minute drive.
Burrows says SBD is also working closely with Omnitrans to align bus routes with jobs at the airport.
"There's a lot of opportunity to expand accessibility."
Despite SBD's proximity to Ontario International Airport (ONT), Burrows cites ONT's progress since cutting ties with Los Angeles International Airport as contributing to SBD's progress.
"A healthy Ontario airport helps all of us," he said. "That's a strong industry that keeps everybody working."
The Eastgate name ties into Hillwood's "Alliance California" brand, tying the name "gate" into each of their projects according to Burrows.
"Every project that they do is a 'gate.' That comes from the history of Norton Air Force Base. There were guard shacks at the entrance, there's a gate you have to go through, and they wanted to bring that heritage to everything that they did."
The timing of the project is a result of data supplied to the Airport Authority by cargo carriers and companies using SBD, said Burrows.
"It made sense to really get into detailed design and actually a project out for entitlement. That's what we did last year and we're trying to complete that process this year."
A $300 million project
The cost of the project, an estimated $300 million, is being financed entirely by Hillwood. No taxpayer dollars will be spent on the project, according to Burrows.
"It's not taking precious resources from our cities or our communities, so they continue to service their priority programs without carving out those resources to help offset some off-site improvement or anything."
The layout is designed to meet FAA advisory 150/5300-13A, as it pertains to airport design and technical requirements.
Environmental impact
A draft environmental assessment and draft general conformity determination were presented, as submitted to the U.S. Environmental Protection Agency (EPA).
The EPA has designated the Inland Empire as non-attainment for ozone (O3) and particulate matter 2.5 microns or less in size (PM2.5) and maintenance for particulate matter less than or equal to 10 microns in diameter (PM10), carbon monoxide (CO) and annual nitrogen dioxide (NO2). As such, the FAA has had to evaluate the project's compliance with EPA guidelines.
A general conformity determination for the proposed project was required because the total direct and indirect emissions of volatile organic compounds (VOC), nitrogen oxides (NOx), and CO are above "de minimis" emissions threshold levels specified in the General Conformity Regulations.
The South Coast Air Quality Management District (SCAQMD) says in its evaluation of Eastgate that the project will comply with the Air Quality Management Plan, thus not exceeding emissions limits or violating National Ambient Air Quality Standards. The location of the project was determined to not impact water quality standards or groundwater storage.
Also built into the environmental assessment is noise pollution mitigation. Indian Springs High School lies just three blocks away from SBD.
"That's built into the process and we have mitigation measures in our environmental permits to address that," says Burrows.
The environmental assessment was mandated under the National Environmental Policy Act of 1969.
"We try to do everything in our power to do everything that [Air Quality Management District] asks us to do. That's what we went through with our CEQA process, and that's why we got the feedback and mitigation measures that we did, which are not small," said Burrows. "They're pretty substantial, so this project I think you'll find, when you see the details on it, has a myriad of' everything technically and commercially available to help mitigate air quality."
Road improvements
Improvements to Mountain View Avenue at Interstate 10 are in progress to address the anticipated increase in vehicle traffic.
While air traffic is naturally noisy, the environmental assessment finds 16 residential dwelling units and three non-residential noise-sensitive properties (the Norton Science and Language Academy, Mill Center Park and the Antioch Christian Center) find themselves within the FAA's Community Noise Equivalent Level 65 contour. The noise equivalent level is used to measure how air traffic noise impacts communities surrounding airports.
The Airport Authority plans to acquire these residential properties and convert the land to compatible uses. Otherwise the report says that noise impacts "would not be significant."
Burrows points out that city councils from every surrounding city have input on all aspects of development in this and other projects at SBD.
"We don't hide stuff from them. We say, 'Look we want you to be part of the solution.'"
Green solutions
Among the project's green solution are 700 megawatts (MW) of solar power, 160 vehicle charging stations and all-electric ground support equipment when available.
The Airport Authority is working with the San Bernardino City Unified School District and the Generation GO program to establish internships at SBD. A similar program is in the works with Redlands Unified School District as well.
"You won't find a bigger fan of internships than me, I used to be one. That's how I started here," Burrows said. "We've kept an internship program every year since I've been around. It was originally more focused on the university level. We've got employees that work here today that came up through that program that have had jobs here for years."
Union skeptics
Despite the projected benefits of the project, some members of the community remain unconvinced about Eastgate. Mario Vasquez of Teamsters Union Local 1932 is one of a handful of union members advocating for a collective benefits agreement from the Airport Authority.
"Teamsters Local 1932 stands in solidarity with our coalition partners and residents organizing for good jobs and clean air for neighborhoods around the airport," said Vasquez. "This project desperately needs high-level air quality impact mitigation guarantees and job quality standards that can be implemented through a Community Benefits Agreement."
Vasquez isn't alone. Inland Empire Community News published an article in July supporting the San Bernardino Airport Communities Coalition in seeking a community benefits agreement. The article cites ozone pollution related to warehouse developments affecting residents throughout the Inland Empire as a chief concern in seeking such an agreement.
Burrows says the Teamsters' demands are being weighed as part of the project, but has not indicated when such an agreement would be ratified.
"All information and feedback received on the project is presently under review with the FAA. We're continuing to talk to (Teamsters) about a community benefits agreement," he said. "We've never done one here and we've certainly adapted best practices among commercial airports and that's the discussion we're having with them at this time."
Public comment
The Airport Authority is preparing its responses to public comment on the draft environmental study and general conformity determination, and the final environmental assessment has been submitted to the FAA. The final step is for the FAA to issue its decision about whether the project is ready to begin construction.
The timetable for the FAA's approval has yet to be determined, due to the high volume of comments submitted at the public hearing and throughout the public comment period.
The public comment period ended on Aug. 19.
Eastgate amenities
A 658,500-square-foot sorting, distribution and office building.
Two 25,000-square-foot maintenance buildings.
Additional taxi lanes and aircraft parking apron for up to 14 planes.
Ground support equipment (GSE), parking and support areas.  
Two separate GSE maintenance buildings.
Approximately 2,000 employee parking spaces and 380 trailer stalls.
Two new driveways into the proposed project site.
Two clear-span bridges crossing the City Creek bypass channel.
Modifications at Third Street.
New security fencing, gates and a guard shack.
New exterior lighting, including pole and/or building-mounted lamps.
Airfield lights and signage.
Land clearing, concrete demolition, excavation, embankment and grading.
Extending utilities and related infrastructure to the proposed project site.
Storm water management systems.
Landscaping.
While hundreds of Amazon employees were protesting around the nation the company's inaction …