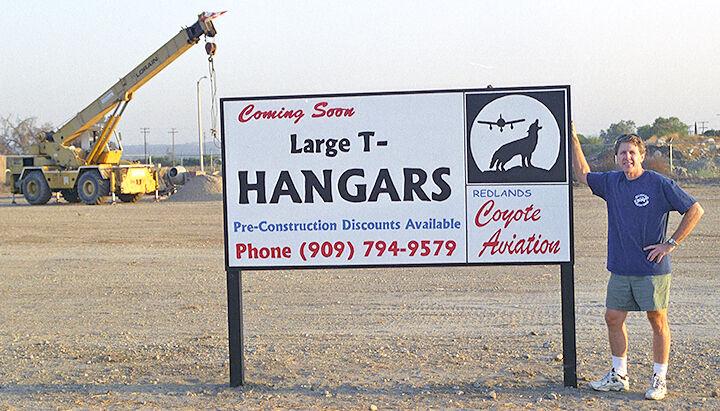 Redlands Municipal Airport business Coyote Aviation received a notice of termination of its land lease from the city, and co-owner Gil Brown said he is stunned.
"It was an absolute surprise to get that letter," said Brown. "I have been told often by city personnel that we are wonderful tenants. No one expected this."
Coyote Aviation has operated a small hangar facility on the western airport ramp for 21 years. Brown said it was built entirely with private funds by the Browns, co-owners George and Eva Saliba and investors.
"We run a building that has 16 aircraft hangers," said Brown. "People store airplanes in our hangers. One tenant is a flight instructor. We also have a flying club there. There are two businesses that operate out of our building."
Brown said the airport has 197 hangars and 150 tie-downs, where people can secure their planes if they don't have a hangar.
According to Brown, in the letter he received from the city on March 20, the city contended that Coyote Aviation did not provide timely written notice (45 days prior) to the termination date of the lease to exercise an option to extend the agreement for 15 more years. The city said Coyote Aviation remained in possession of the property (month-to-month tenancy) without negotiating a new lease.
City spokesman Carl Baker said the city entered into a ground lease allowing Coyote Aviation to construct an aviation hangar on city property in September 2000.
"The length of the lease was 20 years at terms that today are significantly below market rates," said Baker. "Further, Coyote Aviation had the unilateral ability to prolong the lease with two additional 15-year extensions for a total of 50 years."
Brown disputes the city's claims.
"Coyote Aviation signed two early leases, one on April 4, 2000, and one on Sept. 5, 2000," said Brown. "The second lease rescinded the first one, but that document retained April 4 as the termination date. We at Coyote believed this to be an error. More importantly, the two city representatives we worked with also believed it was an error. The written renewal request was submitted 77 days before Sept. 5, 2020. Coyote believed it was timely, and so did the two city reps. In fact, we included notes to amend the ambiguity of the lease dates in the lease-extension paperwork."
Baker said Coyote Aviation's lease expired in April 2020 because of its failure to comply with the terms of the agreement that required written notification to the city to trigger the first 15-year option.
"Pursuant to the terms of the lease, Coyote Aviation is required to return the property to its original state or better," said Baker. "Coyote Aviation, with the city's permission, remains onsite as a month-to-month tenant with the same terms as in their expired lease. Coyote Aviation has requested to resume their expired lease, along with the extremely beneficial terms, including a potential thirty additional years. After reviewing all of the facts, including a business plan prepared for the airport in 2016, the Redlands City Council determined it was not in the best interest of the city or its residents to provide Coyote Aviation with another thirty years at the terms of the old agreement."
Brown said he believes Sept. 5 was the correct termination date.
"The required triennial Consumer Price Index (CPI) adjustment referenced Sept. 5 as its anniversary date," said Brown. "The city's position is that our 20-year lease began on April 4, 2000. If that were true, why did the three-year CPI adjustment use Sept. 5 instead of April 4?"
Brown said Coyote Aviation was first notified of a change in lease status in an email on Sept. 25, 2020.
"It was over seven months after the city says our renewal submission was due and over three months after our lease-extension request was filed," said Brown. "The city took so much time to let us know. Of course, we'd be considered untimely."
Brown said he could document through emails at least 13 attempts to engage the city in dialogue, but none led to interaction with the city.
"No one ever contacted us to ask questions or learn our point of view in over a year," he said.
Baker said the city has been in contact.
"Despite public claims to the contrary, the city has been in regular communication with Coyote's president since the expiration of the lease," said Baker. "City staff has met with Coyote Aviation's president to discuss the best way to move forward, and staff is awaiting a response from Coyote Aviation."
Brown said he hasn't met with anyone from the city.
"Since Feb. 13, 2020, representatives have not been in regular contact with me regarding this issue," said Brown. "I did not know of our designated lateness until Aug. 31, 2020, and it was not confirmed in writing until Sept. 25. I initiated all city contact afterward. Never was I guided or helped or encouraged. The city simply responded to my questions, mostly by telling me to wait for City Council. Since the termination letter, we've had only a single contact, a Zoom meeting with our attorney on March 24. We responded by letter to the city on March 14, and to my knowledge, we haven't received a response."
Brown said he thinks the city is using a lease technicality to take the hangars or force Coyote Aviation to renegotiate its lease.
"In 2005, the city took over another hangar business, Aerodynamics," said Brown. "That group of hangars is now the highest revenue producer for the city on the airfield. At first, we believed the city wanted to take our hangars and rent them out. Now, it looks like the action is motivated by a desire to drive us to accept new land lease terms that will be far less favorable to us. Coyote Aviation already pays the highest land lease rates on the airport. Apparently, that's not enough. We are upset because this is right in the middle of a pandemic, and there has been no opportunity to communicate. There are a lot of people wondering what is going on."
Brown said this is the first time Coyote Aviation has had a problem with the city.
"We had a perfect relationship," he said. "This is the only time there has been any snag. The business is not a money-maker for us. I designed it to make enough for people to have hangers. We want tenets to be happy. That's the ultimate goal."
Brown said he is hopeful about the outcome.
"I am certain the pandemic made it difficult for the city to gather all of the facts before making a decision," he said. "With more time and consideration of our perspective, I hope the City Council will recognize the value of our privately built, privately funded small business. I hope Redlands will facilitate our continued operation on the city-friendly terms originally approved in 2000."