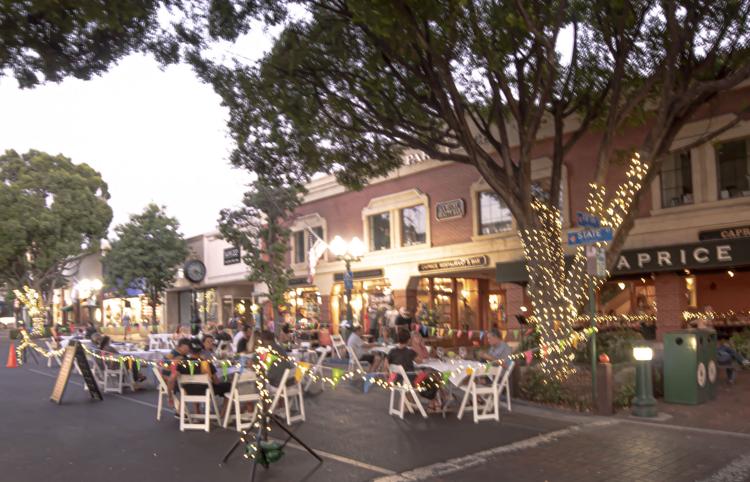 Following State of California Public Health guidance that prohibits indoor dining at all restaurants in San Bernardino County as of July 1, the city of Redlands, working with local downtown restaurants, will begin closing portions of East State Street and Fifth Street on weekends to facilitate outdoor dining, beginning July 9.
On July 1, California Gov. Gavin Newsom announced the new restrictions on indoor dining, along with other business sectors, effective immediately. The restrictions are in place for at least three weeks.
On Thursday, July 9, Redlands began to partner with local restaurants to offer outdoor dining in Historic Downtown Redlands. Beginning at 5:30 p.m. Thursday, Friday and Saturday evenings, East State Street between Orange Street and Sixth Street, and Fifth Street from Redlands Boulevard to Citrus Avenue, will be closed to parking and vehicle traffic to allow local restaurants to offer outdoor dining in the street from 6:30 to 10 p.m. All streets will reopen by 11 p.m.
Expanded outdoor dining is intended to allow Redlands restaurants to reopen safely, promoting physical distancing and safety consistent with state and county public health orders and recommendations.
On June 16, the Redlands City Council approved a resolution authorizing agreements with restaurant owners to set up outdoor dining and food service in designated closed street areas on State and Fifth streets.
The city had planned to begin the outdoor dining in time for the July 4 Holiday Weekend. After several restaurant partners indicated they would not be ready in time, the city delayed the plan for two weeks to July 16. In light of the governor's order, city staff worked with participating restaurants to begin outdoor dining by July 9.
Outside dining will be set up adjacent to each participating restaurant. Each restaurant will provide full dining service to their respective dining areas, including serving alcoholic beverages, with the approval of the California Department of Alcoholic Beverage Control, COVID-19 Temporary Catering Authorization Application.
Tables will be spaced at least six feet apart to comply with social distancing recommendations. Restaurant employees will be required to wear facial coverings. Patrons should also wear facial coverings when not dining.
Outdoor dining will continue through Oct. 31, barring changes to state public health orders governing restaurant capacity.
Under the most recent guidance from the California Department of Public Health, the following sectors are required to close indoor operations in San Bernardino and 18 other counties: Restaurants, wineries and tasting rooms, movie theaters, family entertainment centers (such as bowling alleys, miniature golf, batting cages and arcades), zoos and museums and cardrooms. In addition, all brewpubs, breweries, bars, and pubs must close indoor and outdoor operations in these counties. More information on the Department of Public Health guidance is available at cdph.ca.gov/Programs/CID/DCDC/Pages/COVID-19/Guidance-on-Closure-of-Sectors-in-Response-to-COVID-19.aspx.
The city's Code Enforcement Division will investigate complaints regarding businesses failing to adhere to public health guidelines. The goal is to provide education and to gain voluntary compliance. In the event that voluntary compliance is not achieved, the City may seek enforcement through the administrative citation process.
Participating
restaurants*
*Tentative
Caprice Café
Darby's Cantina
Don Orange
Living Root Cellar
Lot 22 Olive Oil Co.
The Tartan
The State
Not all restaurants will be open all three days of the initial weekend.