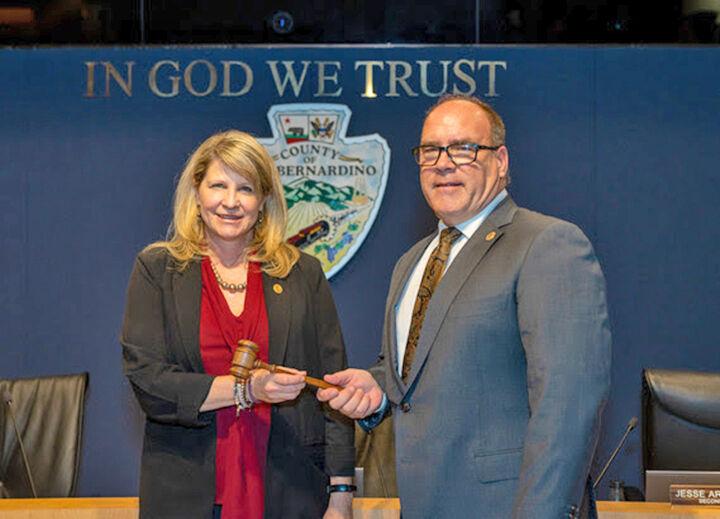 Third District Supervisor Dawn Rowe today was unanimously chosen by her fellow supervisors to serve as chair of the Board of Supervisors for the next two years, succeeding Fourth District Supervisor Curt Hagman.
First District Supervisor Col. Paul Cook (Ret.) was unanimously chosen to serve as board vice chairman, succeeding Rowe in that role.
"Over the next two years, I will work hard to strengthen our local economy, ensure that public safety remains a top priority, and improve the quality of life for all San Bernardino County residents," Rowe said. "I am grateful for this new opportunity and look forward to continuing my work as the supervisor for the Third District."
"The board is in great hands," Cook said.
The County Code calls for the board to elect a chair and vice chair at the first regular meeting of the Board of Supervisors in each odd-numbered year, and that the chair shall hold office for a two-year term. In this role, Rowe will preside over meetings, sign contracts approved by the board and work with the chief executive officer to set the board's agendas.
"We have a great team up here and a lot to be proud of," said Fifth District Supervisor Joe Baca, Jr. Speaking to Rowe he said, "You do a great job being responsive to your district. I look forward to seeing that applied to the whole county."
"I think we have an opportunity to do great things in our community," said Second District Supervisor Jesse Armendarez. Hagman has the rare distinction of having been chosen by his board colleagues to serve two consecutive terms as chairman. At the time of his reappointment, the board praised his leadership during the COVID-19 pandemic and chose to maintain consistent leadership.