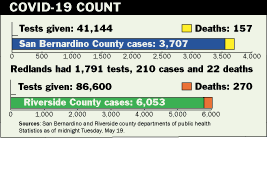 The City Council approved Resolution 8091, asking Gov. Gavin Newsom to work more cooperatively with Redlands and the county on Tuesday, May 19.
On Monday, May 18, Gov. Newsom released relaxed benchmarks for counties to begin reopening. The new criteria include no more than 20 COVID-19 hospitalizations on a single day in a 14-day period, or counties showing they have fewer than 25 new cases per 100,000 residents in 14 days.
"We are still determining if we meet the new criteria, but we believe that we do," said Mayor Paul Foster.
Redlands hopes to open more businesses that were previously deemed non-essential by the end of the month.
"This is fluid," said Foster about the resolution. "It says that Redlands wants to follow state guidelines. Nothing in it says that we will move outside of state plans."
Foster said all 24 of the county's mayors met to discuss the county's reopening plan.
"We are telling the governor that the county has a safe plan consistent with the state, but we want the opportunity to move forward at a local level," said Foster.
Foster wanted to make it clear that Redlands is not developing its own plan. The city will follow the plan the San Bernardino County Board of Supervisors developed and sent to the governor.
Foster said that those opposed to the resolution are not aware of the state's modified plan.
"All but five counties are eligible to move forward if they meet the new guidelines," he said.
Foster does not expect San Bernardino to be one of the five. He also clarified that the resolution is aimed at the county being the local control entity, not the city.
"No one on this council wants to have mass events or open mass amounts of stores," he continued. "The resolution follows the county's reopening plan and encourages the governor to work closely with us. That is all it does."
Councilman Paul Barich voiced his support of the resolution.
"We are just asking for clarification from the governor in moving forward with the county's plan," said Barich."
Foster, Barich, Councilman Eddie Tejeda and Councilwoman Toni Momberger voted to approve the resolution.
Mayor Pro Tem Denise Davis was the only dissenting vote.
"The county's plan is rooted in public health data and is well thought out, but I don't think the resolution is relevant if the governor is continuing to release new guidelines," said Davis.