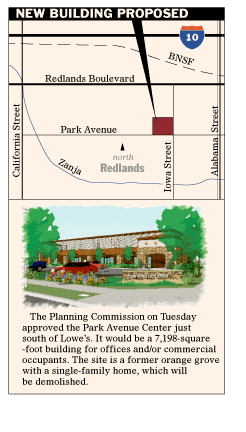 The Redlands Planning Commission adopted DKC Architects' application to construct a 7,198-square-foot multi-tenant building at 1702 West Park Ave.
During its meeting on Tuesday, July 28, the Planning Commission unanimously recommended approval to the City Council for the proposed development of commercial/industrial land.
If approved by the council, the office building would sit on a 32,466-square-foot parcel with improvements, including a parking lot, landscaping, lighting, and utility connections. The recommendation also includes a request to vacate a 7-foot wide portion of street frontage of excess public right-of-way on the west side of Iowa Street so the building could be consistent with the city's general plan.
The office would house four tenants for medical, professional, retail and commercial uses. There are no known tenants at this time.
Commissioner Mario Saucedo noted that a house and orange groves would be demolished for the project and asked if photographs would be taken to document what was there before.
"As we start to lose these houses that are part of our history, sometimes it's nice to have it cataloged," said Saucedo.
Jocelyn Torres, Redlands' assistant planner, said that documentation is required prior to demolishing.
Commissioner Steve Frasher said his only concern with the project was the proposed monument sign with the building's address, might be hard to read for first responders.
Planning Commission Chairman Conrad Guzkowski agreed with Frasher that the street number placement of the sign might need to be adjusted.