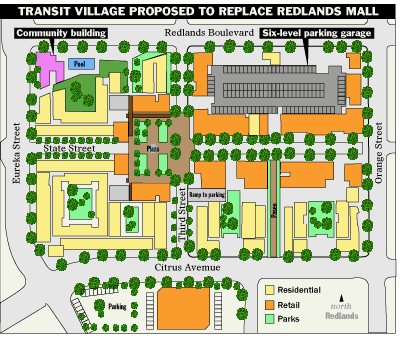 State Street Village project is exempt from Measure U.
During its meeting on Tuesday, April 27, the Planning Commission said the project is exempt because it directly relates to the Metrolink stations in Redlands. The project to redevelop the Redlands Mall, proposed by Village Partners Ventures, is a proposal with a mixed-use development on about 11 acres at the southwest corner of Redlands Boulevard and Orange Street and a new retail building on 1 acre at the corner of Citrus Avenue and Eureka Street.
The proposed project is transit-oriented and would include the following components after demolishing existing buildings:
● Multiple mixed-use buildings with up to three to five stories.
● Up to 722 multi-family units to include live/work, studio, one-bedroom, two-bedroom, and three-bedroom units ranging between 475 and 1,500 square feet.
● A 10,000-square-foot recreational amenity multistory building including an exterior pool and resident areas.
● Up to 73,000 square feet of commercial floor area on ground floors to include retail and restaurant uses, as well as a rooftop restaurant.
● Up to 12,000 square feet of office space on upper floors.
● A pedestrian plaza about 16,500 square feet.
● A six-level parking structure with 780 spaces and two single-level subterranean parking structures with about 240 spaces each.
● A 14,600-square-foot single-tenant retail building (for CVS Pharmacy) on the south side of Citrus Avenue at Eureka Street.
● Public and private open space areas, including landscaping, shade trees, street trees and pedestrian improvements.
● Site improvements including sidewalks, driveways, landscape, lighting, flood prevention and public and private utility connections.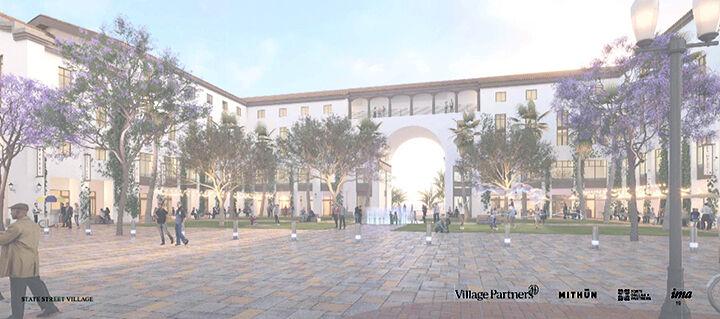 The proposal includes an extension of West State Street (between Orange Street and Third Street) to re-establish its historical connection to Third Street. A new extension of Third Street (north-south) will re-establish a public street between Redlands Boulevard and Citrus Avenue.
This would result in smaller blocks with shorter block lengths more amenable to pedestrians and storefronts and in slowing motor traffic through the site.
The proposed buildings and site layout are in substantial conformance with the design goals of the draft Transit Villages Specific Plan.
Village Partners Ventures Development Manager Kaitlin Morris said they are not looking to bring in massive retail corporations.
"We want the project to host local businesses or smaller regional chains that have three to four branches," said Morris.
Village Partners Ventures Principal Planner Don Henry said if approved, they would build in phases.
Henry also said the fifth story element is limited, and the average height would be about four stories.
After hearing multiple public comments concerned with building height, Village Partners Ventures said they are willing to change parts of their strategy.
Morris said the biggest challenge is moving the CVS Pharmacy.
"CVS has a long-term lease, which is a challenge," she said.
"If we can't provide an acceptable relocation, they would remain in their building. It would require us to build around them, which is an undesirable outcome. But we are proposing to build them a new building. It is the most viable way to get this done."
Director of Development Services Brian Desatnik reminded the public that Measure G did not put any new restrictions on new development.
"Measure G did not overturn Measure U," said Desatnik.
"All provisions of Measure U are exactly what the voters approved in 1997. Measure U puts restrictions on new development. However, it exempts development directly related to Metrolink stations by its own provisions.
The issue before the Planning Commission tonight is whether they believe the character of the project is directly related to the Metrolink stations, affording a recommendation to City Council."
Commissioner Joe Richardson said he believed the project qualified for the exemption.
"This project is directly related to Transit Villages' Metrolink stations," said Richardson.
"Therefore, it qualifies for exemption. It is consistent with the city's General Plan and further promotes the use of Metrolink stations by promoting walkability to the trains, which is central to what we are contemplating doing downtown."
Commissioner Karah Shaw said they are following what Measure U states in its provision.
After hearing many public comments calling for Redlands citizens to decide the fate of the project, Commissioner Steve Frasher said there is nothing in any land use procedure that subjects city development to a vote of the people.
"That is why we have the framework we do," said Frasher.
The recommendation to approve the exemption will now go to City Council.
Measure U exemptions
The provisions of this initiative measure shall not apply to the following:
● New individual infill construction of single-family homes on existing lots of record bounded by developed property as of March 1, 1997.
● Rehabilitation, remodeling or additions to existing single-family residential structures.
● Reconstruction or replacement of any uses to the same density, intensity and classification of use as existed on the effective date, including legal non-conforming uses.
● Development directly related to proposed Metrolink stations in the City of Redlands, including one at the University of Redlands.
● New development projects subject to the Downtown Specific Plan 45 upon a four-fifths vote of the City Council.
● Special, temporary or occasional uses of public streets including parades, local sporting and cultural events, graduation ceremonies, approved school activities and other occasional public gatherings.