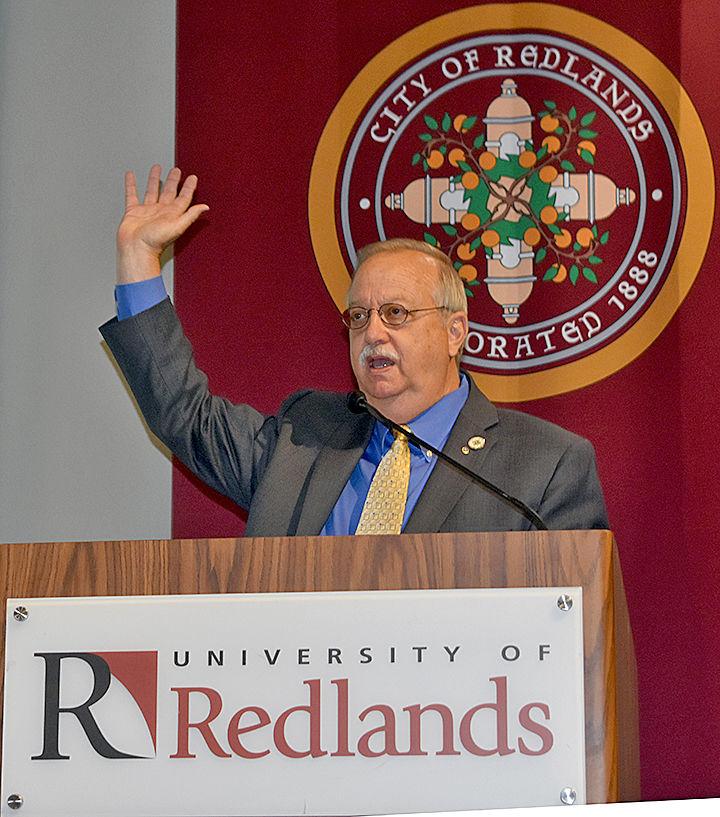 Redlands faces fiscal challenges and marvelous opportunities in the coming year, Mayor Paul Foster told a gathering of dignitaries at the State of the Community luncheon on Friday, June 21.
The challenges are so severe the City Council may propose a sales tax increase on the November 2020 ballot.
Foster said the City Council recently approved the ninth straight balanced budget and has reduced per capita debt from $1,612 to $618, a reduction of 61 percent.
"This shows a responsible commitment to servicing our long-term debt obligations efficiently," he said.
However, initial budget requests submitted this year exceeded anticipated revenue by $9 million.
Rats in the annex
The city staff put off requests to replace aging police dispatch equipment  and heavy-duty safety vehicles, to upgrade street lights to more efficient LED technology, and install and repair more than seven miles of sidewalks.
"The police annex — the old City Hall — had a rat infestation this year," the mayor said. "The rats chewed through the cables and the department temporarily lost communication capabilities in the building. We had to move the administration — the chief and assistant chief, lieutenants, detectives, crime analysts and others — out of the building to remove the rats, repair the damage and clean the building."
Since the old Safety Hall was torn down a decade ago because of concerns that it would not survive an earthquake, the Police Department has been spread out in inadequate facilities all over town, he said. The Records Division is in a strip mall. The jail is in a doublewide trailer at the city yards.
"The facility where we question or lock up a drug addict who has just been caught burglarizing a home or a domestic violence suspect who just beat up his wife is the same place we have to interview a rape victim, because we don't have the proper facilities to provide the privacy and dignity that most police departments take for granted," Foster said.
"Suspects are kept handcuffed to a bench until they can be transported to county jail, and every time our officers need to transport a suspect because we don't have room to hold them, we're losing hours of having those officers out on the street doing the things we need them to do."
Fire Department
The Fire Department also faces major challenges.
Foster said it is vital that fire apparatus be replaced before they reach the end of their service life and are always in a state of "operational readiness."
"The Fire Department currently has two front-line fire engines that are two years past their service life," he said. "The fleet does not include a reserve ladder truck, which leaves the city without an aerial ladder and specialized extrication equipment whenever the front-line truck goes in for service or breaks down."
A ladder truck costs $1.2 million. Gaps in the reliability of the equipment poses a threat to public safety, Foster said.
"This past year, the department's front-line paramedic squad — the busiest unit in the fleet — experienced a catastrophic engine failure, causing crews to use the reserve squad, which is more than 20 years old and not that reliable."
Fire Department calls have increased 30 percent over the past decade. Even before that, consultants recommended a new station be added to respond more efficiently to medical calls, which represent 75 percent of total calls.
Costs going up
The wastewater treatment plant that opened in 1962 on the northern end of Nevada Street near the Santa Ana River Wash has undergone so many expansion and modifications over the past six decades that it has become inefficient. Parts are obsolete and difficult to maintain.
"The frequency of these repairs makes it difficult to ensure regulatory compliance, which puts the plant in jeopardy of being shut down," Foster said.
In March, the council hired an engineering firm to assess the rehabilitation of the plant. The design is expected to be complete next year. The $40 million project should be constructed in 2021.
"I will be quite frank," Foster said, "that means wastewater rates will be going up to meet the need. Our job as a council, and as city staff, is to determine how to meet those needs with the least amount of pain to ratepayers. It's one of those decisions that some of my predecessors, frankly, avoided."
Sales taxes
On a per capita basis, Redlands residents pay $1,385 per year in sales tax. A half-cent increase would cost an average resident $96 a year.
A 1-cent increase would cost about $191 a year.
 "To put that into a relative perspective, if you purchase one single mocha latte each week from one of our great coffee venues, you would spend $208 on your addiction per year," Foster said. "And I know that most of you don't just buy one per week. So at two per week, you would spend $416 a year on coffee – COFFEE!"
The Amazon factor
Redlands is home to two Amazon centers that generate a fortune in sales, yet the bulk of the sales tax from those centers goes to the state.
The city's property tax revenues are expected to rise modestly again this year because of new construction, increased property sales and higher assessed valuations. At the same time, sales tax revenue is expected to be flat or even a decline thanks in part to online shopping.
Digital sales in California have grown four times faster than overall economic growth, representing 13 percent national sales. They're expected to climb to as much as a quarter of all sales in the next seven years.
"That's huge and it has a truly negative impact on municipal government," Foster said.
Assembly Bill 147 enacts provisions granted in a 2018 U.S. Supreme Court ruling on South Dakota v. Wayfair, which upheld the state's right to collect sales taxes from an online retailer even though it has no physical presence in the state.
The bill, which passed unanimously in both houses of the California Legislature, was signed into law by Gov. Gavin Newsom on April 25.
"It's estimated that cities will generally receive a boost in sales tax revenue of between 1.8 percent and 3.5 percent once the new law is fully implemented in the coming years," he said. "But the reality is that there's little interest or incentive in Sacramento to send this revenue back to the local communities."
Priorities for new sales tax revenue
Crime prevention
Fire protection
Emergency response times
Library services
Reducing homelessness
Maintaining parks and sidewalks
Construction of a new public safety center
Poll taken by city of Redlands taken in 2018
Taxes on online purchases
According to the League of California Cities, Assembly Bill 147, approved in response to the US. Supreme Court decision on South Dakota v. Wayfair, takes these three steps:
1. Adds an "economic nexus" provisions stipulating that a "retailer engaged in business in this state" includes any retailer that, in the preceding calendar year or the current calendar year, has a cumulative sales price from the sale of tangible personal property for delivery in California that exceeds $500,000.
2. Makes conforming changes to Transactions and Use Tax law, ensuring that retailers collect those taxes too if they meet the $500,000 statewide threshold.
3. Defines a "marketplace facilitator" as the retailer responsible for the collection and remittance of sales and use taxes effective Oct. 1, 2019. Marketplace facilitators contract with sellers to sell goods and services on their online platforms. Facilitators generally list products, process payments, collect receipts and in some cases take possession of a seller's inventory, hold it in warehouses and ship it to customers