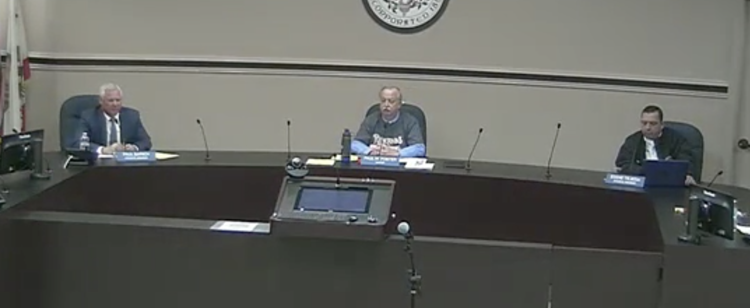 The Redlands City Council has unanimously approved a moratorium on residential and commercial evictions for failure to pay the rent due to economic issues related to the coronavirus pandemic.
            The moratorium obeys an executive order signed by California Gov. Gavin Newsom, It will be in effect through May 31, City Manager Charles Duggan said.
            Under the ordinance, approved in a special meeting on Thursday, March 26, no landlord shall evict a tenant for nonpayment of rent if the tenant demonstrates he or she is unable to pay rent because of financial impacts related to COVID-19. Tenants must provide written notice to the landlord within 30 days after the rent is due.
            Financial impacts include contracting COVID-19 or caring for a family member who has contracted the virus, lay-off, loss of hours or reduction of income from COVID-19, compliance with a recommendation from a government health authority to stay home, self-quarantine or avoid congregating with others during the state of emergency; extraordinary out-of-pocket medical expenses due to COVID-19 or child care needs arising from school closures related to COVID-19.
            The ordinance does not relieve the tenant from eventually paying rent. The landlord may not charge a late fee on the rent. 
Responding to a question by Councilwoman Toni Monberger via telephone, Duggan said the moratorium does not include short-term living, such as living in motels and hotels.
            Mayor Pro Tem Denise Davis commented via telephone that the moratorium comes just a day after California Gov. Gavin Newsom announced that 1 million people have claimed unemployment benefits in the state and after the federal government announced that at least three million had done it nationwide.
            "I'm glad we are taking this action," she said. "It really protects residents."
            Before the vote, made via telephone by Momberger, Davis and Mayor Paul Foster updated the community on the latest about COVID-19 and urged residents to continue obeying orders to help prevent the spread of the deadly virus.
            Foster assured residents that although the nation is facing a very turbulent time, the city of Redlands continues providing resources to residents while responding to the issue. In addition, to keep the community informed, the city launched an information webpage that will be updated frequently.
            Foster thanked the business that have responded to the need by providing supplies to law enforcement and fire personnel.  On Wednesday, March 25, J. Riley Distillery donated approximately 6.5 gallons of alcohol to the Redlands Fire Department to be used for medical sanitizing agents.  
            The alcohol will be used to manufacture sanitizing sprays to disinfect their equipment as well as hand-sanitizer for employees, said J. Riley Distillery management on its social site.
            Foster said that Redlanders are responding just as they have done it in the past during difficult situations.
            "Life will return to normal, but until then, please stay home, please, please stay home," Foster said. "Wash your hands frequently, maintain a social distance. Be patient, be kind, be caring for family and friends and neighbors. We will get through this."
From the staff report prepared by Redlands Assistant City Manager Janice McConnell
On March 10, 2020, the San Bernardino County Public Health Officer and the Board of Supervisors declared a local health emergency to help ensure county government and the public are prepared for the possibility that COVID-19 will appear within the county.  Subsequently, on March 17, 2020, the City Council ratified the existence of a local emergency for the COVID-19 pandemic as declared by the City's Director of Emergency Services.  As of March 25, there are 38 confirmed cases of COVID-19 and 1 death associated with COVID-19 in San Bernardino County and this number is expected to continue to grow.
In response to the global pandemic, the San Bernardino County Health Officer is encouraging all residents of the County to stay home as much as possible while only participating in essential activities, such as critical work functions and shopping for necessities. Practicing social distancing of six feet per person, washing of hands with soap and water, and cleaning frequently touched surfaces and objects are also preventive measures to reduce the spread of the virus throughout the community. Experts have also identified that persons aged 65 years and older and persons of any age with certain underlying health conditions are at increased risk and therefore should self isolate and avoid interacting in public. 
As a result of these necessary measures to fight the global pandemic, many businesses have imposed work from home policies.  Meetings, events and social gatherings have been canceled.  Restaurants and stores are not being patronized as people remain at home.  With more businesses moving towards working from home, less of the workforce will be patronizing restaurants, hotels and other retail establishments that employ hourly workers, which is expected to lead to hourly cutbacks and potential loss of income. Many tenants in Redlands have also experienced, or expect soon to experience, sudden and unexpected income loss.
Further, individuals exposed to COVID-19 may be temporarily unable to report to work due to illness caused by COVID-19 or quarantines related to COVID-19 and individuals directly affected by COVID-19 may experience potential loss of income, health care and medical coverage, and ability to pay for housing and basic needs, thereby placing increased demands on already strained regional and local health and safety resources, including shelters and food banks. 
Many parents have had to adjust their work schedules to take time off work, whether paid or unpaid, to stay at home with children due to school closures. Hourly wage earners are unlikely to be paid for time off. The inability to work due to school closures will economically strain those families who cannot afford to take off time from work to stay at home. The situation is unprecedented and evolving rapidly. Further economic impacts are anticipated, leaving tenants vulnerable to eviction.