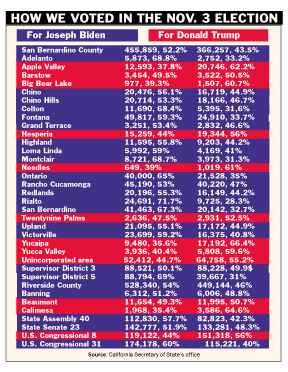 Joe Biden beat Donald Trump by nine percentage points in Redlands in the 2020 Presidential Election.
According to the Supplement to the Statement of the Vote released by the Secretary of State's office on Wednesday, April 7, 55% of Redlands residents voted for Biden, and 44% voted for Trump.
Redlands had 1,321 more registered Republicans than Democrats in 2016. In 2020, Democrats led by 1,082 voters, according to the Secretary of State's office. In 2004, Republicans had 6,623 more voters than Democrats.
What has caused the Democratic shift?
Renée Van Vechten, a political science professor at the University of Redlands, said an accumulation of Democratic voters over the years contributed to the shift.
"Small changes lead to noticeable shifts over time," said Van Vechten. "There wasn't a big shift from 2016 to 2020 within San Bernardino County in the presidential vote. The shift wasn't gigantic. There was a slight shift toward Biden in 2020, but the picture is a little more complicated. For example, when it comes to the presidential race, it comes down to party alliance. That is the most important factor in how people vote. Most partisans vote for their party.
"I don't want to overplay the idea that people were punishing the incumbent in a more intense way than they usually would. First and foremost, party drives the vote. As much as individuals say they are disinclined to be partisan voters, it still means something and indicates values.
"Even if you are in the middle, there are people who don't have a strong party identity, and they tend to be rarer than we believe. It looks like a few more of those middle voters went for Biden."
Biden also topped Trump county-wide. Biden received 54.2% (455,859) of the vote while Trump received 43.5% (366,257). Biden won in 17 out of the counties' 24 cities.
"From year to year, it's hard to tell the difference," said Van Vechten. "It's hard to say what causes small shifts. These are difficult because the numbers aren't that large. What accounts for the 4,000-vote difference in Redlands? Well, more Democrats. One way political scientists try to answer how people vote is by looking at if people vote retrospectively. Do they look in the rearview mirror and hold a person accountable for a response to the pandemic? It's possible that a few of those people didn't like how Trump handled it, and if that's the case, they might have voted against him. On the other hand, there were people who were happy who wouldn't have changed their votes.
"This is something we are seeing play out with Gov. Gavin Newsom," continued Van Vechten. "In those sorts of elections, people do look at the pandemic response because there were no malfeasances. So we do see that happening, and yes, it could have also happened during the 2020 Election."
Van Vechten said numbers are hard to measure because of the pandemic.
"Young people did turn out in bigger numbers this year," she said. "For example, the University of Redlands campus group Bulldogs Vote did a huge voter registration campaign. But it was also during a pandemic, so it's hard to measure. There were also strong voter mobilization efforts in 2016 as well. But these are things that would have a gradual effect over time. Redlands is becoming less white and slightly more Hispanic over time. Redlands' population is one-third Latino. But we have a strong higher-income population base as well. All of these things play into shifts. There isn't one big factor that caused a change."
According to Van Vechten, Redlands voted for Hillary Clinton over Trump in 2016 with a difference of 1,500 votes.  
"So there was only a 2,500 vote increase from 2016 to 2020, which is almost nothing statistically," she said.
Trump won desert and unincorporated cities in the county by 55%. In Yucaipa, Trump won two-thirds of the vote.
"Inland counties have a higher concentration of white people who tend to be more conservative and tend to be less diverse," said Van Vechten. "Coastal counties are more liberal and more diverse. Urban counties are more diverse, so they tend to be more liberal than rural counties. Traditional values are usually associated with rural places. The Inland Empire has seen a noticeable shift over time. These counties are becoming more liberal and will probably continue because California is becoming more diverse every year.
"We are already seeing that reflected as California recorded the lowest number of registered Republicans in state history at 25%.
"Some of that may be Republicans who didn't want to associate with Trump and switched to a no-preference-voter, but at the same time, California is not a simple majority of either. We have an independent streak .as well."