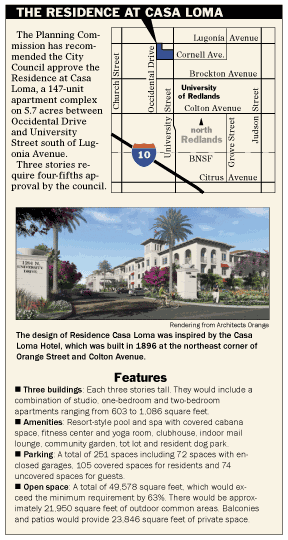 The Redlands Planning Commission unanimously voted to recommend the City Council consider a three-building, 147-unit apartment complex at 1205-1219 N. University St.
The project would develop the complex south of Lugonia Avenue, east of Occidental Drive and west of University Street.
The complex would include three 3-story apartment buildings composed of studio, one-bedroom and two-bedroom floor plans. The proposed amenities include a resort-style pool and spa with covered cabana space, a fitness center, yoga room, clubhouse, indoor mail lounge, community garden, tot lot and resident dog park.
The project requires a general plan amendment and zone change, which is intended to give the whole site the same plan designation as high-density residential and a zoning designation as multiple family residential.
Commissioner Steve Frasher was concerned about an increase in traffic to an already busy intersection at Lugonia Avenue and University Street.
"Over the last 14 years, the intersection has had 94 accidents," said Redlands Principal Planner Loralee Farris. "Almost all are failure to yield or U-turns."
Farris said since it is already a signalized intersection, there isn't much that could be done.
Commissioner Joe Richardson proposed possibly revisiting the speed limit on Lugonia Ave.
The recommendation of approval will go before the City Council at a future meeting.
The Planning Commission unanimously approved a conditional use permit for Symbiosis LLC, a n…
Redlands invites individuals to apply for an open position on the Planning Commission.