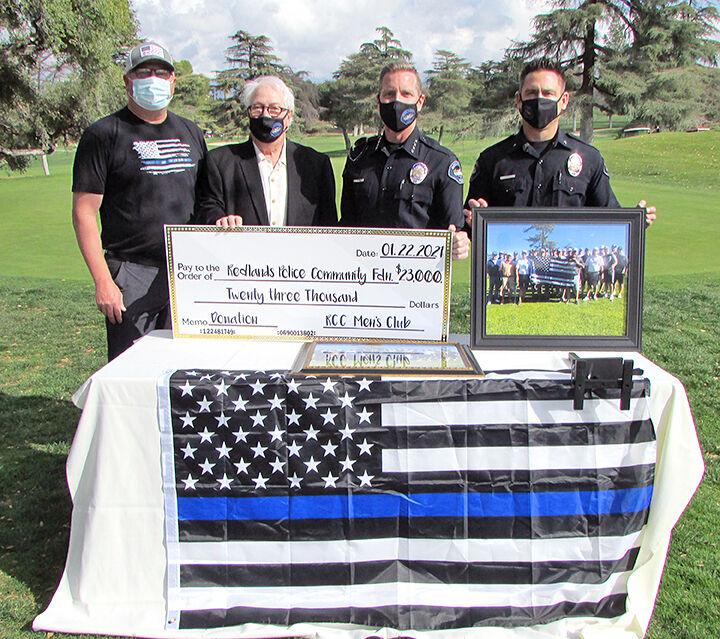 In a profound show of support for the Redlands Police Department, a group of 85 members in a Men's Golf Club at Redlands Country Club passed a virtual hat and collected $23,000.
Mike Bosman, a member of the group, proposed the idea via several golf chat groups and put in $2,500 as seed money to get it started. Within minutes, the money was raised for the Redlands Police Community Foundation, which supports a variety of police community programs that are not funded through the regular city budget.
Bosman, who joined the foundation board on Jan. 11, said, "After that first meeting, it started me thinking of ways I could help contribute and be apositive addition to the foundation.
He reached out to fellow golfers and told them about the foundation.
"It was inspiring to see our club members come together through collaboration and share their resources for a common good," he said. "It shows there is so much good in the world. We wanted to make an impact locally because Redlands is an amazing town.
"For me, giving back directly to organizations in our community is what motivates me from a philanthropy perspective."
Bosman comes from a family with a history of police involvement.
"The Redlands Police Department is near and dear to my heart, given my father was a Redlands police officer years ago and former Police Chief Lew Nelson has been a family friend since I was a baby," said Bosman. "The positive support from our golf group shows how much we appreciate our Redlands Police Officers, Chief Chris Catren and all the men and women who work in the department. We wanted to let them know they are respected, admired and we support all they do to keep our community safe."
Chief Catren and Foundation President Stan Weisser were both very grateful.
"This donation underscores the feeling of support coming from the community," stated Catren. "We will use these funds to invest back into our Police Youth programs, the Police Citizen Volunteer program and the K-9 Police Dog program."
The Redlands Police Community Foundation is a 501(c)(3) nonprofit organization founded by a group of local citizens led by Weisser, president, and an 11-member board of directors. Its mission is to improve the quality of life for the community by supporting Redlands Police to further the goodwill and safety education among our residents.
For more information on how to support the Redlands police: Go to rpcf365.org.