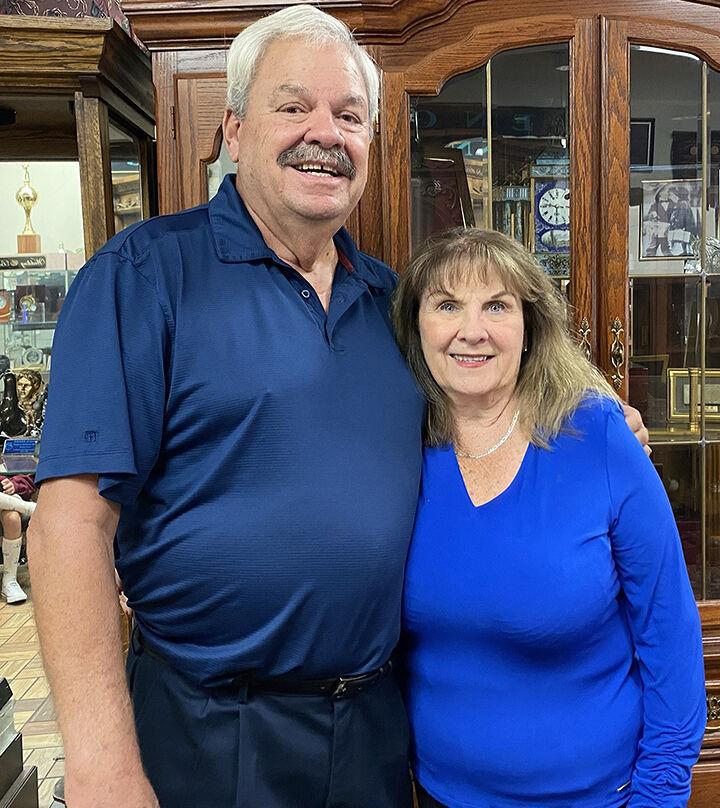 Every year the California Inland Empire Council of Boy Scouts of America highlight and honor citizens of the Inland Empire. For 2021 they chose community leaders Mick and Sandie Gallagher of Redlands.
The Gallaghers were chosen by the council's Gray Arrow District for their ongoing community leadership, including serving as den leaders for their two sons' Scout troops.
Sandie grew up in Yucaipa and Mick in Loma Linda but settled in Redlands as adults.
Sandie said of her goals in high school, "I wanted to get married, and I wanted to live in Redlands, period." Mick was on board with that when they met at Crafton Hills College, and they've been married for 46 years.
"You love the community so much and you want to be involved," Sandie added. Her first involvement was with the Junior Women of the Contemporary Club.
Even with being business owners and working 60 to 70 hours a week, they always made time for their sons. In fact that's what a lot of their community engagement was centered around. "It's sort of like, you ask a busy person to do something and they get it done," Sandie said.
It all began with flag football 38 years ago.
"When our oldest son was 5 years old, I started coaching him in flag football, then baseball and soccer," Mick said. Sandie was the team mom. They loved being involved with their son's sports, Scout troops and schools.
Sandie has been PTA president at both Smiley Elementary and what was then Cope Junior High. "I loved being a part of the PTAs," Sandie said. "It's been fun. And now we're involved with our grandchildren and try to go to their games and practices."
The couple really encourages any service or organization that supports children.
Her favorite local organization is the Redlands Bowl.
"The bowl stays near and dear to my heart," she commented. They've loved to introduce their kids and grandkids to the bowl.
Mick speaks warmly of all of his engagements, present and past.
"The Benchwarmers is an organization here in town that supports the high school sports, and it's really a nice organization," Mick said. He has been a member of the Redlands Benchwarmers for more than 30 years including stints as president and master of ceremonies. He has been active for decades in many other organizations as well. He was one of the founding members of Redlands Sunrise Rotary more than 40 years ago and has been a member of Shamrock Club of San Bernardino for 38 years.
"I am happy to do anything and everything for Redlands. I am a Relaunder," Mick smiled.
One of the highlights of service was being on the Redlands City Council from 2005 to 2010.
"I was on for five years," he said. "It was something of a big deal."
Supporting veterans both on Memorial Day and Veteran's Day is another important cause for Mick. He served in the U.S. Navy and fought in the Vietnam War.
"To give to your community is a very rewarding thing, because you get to accomplish something," Sandie said. Their involvement has resulted in lifelong friendships. "When everyone gets together, things can be done. You always have people willing to contribute, there really are."
Their business, Gallagher's Jewelers, was at Redlands Mall for 25 years. Today they own and run Gallagher's Finishing Touch Engraving on Brookside Avenue.
"We were both just blown away. We had no idea. It's really an honor," Sandie said when they received the news about the recognition from Paul Foster and Neal Warner. A ceremony will take place on Wednesday, Oct. 27, at the Burrage Mansion.
2021 Distinguished Citizens of the Year
The ceremony: Begins at 5 p.m. Wednesday Oct. 27, 2021, at Burrage Mansion, 1205 W Crescent Ave, Redlands.
Contact California Inland Empire Council, Boy Scouts of America on phone: (909) 793 2463 for available tickets or ways to support the event.
Gallagher's Finishing Touch Engraving: 1150 Brookside Ave, Suite D, Redlands.
Email: gallaghersfte@aol.com
Phone: (909) 793-9988
Sandie Gallagher
• Former Girl Scout.
• Town & Gown board member.
• Member of the University of Redlands Whitehead Leadership Society and the Daughters of the American Revolution.
• Served as president of the Junior Women of the Contemporary Club, the Redlands Mall Association, the YWCA Home Tour Committee, and Smiley Elementary School and Cope Junior High PTAs.
• Member of Bonnes Meres, Associates of the Redlands Bowl and the Arrowhead Christian Academy Athletic Booster Club.
• Sports team mom for 20 years.
• Redlands Woman of the Year in 1992 (awarded annually by Town & Gown).
Mick Gallagher
• Member of the city's Hometown Heroes Foundation board of directors.
• Serves as the master of ceremonies for the annual Memorial Day and Veterans Day ceremonies.
• Served in the U.S. Navy and, along with his two brothersm fought in the Vietnam War.
• Past president and a founding and current member of Redlands Sunrise Rotary.
• Past president, past master of ceremonies and current member of Redlands Benchwarmers.
• Member of the Shamrock Club of San Bernardino, American Legion Post 106 and Redlands Town Center board of directors.
• Redlands city councilman.
• Planning commissioner.
• Business Economic Development commissioner.
• President of the Redlands East Valley Gridiron Booster Club.
• Director of the Arrowhead Christian Academy Booster Club.
• AYO coach, a Redlands Baseball for Youth coach, a football coach for Junior All-American and the football coach at Cope Junior High.
• Member of the Omniranges board of directors, the San Bernardino County Valley Municipal Water District advisory board, General Plan Committee, YMCA board of directors, Crofton Hills College Foundation board, Terrier Football Booster Club board, Cope PTA board, RAY board, Stadium for Redlands High School Committee, the Porche Club, the Over-the-Hill Gang and the Model-A Car Club.
• Clock operator for REV Football CIS State Champions for 18 years
• Redlands Man of the Year in 2017 (awarded by Redlands Chamber of Commerce).
Both Gallaghers
• Members of the Friends of the Burrage Mansion.
• Former members of the U of R Bulldog Bench.
• Have been major donors supporting the Redlands Bowl for more than 20 years.
• Irish Person of the Year in 2007 and Sandie in 2014 (awarded by the Shamrock Club).
• The whole family are University of Redlands Alumni Association members.