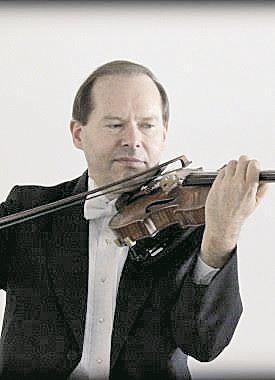 The treasure trove of talent here in Redlands is as amazing as it is abundant.
For example: The movies "Dances with Wolves," "Titanic," and the "Harry Potter" series of films have something remarkable in common. An extraordinary musician residing in our city can be heard playing the violin on each of the soundtracks.
Todor Pelev's illustrious musical career began in his native Bulgaria.
"The violin is very popular there," he said. "My dad was a veterinarian and my mom was president of an art center for the young. So, although my parents were not musicians, they loved music and encouraged me to play."
Todor was introduced to the violin early in his childhood.
"I began my violin studies at the age of 5 with Tatiana Krusteva," he said. "As I grew older, I continued at the Bulgarian National Conservatory."
He earned notice in his youth when he captured a gold medal in Bulgaria's National Violin Competition, the country's most prestigious contest.
Worldwide attention came to him when he was awarded a silver medal in the International Henry k. Wieniawski Violin Competition.
"I received a personal invitation to study with Dorothy DeLay at Juilliard and relocated to the United States," he said. "I was already married to my wife Didi and had a young daughter at the time, so that was a challenging transition. Thankfully, they were able to join me later."
Todor soon won the American Contemporary Record Society Competition. This triumph was followed by multiple solo appearances with the National Symphony at the Kennedy Center, the Aspen Concert Orchestra and the Baltimore Symphony at Carnegie Hall.
After graduate studies at Juilliard, he was invited to complete his doctoral studies with Donald Weilerstein at the Eastman School of Music. While serving as Weilerstein's teaching assistant, he won the Eastman Concerto Competition.
Todor has been in demand ever since.
In answer to invitations, he has presented concerts in Poland, Hungary, Italy and Russia. Todor has not only soloed with major European orchestras, he has also been featured on radio and television broadcasts in Taiwan, Japan, Italy and Canada.
Here in the United States, Todor has participated in chamber music concerts throughout the country. He has also performed with principals of the Chicago Symphony, the Los Angeles Philharmonic and the San Francisco Symphony, among others.
And he has a strong local presence.
"I have served as concertmaster of the Redlands Symphony Orchestra, the San Bernardino Symphony and the Redlands Bowl Orchestra," he said. "I recently premiered the 'Rhapsody for Violin and Orchestra' by Libby Larsen at the California Theatre."
Todor has collaborated with many noted contemporary composers.
"It has been a privilege to work with them," he said. "I have experienced the joy of giving the first performances of some of their music. They include John Cage, Mario Davidovski, Mel Powell and Morton Subotnick."
He has also shared the stage with celebrated performers.
"I have always had an interest in all music genres," he reflected. "I've had wonderful opportunities to play in concert with Kenny G, Wynton Marsalis, George Benson and Ray Charles."
In addition, Todor has served as a faculty member at the California Institute for the Arts, the University of Redlands, California Baptist University, the Pomona College, and currently the Idyllwild Arts Academy.
Many of his former students are award winners who have enjoyed great professional success.
"Quite a few are now college music professors," he said. "Others are concertmasters of orchestras in London, Hong Kong, New Haven, the Cleveland Opera and the Boston Civic Symphony."
Film score composer Nolan Livesay, a frequent conductor at the Redlands Bowl, is also one of Todor's former students.
"He has been one of the most influential people in my life," Nolan smiled. "His calm, humble and quiet confidence is inspiring. He's so knowledgeable he would demonstrate from memory any passage that I was working on in the violin repertoire. He's one of my heroes for life."
As he has for more than 20 years, Todor performs in the orchestra accompanying the renowned Pageant of the Masters in Laguna Beach.
He balances performing with teaching and playing on soundtracks used in films and computer games.
"I have never played a single one of these games," he admitted with a laugh.
If that allows him more time to bless others with his artistry, so much the better.
Wayne R. Scott is an award-winning writer, director and producer who is president of LifeHouse Theater, Redlands.